Looking For Higher Interest Rates on Bank FDs? Read This!
Looking For Higher Interest Rates on Bank FDs? Read This!
Dec 5, 2018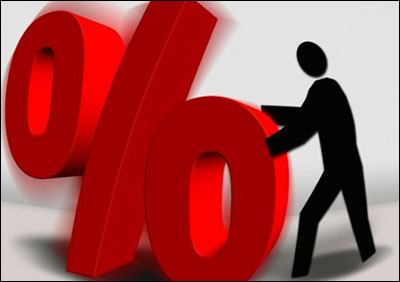 India's financial sector might be in the news for all the wrong reasons these days, but there've been a few bright spots.
For example, the latest credit growth trends.
In August, the non-food credit growth touched a 4-year high. After experiencing a mild drop in September, many experts had believed it was just a one-off observation.
Surprisingly in October, the Indian credit markets reported the highest credit growth so far in FY 2018-19. The data for November is expected to come out even better.
Chart: Faster Credit Growth: A ray of hope?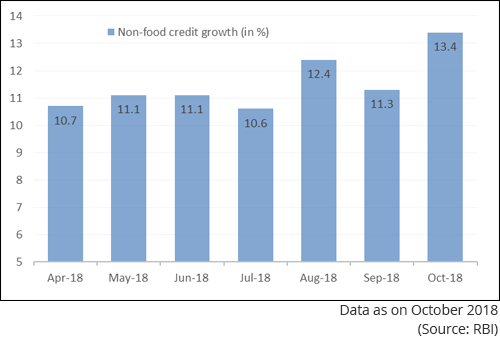 Is the Indian economy finally coming out of a prolonged stagnation?
Yes, it's been the fastest growing economy on paper, but the ground reality has been relatively discouraging.
Factors such as the increasing Non-Performing Assets (NPAs), fragile recovery in the capex cycle of corporate India, the average performance of manufacturing industries, and the lacklustre job market have made India's GDP growth numbers less convincing.
--- Advertisement ---


How 3 Simple Steps Can Tell You Which Stocks Look Marked to Boom

Most investors aren't aware of this.

But 3 simple steps can give you a list of potential multi-bagger stocks to buy.

It's easy.

Log on to a website I'll just tell you about...
Type in the name of the stock you want information on.
Download a copy of this little-known legal document that reveals Top Stocks which are Marked to Boom.
This document is only released four times a year...and the last one came out in June.

Click here to get all the answers.
------------------------------
Nonetheless, the situation might change with improved credit growth, as it often follows with a pick-up in the private sector capex cycle.
What's the reason behind such a high credit growth? And more importantly, will the retail investor benefit from this trend?
Let's find out...
Factors contributing to higher credit growth
Credit disbursement to the productive sectors of the economy such as infrastructure, engineering, food processing, textiles, and chemicals, among others is rising.
The liquidity crunch has forced some Non-Banking Finance Companies (NBFCs) to sell their credit portfolios to banks.
Meanwhile, the credit assistance to agriculture, services industries, professional and Micro-Small-And-Medium-Enterprises (MSMEs) has steadily improved.
After the IL&FS fiasco, corporates have been finding it difficult to raise money directly from the market, which also reflects in the rising credit growth.
What's the result of higher credit growth?
Since there's a liquidity crunch in the system, the pace of deposit growth is still in higher single digits for most of the banks. In such a condition, banks are disbursing more than what they are collecting through deposits.
Hence, the interest rate hikes are rather out of compulsion to attract more deposits. In the recent past, prominent banks with nationwide presence have hiked interest rates on FDs.
Table: Will interest rates on FD rise further?
(Source: Respective bank websites)
Will interest rate go further up?
At the fourth bi-monthly monetary policy review, the RBI lowered the inflation projections for FY 2018-19 and those for Q1, FY 2019-20 from the August resolution. The RBI's Monetary Policy Committee (MPC) reiterated its commitment to containing the 4% headline inflation target for the medium term. According to its projections, retail inflation is likely to remain in the range of 3.9% to 4.5% in the H2 of FY 2018-19 and approximately 4.8% in Q1 FY 2018-19.
For October 2018, the CPI inflation data came in at 3.31%. But it looks unlike that RBI would budge and reduce rates in the fifth bi-monthly monetary policy for 2018-19 (scheduled on December 5, 2018); it would wait for certain definitive signals. In fact, citing risk to the inflation trajectory the RBI has changed the stance of the policy to 'calibrated tightening' from 'neutral' citing.
Inflation trends and interest rate trends suggest that investors of fixed deposits are receiving decent inflation-adjusted (pre-tax) returns. If interest rates go up from the current levels, and as projected inflation remains 4% or thereabouts, investing in fixed deposits will become more attractive to investors.
Time to redeem equity mutual funds and invest in fixed deposits?
Many investors are confused at this juncture. Despite investing in mutual funds through Systematic Investment Plans (SIPs) and preferring direct plans, their investments are generating negative returns. If the markets remain under stress for some more time, there's a possibility that these investors might want to opt out of SIPs and go back to conventional savings avenues-bank FDs.
If you're thinking on similar lines, please remember that investments in equity mutual funds help you generate higher inflation-adjusted returns over the long-term.
[Read: Which Equity Mutual Funds To Buy Now?]
Right now, FDs are generating positive inflation-adjusted returns, but if inflation continues to rise, tax-paying depositors will soon start generating negative real returns.
And if you are considering in bank FDs to park money for the short-term, do note the following:
The financial health of the issuer (or the issuing bank)
Do not get lured by extraordinary high-interest rates)
Select your maturity period sensibly - align it with to your financial goal)
Choose between quarterly compounding (i.e. reinvestment of interest option), quarterly pay-out of interest, and monthly pay-out depending on your cash-flow requirements)
Be cognizant of the tax implication (Interest earned on bank FD is taxable)
[Read: Factors To Look At While Investing In Bank FDs]
PS: If you wish to take a calculated risk and invest in equity funds, PersonalFN can help you pick hidden gems or lesser-known funds that are capable of generating big gains for you.
PersonalFN has released a report 5 Undiscovered Equity Funds especially for investors like you.
These undiscovered funds can help you counter inflation by a substantial margin. Subscribe today!

Author: PersonalFN Content & Research Team
This article first appeared on PersonalFN here.
PersonalFN is a Mumbai based personal finance firm offering Financial Planning and Mutual Fund Research services.
Disclaimer:
The views mentioned above are of the author only. Data and charts, if used, in the article have been sourced from available information and have not been authenticated by any statutory authority. The author and Equitymaster do not claim it to be accurate nor accept any responsibility for the same. The views constitute only the opinions and do not constitute any guidelines or recommendation on any course of action to be followed by the reader. Please read the detailed Terms of Use of the web site.
More Views on News
Apr 16, 2021
A look at what India's top equity mutual funds bought and sold in March 2021.
Apr 16, 2021
PersonalFN's analysis on the features and performance of Kotak India EQ Contra Fund.
Apr 16, 2021
Those who don't learn from financial history are doomed to lose their money.
Apr 16, 2021
There is no stopping this 11-bagger stock from significant upside.
Apr 15, 2021
Rahul Shah on whether another big crash is likely and the ideal strategy to counter it.
More Views on News
Most Popular
Apr 13, 2021
Ajit Dayal on how India's vaccine strategy will impact the markets.
Apr 6, 2021
Rather than predicting the market, successful investing is more about preparing well and placing your bets accordingly.
Apr 9, 2021
This could take India to the position of 3rd largest economy.
Apr 13, 2021
In this video, I'll you what I think is the real reason behind yesterday's market crash.
Apr 12, 2021
This ignored sector could deliver big short-term profits.
More