SEBI Issues Operating Norms For Silver ETFs. Here is All You Should Know
Dec 6, 2021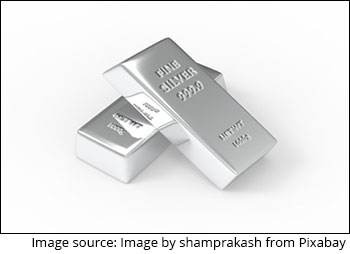 During its board meeting held in September 2021, SEBI had cleared the launch of Silver Exchange Traded Funds (ETFs) allowing domestic mutual funds to launch schemes tracking silver. It has now specified operating norms for Silver ETFs to ensure uniformity of the schemes. These new norms will come into effect from December 09, 2021.
According to SEBI guidelines, Silver ETFs will aim to generate returns that are in line with the performance of physical silver in domestic prices, subject to tracking error. These schemes will be benchmarked against the price of silver based on London Bullion Market Association (LBMA) Silver daily spot fixing price.
Silver ETFs will invest at least 95% of its assets in silver and silver related instruments i.e. Exchange Traded Commodity Derivatives (ETCDs) that have silver as underlying asset. Accordingly, Silver ETFs will have a dedicated fund manager having relevant skill and experience in the commodity market including commodity derivative market.
Silver ETFs will have to own physical silver of standard 30 Kg bars with 99.9% purity confirming to LBMA Good Delivery Standards. The exposure to silver ETCDs should not exceed 10% of the net asset value (NAV) of the scheme. However, the 10% limit will not apply to Silver ETFs if they intend to take delivery of the physical silver instead of rolling over its position to next contract cycle.
--- Advertisement ---
Rahul Shah's Lazy Millionaire Summit Is Now LIVE...

Discover the Master Key to Turning Every Market Crash to Your Advantage

Hurry up! Join in now...

Click Here to Join the Lazy Millionaire Summit
------------------------------
The SEBI has asked mutual fund houses to contain the tracking error of Silver ETFs to 2%. Tracking error is the difference in daily returns between physical silver and the NAV of Silver ETF based on the past one year rolling data.
The NAV of units of Silver ETF will be calculated up to four decimal points as shown below:

In addition, the NAV of Silver ETFs will be disclosed on a daily basis on the website of the Asset Management Company (AMC). Further, the indicative NAVs of Silver ETFs will be disclosed on Stock Exchange platforms, where the units of these ETFs are listed, on continuous basis during the trading hours.
To ensure that Silver ETFs maintain liquidity at all times, SEBI has prescribed the following:
Units of Silver ETFs will be listed on recognised stock exchange(s)
The AMC will appoint Authorized Participants (APs) to provide liquidity for the units of Silver ETFs in the secondary market on an ongoing basis
APs and large investors can directly buy/sell units with the Mutual Fund in creation unit size. The AMC will disclose the details about the creation unit size of Silver ETF in the Scheme Information Document (SID)
Further, to enable investors to take an informed decision the SID of Silver ETF will, inter-alia, disclose the following:
Tracking error and tracking difference
Market risk due to volatility in silver prices
Liquidity risks in physical or derivative markets impairing the ability of the fund to buy and sell silver
Risks associated with handling, storing and safekeeping of physical silver
Applicable tax provisions
Why has SEBI introduced Silver ETFs?
Silver ETF has been a long-standing demand of domestic mutual fund houses and investors. Until now, those seeking to invest in silver had two avenues: 1) to hold it in a physical form; 2) trade in Silver Futures Contract.
Notably, when you buy silver in physical form, there could be concerns about purity of the metal and/or theft. Since Silver ETFs are mandate to own Silver having fineness of 99.9%, there will be no concerns about the purity. On the other hand, unlike in case of investment in Silver Futures, you need not be a savvy investor to invest in Silver ETFs.
The launch of Silver ETF will offer retail investors the opportunity to invest in silver in a convenient way and benefit from the long term growth potential of silver.
Graph: Silver prices witnessed impressive growth in the last one year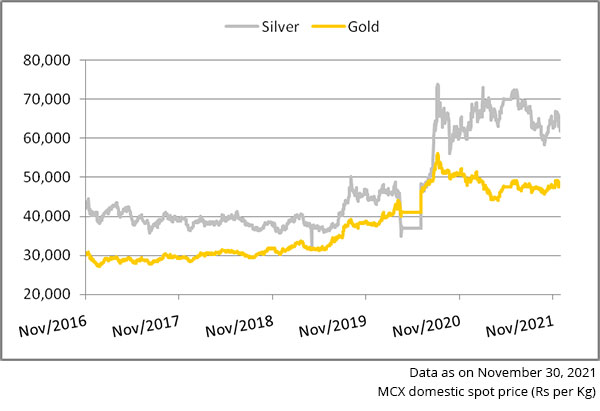 In the last five years, the domestic price of silver has grown by 51% (in absolute terms), whereas gold has grown by an absolute 66%. Since the lows of March 2020, when all asset classes witnessed a crash due to the pandemic crisis, silver grew by a whopping 77% as compared to 18% growth in gold. Thus, just like Gold, Silver too has high growth potential.
Like gold, silver is a good hedge against inflation and can protect against loss in purchasing power. Furthermore, it has no counterparty risk or default risk. Additionally, it is more affordable than gold.
Equitymaster's Stock Screener: Identifying High-Potential Stocks Has Never Been this Easy
What are the factors likely to drive the growth of Silver prices in the future?
Investment demand in the form of silver jewellery and silver coins is an important factor that drives the prices of silver. However, Silver is not just a precious metal, it has various important industrial applications, since it has the highest electrical conductivity among metals.
While the investment demand can fluctuate depending on economic conditions, the demand from industries is expected to be more stable. In the coming years, the higher demand from industries is expected to drive the prices of Silver to new highs. Here is why:
Silver will play an important role in the rollout of 5G technology. The new 5G ecosystem will require semiconductor ICs/chips, cabling, power distribution, IoT devices, MEMS sensors, etc. each of which uses silver.
Silver will be a key component for the Green revolution. Because of its high conductivity, green energy such as solar power uses silver to convert sunlight into electricity.
Due to its high conductivity and corrosion resistance, silver is also used in Electric Vehicles. Almost every electrical connection in electric vehicles such as, battery management systems, infotainment systems, navigation systems, safety features, among others, require silver.
Is there any downside to investing in Silver ETF?
One reason why investors prefer gold over silver is that the latter is prone to higher volatility. In case of any adverse event, the impact on its prices is higher than that of gold. That said, during positive market trend such as economic recovery and growth phase, Silver price can rally higher than Gold due to its industrial uses.
--- Advertisement ---
There is a new paradigm shift currently unfolding across the global economic landscape...

And at the heart of this massive SHIFT is...

INDIA!

India is on the verge of a multi-trillion-dollar rebirth that could potentially mint countless new millionaires...

If you are on the right side of this mega shift, then it could be your biggest opportunity to build potentially massive wealth over the long term.

Click here to find all the details...
------------------------------
Should you invest in Silver ETF?
SEBI's introduction of Silver ETFs is a positive development. Investors looking to diversify their commodity basket can consider investing in Silver ETFs along with Gold ETFs. Investing in silver via the ETF route will provide you with the benefit of price efficiency, liquidity, and convenience.
As mentioned earlier, silver is more volatile than gold; therefore, one should decide the quantum of allocation in Silver ETFs after assessing their risk profile. When you invest in Silver ETFs, avoid speculative bets and invest with a long term view to benefit from the future potential of silver.
PS: If you are looking for quality mutual fund schemes (including Equity-linked Saving Schemes) to add to your investment portfolio, I suggest you subscribe to PersonalFN's premium research service, FundSelect. PersonalFN's FundSelect service provides insightful and practical guidance on which mutual fund schemes to Buy, Hold, and Sell.
Currently, with the subscription to FundSelect, you could also get Free Bonus access to PersonalFN's Debt Fund recommendation service DebtSelect.
If you are serious about investing in a rewarding mutual fund scheme, subscribe now!
Author: Divya Grover
This article first appeared on PersonalFN here.
Join Now: PersonalFN is now on Telegram. Join FREE Today to get 'Daily Wealth Letter' and Exclusive Updates on Mutual Funds
PersonalFN is a Mumbai based personal finance firm offering Financial Planning and Mutual Fund Research services.
Disclaimer:
The views mentioned above are of the author only. Data and charts, if used, in the article have been sourced from available information and have not been authenticated by any statutory authority. The author and Equitymaster do not claim it to be accurate nor accept any responsibility for the same. The views constitute only the opinions and do not constitute any guidelines or recommendation on any course of action to be followed by the reader. Please read the detailed Terms of Use of the web site.
More Views on News
Jan 21, 2022
Several companies are adopting drone technology for regular business operations.
Jan 19, 2022
While promoter holding is an important parameter, it should not be the sole reason for buying a stock.
Jan 19, 2022
These penny stocks are up more than 30% already since the beginning of the year.
Jan 24, 2022
We reached out to Brijesh Bhatia, Research Analyst at Equitymaster for his views on the current market sell-off and how investors should play it.
Jan 24, 2022
Will Sensex fall to 40,000? Or will it head higher towards 100,000? Here's what our readers think...
More Views on News
Most Popular
Jan 13, 2022
With government initiatives set to boost the steel sector, find out who has a better chance of coming out on top.
Jan 11, 2022
The upside in supply chain players could be huge but a delay in the transition to EVs, or any policy related hiccups could end the momentum.
Jan 18, 2022
Rakesh Jhunjhunwala is holding these penny stocks in his portfolio for several years now.
Jan 18, 2022
Tech Mahindra's acquisition of European IT-company fails to excite investors.
Jan 14, 2022
Energy is a sector that looks set to take off. It's time to get in.
More