All You Need to Know about the Newly Launched Bharat Bond ETF 2032
Dec 7, 2021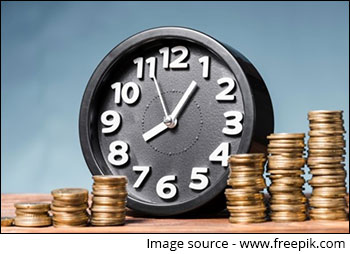 Edelweiss Mutual Fund has launched another scheme in the Bharat Bond series. The new fund offer (NFO) of Bharat Bond ETF will mature in 2032 and is open for subscription from December 03, 2021 to December 09, 2021. Earlier the fund house had launched Bharat Bond ETFs maturing in 2023, 2025, 2030, and 2031.
The minimum investment amount is Rs 1,000, and in multiples of Re 1 thereafter during the NFO period. A Demat account is mandatory to invest in Bharat Bond ETF - 2032. Investors who do not have a Demat account have an alternative to invest via Bharat Bond ETF Fund of Fund - 2032.
Bharat Bond ETF - 2032 will follow a buy-and-hold investment strategy tracking the constituents of Nifty Bharat Bond - April 2032 index. It will invest in AAA-rated (highest rating) public sector bonds maturing within 12 months prior to the maturity of the index.
--- Advertisement ---
Rahul Shah's Lazy Millionaire Summit Is Now LIVE...

Discover the Master Key to Turning Every Market Crash to Your Advantage

Hurry up! Join in now...

Click Here to Join the Lazy Millionaire Summit
------------------------------
The index constitutes eight central public sector enterprises (CPSEs), such as Indian Railway Finance Corporation (IRFC), Power Finance Corporation, Power Grid Corporation, NTPC, NABARD, among others. The exposure to single entity is capped at 15% in the index.
Table: Constituents of Nifty Bharat Bond Index - April 2032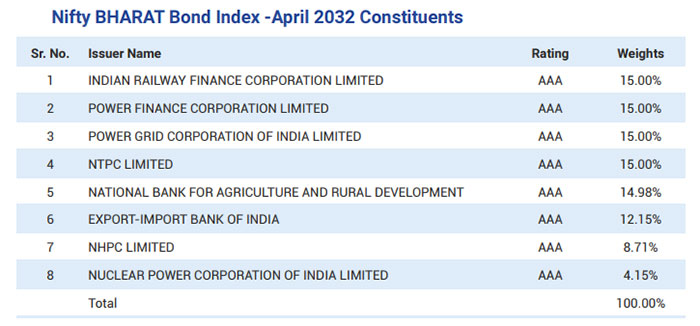 (Source: Bharat Bond ETF - April 2032 Presentation)
What are the benefits of investing Bharat Bond ETF - 2032?
1) Stable and predictable returns
Bharat Bond ETF - 2032 will hold securities till maturity. Therefore, the impact of mark-to-market loss on the fund will be low. The indicative yield of the underlying index, i.e. Nifty Bharat Bond - April 2032 index, is 6.87%. If you hold the scheme till maturity, your returns will be in line with the portfolio's current yield to maturity (YTM).
2) Low credit risk
The fund will invest in securities issued by public sector companies. These securities enjoy high credit rating since they have government backing. Therefore, from the credit quality perspective, these funds are relatively safe. The low credit risk makes Bharat Bond ETF - 2032 suitable for investors with a low-risk profile.
Illustration: How Bharat Bond ETF works?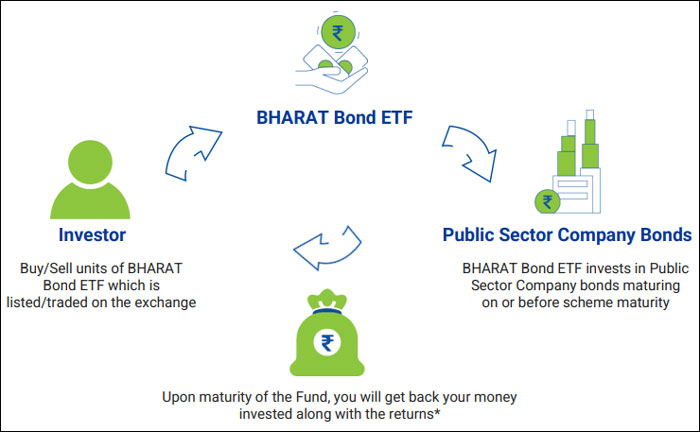 (Source: Bharat Bond ETF - April 2032 Presentation)
3) Low cost of investment
Being a passively managed scheme, the cost of management of Bharat Bond ETF - 2032 is very low. The expense ratio of the ETF is just 0.0005%, whereas that of Fund of Fund is 0.05%.
4) Traded on exchanges
Bharat Bond ETF - 2032 is an open-ended scheme; therefore, it enjoys better liquidity compared to fixed maturity plans (FMPs) that are close-ended. Investors can purchase or redeem units on stock exchanges at any time.
5) Taxation efficiency
Bharat Bond ETF - 2032 is more tax-efficient compared to traditional investments such as Bank FDs. Gains on Bharat Bond ETF - 2032 is taxable similar to other debt mutual funds. Investors in the highest tax bracket can benefit from indexation if they invest for 3 years or more. In this case, gains are taxable at 20% with indexation benefits. Indexation allows you to adjust the purchase price of your investment with inflation, and thereby lower your tax on returns. Gains on short-term investments (less than 3 years) are taxable as per your income tax slab.
Equitymaster's Stock Screener: Identifying High-Potential Stocks Has Never Been this Easy
What are the risks associated with Bharat Bond ETF - 2032?
As mentioned earlier, when you invest in Bharat Bond ETF - 2032, you will lower the impact of interest rate volatility if you hold it until maturity. However, if you redeem your units before the maturity date, your returns may be lower and can even expose you to capital loss, depending on the prevailing market conditions. Therefore, consider investing in Bharat Bond ETF - 2032 only if you can hold the investments until maturity.
Another disadvantage is that, interest rates are currently at a multi-year low, your investment will be locked-in at the current rate in the Bharat Bond ETF - 2032. Therefore, you would potentially earn lower returns than if you lock-in returns when the interest rates are high. That said, if you need to address a financial goal, you should not delay planning your investment.
Should you invest in Bharat Bond ETF - 2032?
Interest rates are currently at a multi-year low with the expectation of rise in inflation. It is expected the interest rates will start to climb upwards in the near future. However, when it will happen is unclear at this juncture.
Omicron, the latest variant of COVID-19, has compounded the uncertainty about the expectation of a hike in interest rate. In the current uncertain interest rate environment, it is advisable to invest in debt funds where the maturity of the portfolio matches your investment horizon.
Bharat Bond ETF - 2032 is offering a yield that is more attractive compared to the current interest rate on the fixed deposits of most banks with similar maturity. Additionally, investors can benefit from the low cost of investment and high quality of instruments in the portfolio. If you need to address a financial goal that has a time horizon similar to the maturity tenure of the scheme, you can consider investing in Bharat Bond ETF - 2032 as a part of fixed income portfolio.
--- Advertisement ---
There is a new paradigm shift currently unfolding across the global economic landscape...

And at the heart of this massive SHIFT is...

INDIA!

India is on the verge of a multi-trillion-dollar rebirth that could potentially mint countless new millionaires...

If you are on the right side of this mega shift, then it could be your biggest opportunity to build potentially massive wealth over the long term.

Click here to find all the details...
------------------------------
If you have a shorter investment horizon, investors can consider Target Maturity Funds of varying maturity such as Edelweiss Nifty PSU Bond Plus SDL Index Fund -2026 and ICICI Pru PSU Bond plus SDL 40:60 Index Fund - Sep 2027, etc.
If you do not have long term horizon, invest in shorter maturity debt funds, such as Liquid funds, Short duration funds, Banking & PSU debt funds, etc. or a combination of these.
Select debt mutual funds that invest predominantly in securities issued by the government and public sector entities. Refrain from investing in schemes where the debt fund manager engages in undue yield hunting. Lastly, remember that investment in debt mutual funds is not risk-free. Therefore, make it point to invest in congruence with your investment time horizon and risk tolerance.
If you are serious about building a winning debt fund portfolio I suggest subscribing to PersonalFN's DebtSelect. Under DebtSelect, we give high weightage to schemes displaying worthy portfolio characteristics. We avoid debt mutual fund schemes that aim for higher yields by taking undue credit risk with substantial exposure in instruments issued by private issuers.
With DebtSelect, you will get unrestricted access to our research team's analysis and recommendations on different types of debt funds, covering factors such as profile and suitability of the fund, performance and other aspects. PersonalFN's DebtSelect provides insightful and practical guidance on which mutual fund schemes to Buy, Hold, and Sell.
Subscribe to DebtSelect today!
Author: Divya Grover
This article first appeared on PersonalFN here.
Join Now: PersonalFN is now on Telegram. Join FREE Today to get 'Daily Wealth Letter' and Exclusive Updates on Mutual Funds
PersonalFN is a Mumbai based personal finance firm offering Financial Planning and Mutual Fund Research services.
Disclaimer:
The views mentioned above are of the author only. Data and charts, if used, in the article have been sourced from available information and have not been authenticated by any statutory authority. The author and Equitymaster do not claim it to be accurate nor accept any responsibility for the same. The views constitute only the opinions and do not constitute any guidelines or recommendation on any course of action to be followed by the reader. Please read the detailed Terms of Use of the web site.
More Views on News
Jan 21, 2022
Several companies are adopting drone technology for regular business operations.
Jan 19, 2022
While promoter holding is an important parameter, it should not be the sole reason for buying a stock.
Jan 19, 2022
These penny stocks are up more than 30% already since the beginning of the year.
Jan 24, 2022
We reached out to Brijesh Bhatia, Research Analyst at Equitymaster for his views on the current market sell-off and how investors should play it.
Jan 24, 2022
Will Sensex fall to 40,000? Or will it head higher towards 100,000? Here's what our readers think...
More Views on News
Most Popular
Jan 13, 2022
With government initiatives set to boost the steel sector, find out who has a better chance of coming out on top.
Jan 11, 2022
The upside in supply chain players could be huge but a delay in the transition to EVs, or any policy related hiccups could end the momentum.
Jan 18, 2022
Rakesh Jhunjhunwala is holding these penny stocks in his portfolio for several years now.
Jan 18, 2022
Tech Mahindra's acquisition of European IT-company fails to excite investors.
Jan 14, 2022
Energy is a sector that looks set to take off. It's time to get in.
More