Franklin Templeton to Hold 2-day E-Voting on December 26. Find out What it Means for Investors in Wound up Schemes
Franklin Templeton to Hold 2-day E-Voting on December 26. Find out What it Means for Investors in Wound up Schemes
Dec 8, 2020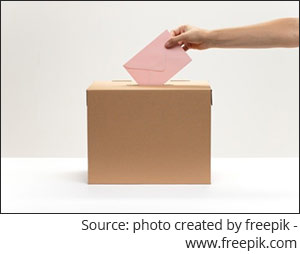 Franklin Templeton Mutual Fund has informed its investors of the six wound-up debt schemes about the e-voting process that will take place from 9 am on December 26 till 6 pm on December 28 for their consent to wind up these schemes.
The voting activity for each of the six schemes will be conducted separately. If you are an investor in one or more of the schemes under winding, you will be required to vote separately for each scheme.
It will also conduct a meeting via video conferencing for each scheme separately on December 29 where the unitholders will get a chance to talk to the trustees. Unitholders can e-vote during the meeting as well.
Earlier on December 03, the Supreme Court had asked FT to initiate steps to seek unitholders' consent for closure of six debt schemes. It also ordered stay on redemptions in the schemes until further notice. Further, the apex court has agreed to hear an appeal filed by FT against Karnataka High Court order, which had asked the fund house to not proceed with the winding up of schemes without gaining prior consent of the unitholders.
FT has partnered with K Fintech for the electronic voting process and the unitholders meeting to seek unitholders' consent. FT will require consent by a simple majority in order to go ahead with the winding up of schemes.
--- Advertisement ---
Missed Our Urgent Broadcast LIVE?

For readers who missed watching our broadcast on India's Revival...

We've released the transcript of the event for a limited period now.

You can see all the important highlights from our broadcast in this transcript.

And also get a chance to grab a copy of Tanushree's latest reports, India's Greatest Revival: The Three Mega-Trends Behind 1,000% Gains and 3 Ticking Bombs to Sell Now - combinedworth Rs 5,900 for virtually FREE.

But please note that we may take this transcript off the internet any minute.

So read it immediately.

Click Here to Read the Transcript NOW
------------------------------
What will the voting process entail?
Unitholders will have the option to vote 'Yes' (in favour of) or 'No' (against) for winding up of schemes.
FT India President, Sanjay Sapre has urged unitholders to vote in favour of winding up of schemes to ensure liquidation in an orderly manner with a potential to realize fair value from the assets. He said that this affirmative option would enable the recovery of maximum value of securities the schemes hold because there will be no selling pressure. Sapre has assured unitholders that an orderly winding up does not mean a lengthy wait for return of money.
Once the six schemes receive the investors' consent for winding up, the Trustees will then proceed to seek further approval from unitholders for appointment of a person under Regulation 41(1) to carry out the winding up. However, FT has warned unitholders of the potential run on the schemes if they do not receive consent to go ahead with the winding up and the schemes are reopened.
--- Advertisement ---
[Watch Now] 3 Little-known Stocks We are Super Bullish On




Click Here to Watch Now
------------------------------
According to FT, reopening of the schemes could result in a high volume of redemption requests pushing the schemes to undertake distress sale of assets since the market is unlikely to have the liquidity to absorb such large quantities of securities over a short period of time. This could result in a reduction in the net asset value (NAV) of the schemes and substantial losses to the unitholders.
FT added that in the case of reopening the schemes, unitholders will have to apply for redemptions if they wish to receive monies. This may result in disproportionate distribution of any cash generated to unitholders depending on the time of redemption.
Till now 4 out of 6 schemes have turned cash positive after repaying the borrowings. These are Franklin India Ultra Short Bond Fund (FIUBF), Franklin India Dynamic Accrual Fund (FIDA), Franklin India Low Duration Fund (FILDF), and Franklin India Credit Risk Fund (FICRF). Franklin India Short Term Income Plan (FISTIP), and Franklin India Income Opportunities Fund (FIIOF) still have outstanding borrowings. The six schemes together have an AUM of Rs 25,861 as on November 27, 2020.
Table: Expected timeline of payout from wound-up schemes of FTMF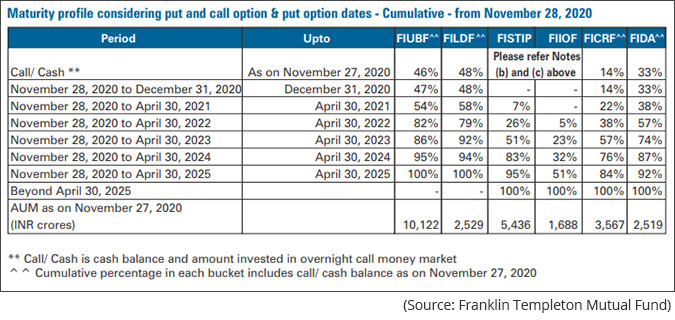 FT has received Rs 11,576 crore as of November 27 from the six schemes in the form of maturities, prepayments, and coupons. Of this, Rs 7,226 crore is available for distribution to unitholders in the four cash positive schemes.
Once the trustees of the fund receive consent, they can proceed with the monetization of assets and distribution of funds to unitholders in the respective schemes.
PS: If you wish to select worthy mutual fund schemes, subscribe to PersonalFN's unbiased premium research service, FundSelect. Each fund recommended under FundSelect goes through our stringent process, where funds are tested on both quantitative as well as qualitative parameters.
Every month, PersonalFN's FundSelect service will provide you with insightful and practical guidance on equity mutual funds and debt schemes - the ones to Buy, Hold, or Sell.
And on the occasion of 20 years of our unbiased research service, we bring to you this Special Anniversary Offer. Subscribe now!
Author: Divya Grover
This article first appeared on PersonalFN here.
Join Now: PersonalFN is now on Telegram. Join FREE Today to get 'Daily Wealth Letter' and Exclusive Updates on Mutual Funds
PersonalFN is a Mumbai based personal finance firm offering Financial Planning and Mutual Fund Research services.
Disclaimer:
The views mentioned above are of the author only. Data and charts, if used, in the article have been sourced from available information and have not been authenticated by any statutory authority. The author and Equitymaster do not claim it to be accurate nor accept any responsibility for the same. The views constitute only the opinions and do not constitute any guidelines or recommendation on any course of action to be followed by the reader. Please read the detailed Terms of Use of the web site.
More Views on News
Apr 19, 2021
This is how the Nifty can hit 16,000.
Apr 19, 2021
Why I believe the best days lie ahead for Equitymaster and for you.
Apr 16, 2021
A look at what India's top equity mutual funds bought and sold in March 2021.
Apr 16, 2021
PersonalFN's analysis on the features and performance of Kotak India EQ Contra Fund.
Apr 16, 2021
Those who don't learn from financial history are doomed to lose their money.
More Views on News
Most Popular
Apr 13, 2021
Ajit Dayal on how India's vaccine strategy will impact the markets.
Apr 6, 2021
Rather than predicting the market, successful investing is more about preparing well and placing your bets accordingly.
Apr 15, 2021
Narayana Murthy was one of the first unicorn founders to get the backing of this entity...
Apr 13, 2021
In this video, I'll you what I think is the real reason behind yesterday's market crash.
Apr 12, 2021
This ignored sector could deliver big short-term profits.
More