Bank FDs vs. Debt Mutual Funds: Which is better?
Bank FDs vs. Debt Mutual Funds: Which is better?
Dec 26, 2017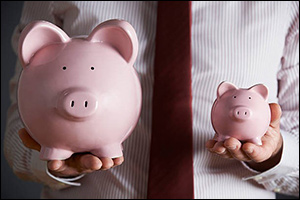 Conservative investors are in a dilemma these days. On one hand, banks have been slashing interest rates on deposits, while on the other; the RBI is forecasting a rise in inflation in the foreseeable future.
In the first-half of the FY 2017-18, i.e. between April 2017 and September 2017; the retail inflation averaged below 3.0%.
However, as a combined impact of rising food prices and the implementation of the Seventh Pay Commission, inflation is expected to remain in the range of 4.3% to 4.7% in the second-half FY 2017-18, i.e. between October 2017 and March 2018. Moreover, the fiscal deficit has tipped 96% of the ceiling placed for the full-year, i.e. for FY 2017-18, in the first seven months.
This may prove to be a double whammy for India. Investors will have to bear the brunt of the changing macro-economic conditions.
The changing times...
Federal Reserve (Fed) in the U.S. has hiked interest rates thrice times (by 25bps-basis points each time) in 2017. It is expected to increase them another three times in 2018. In other words, the U.S. bonds and treasuries have become attractive to global investors.
Therefore, unless emerging countries like India offer competitive interest rates, they will be unable to attract foreign capital to the extent they pulled in the past. Rising domestic inflation, delicate fiscal deficit situation, and increasing yields in the developed countries leave a limited room for a rate cut from the Reserve Bank of India.
Nonetheless, inflation is unlikely to breach the RBI's medium-term target of 4.0% on a full-year basis. Besides, the Government hasn't shown signs of allowing any relaxation in the fiscal discipline. As a result, RBI is unlikely to aggressively hike policy rates either in FY 2018-19.
But these aren't good enough conditions for the investors in fixed income avenues, because, interest rates on fixed deposits may continue to fall for some more time
Factors responsible for the falling interest rates...
Surplus liquidity
Tepid demand for credit
Dim prospects of the uptick in corporate credit disbursement
The Dosanomics ----advocates investors to mind the real rate of returns rather than nominal interest rates -----is unfavourable for investors at this juncture. Under such circumstances, conservative investors are finding it difficult to invest their hard-earned money.
But not everything is lost. You shouldn't feel disappointed as debt funds can still come to your rescue. At PersonalFN we receive numerous queries on alternative to fixed deposits. For the investors' benefit, PersonalFN presents a comparison between fixed deposits and debt funds. Read carefully!
Here are some points of distinction between Bank FDs and Debt Mutual Funds:
Risk-Return: It is vital to recognise that investing in debt mutual funds commands a higher risk vis-a-vis bank FDs (and small saving schemes). While the interest rate offered on bank FDs are pre-specified and fixed for the entire tenure, the returns on debt funds may vary based on the market movement. Hence the disclaimer: "Mutual fund investments are subject to market risks, read all scheme related documents carefully."
Given the market-linked nature of debt mutual funds, the return potential hinges on market conditions and how efficiently the fund manager manages the portfolio. Investing in debt funds exposes you to various risks: interest rate risk and credit risk being the primary ones.
As you might be aware, debt funds invest in bonds and fixed income securities issued by banks, corporate, and the Government, including those issued by the state governments. When the interest rates move up, bond prices move down and vice-a-versa. Similarly, debt funds run a risk of losing money if the debtor fails to discharge its debt obligations. Therefore, you should consider your risk appetite while choosing between bank fixed deposits and debt funds. Unlike in the case of debt funds, Bank FDs on the other hand, come with insurance and credit guarantee. Deposit Insurance and Credit Guarantee Corporation (DICGC) guarantees an amount of up to Rs 1,00,000 per depositor per bank - for both principal and interest.
Real rate of return: Over the long-term, debt mutual funds effectively beat the inflation bug. Meaning, they hold the potential to clock a decent real rate of return (also known as the inflation-adjusted returns). But selecting the best or winning debt funds is a critical task.
Liquidity: Barring a few exceptions-Fixed Maturity Plans (FMPs) and Interval Funds among others, debt funds are highly liquid. Whereas, in case of bank FDs liquidity is dovetailed in the tenure of the FD. The option to prematurely withdraw a bank FD is, of course, available. The setback is, you will lose out on a portion of your expected returns, and a penalty is charged. Thus, bank FDs offer medium-to-low liquidity. Cost of investing: In case of mutual funds, the cost of investing clearly depends on the category of mutual fund scheme you are investing in. While a liquid fund may have a expense ratio of up to 1% p.a., other debt funds may have anywhere between 0.50% p.a. to 2.25% p.a. The expense ratio has a bearing on returns, as the return yields are post-expenses.
On the other hand, bank fixed deposits offer an advantage on this parameter, as they do not levy any expense on the depositor. And you get the entire rate of interest promised by the bank.
Tax implication: This is an important aspect while choosing between debt mutual funds and fixed deposits. Your gains from long term investment in debt mutual funds (i.e. held over a period of 3 years), are taxable @ 20% with an indexation benefit available. While the short-term capital gains from debt and liquid mutual funds are taxable as per your tax slab.
In case of bank FDs, the interest is taxable as per your tax slab (i.e. as per marginal rate of taxation), irrespective of the tenure of the bank FD. Thus comparatively, investing in debt funds is more tax efficient than bank FDs.
A quick comparison: Debt Mutual funds vs. Bank FDs...
| Parameter | Debt Funds | Fixed Deposits |
| --- | --- | --- |
| Rate of Returns | No Assured Returns | Fixed Returns |
| Inflation-Adjusted Returns | Potential for High Inflation-adjusted Returns | Usually Low Inflation-adjusted Returns |
| Risk | Medium - High Risk | Low Risk |
| Liquidity | High liquidity | Medium to Low Liquidity |
| Premature Withdrawal | Allowed with Exit Load | Permitted with Penalty |
| Cost of Investment | Expense Ratio | No Cost |
| Tax Status# | Favourable Tax Status Depending On The Tenure Of The Investment. | As Per Tax Slab |
(# Taxation details are as per existing tax laws. The nature of tax will depend based on the individual's tax status and nature of investments)
What should investors do at the current juncture?
During the prevailing times, selecting the category of debt mutual funds becomes crucial. Currently, the macro-environment does not seem very conducive for lower yields. The sentiments in the Indian debt market are hurt on concerns that the path to fiscal consolidation could be disrupted (owing to mammoth expenditure by Government), especially when growth is flagging and Current Account Deficit on rising imports is widening yet again. Hence, 10-year benchmark yields have hardened. A rating upgrade by Moody's helped cool-off yields a bit. This was short-lived.
PersonalFN is of the view that, investing aggressively at the longer end of the yield curve could prove imprudent. To put it simply, investing in long-term debt funds (holding longer maturity debt papers) can be perilous, as most of the rally has been already captured at the longer end of the yield curve. If you still willing to take high risk, dynamic bond funds can be considered provided you have a time horizon of at least three years.
Given that yields have moved up almost 75 bps in last 6 months, Shorter Duration Funds can be considered with two-three year time frame. Short-term maturity papers look attractive, and fund houses are aligning their portfolio accordingly.
Ideally, you'll be better-off if you deploy your hard-earned money in short-term debt funds; but ensure you're giving due importance to your investment time horizon, asset allocation, and portfolio diversification.
If you have an investment horizon of three to six months, ultra-short term funds (also known as liquid plus funds) would be the most suitable.
And if you have an extreme short-term time horizon (of less than 3 months), you would be better-off investing in liquid funds.
Don't forget that investing in debt funds is not risk-free. Therefore consider the 5-facets while investing in debt funds.
Some other options to invest in debt instruments are tax-free bonds, especially if you are in the highest tax bracket.
A few highly rated corporate deposits and bonds may also yield better returns than bank FDs. But make sure you study the company's financials before investing, as the risk of default can't be ignored. This will save you from the financial shocks.
Sensible and astute investment strategy serves the path to wealth creation and is always good for your long-term financial wellbeing.
If you need research-backed recommendations to select the best equity and debt mutual fund schemes for your portfolio, opt in for PersonalFN's model mutual fund portfolio service 'FundSelect Plus' It has completed a decade and we are offering subscriptions at a massive 75% discount! Get access 7 high-performing, time-tested readymade portfolios with a decade-long market-beating track record. PersonalFN's track record speaks for itself, as all three portfolios have comfortably achieved higher than their respective benchmarks. Subscribe now!
PersonalFN is a Mumbai based personal finance firm offering Financial Planning and Mutual Fund Research services.
Disclaimer:
The views mentioned above are of the author only. Data and charts, if used, in the article have been sourced from available information and have not been authenticated by any statutory authority. The author and Equitymaster do not claim it to be accurate nor accept any responsibility for the same. The views constitute only the opinions and do not constitute any guidelines or recommendation on any course of action to be followed by the reader. Please read the detailed Terms of Use of the web site.
More Views on News
Mar 22, 2018
Certain blue chips hold the potential of delivering returns comparable to small-cap stocks. With these stocks, you can get the best of both worlds.
Nov 29, 2017
Stocks that could beat Sensex returns in the long term.
Jul 20, 2018
PersonalFN brings to you a real-life case of how husband and wife engaged in a sensible money-talk post-marriage to build a solid mutual fund portfolio.
Jul 20, 2018
Bill Bonner talks in detail about US president been accused of treason, biggest debt default in China, the problem of growing inflation and the trade war.
Jul 20, 2018
Here's is a business in small cap space that is asset-light and yet profitable - A serious contender for the list of future blue chips.
More Views on News
Most Popular
Jul 12, 2018
Blindly following super investors is a dangerous game to play. Here's how you can avoid such mistakes.
Jul 10, 2018
If you're worried about the markets - you are on the wrong track. This is opportunity - put your wealth-building hat on, instead - Richa shows you how...
Jul 11, 2018
The price signals that MSP sends out, creates its own set of problems.
Jul 11, 2018
PersonalFN explains how ICICI Prudential Mutual Fund flouted the norms of related party transactions while subscribing to the IPO of ICICI Securities.
Jul 10, 2018
PersonalFN highlights the key points of distinction between PPF and mutual funds.
More