How To Link Aadhaar With LIC & Other Insurance Policies
How To Link Aadhaar With LIC & Other Insurance Policies
Dec 28, 2017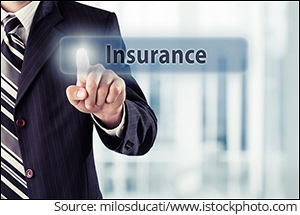 Savers and investors can now breathe a sigh of relief as the deadline to link Aadhaar to various documents and services has been extended.
Through notifications issued in the first half of December 2017, the government extended the linking of Aadhaar with PAN, Bank Account, insurance policies, demat accounts and other financial services that come under the Prevention of Money Laundering Act, 2002. The new deadline to link Aadhaar is now March 31, 2018.
On December 15, a five-judge Constitution Bench of the Supreme Court, extended the deadline for Aadhaar linkage to March 31, 2018 only for non-Aadhaar holders opening new bank accounts. The deadline for linking Aadhaar with mobile number was also extended to March 31, 2018, from February 6, 2018. The court also extended the deadline for Aadhaar linking to avail 139 services and subsidies under Section 7 of the Aadhaar Act to March 31, 2018.
The Bench scheduled the final hearing on 28 separate writ petitions challenging the very validity of the Aadhaar scheme for January 17, 2018.
With the Aadhaar linking deadline now extended, many financial services companies will have time to develop and improve their systems and processes to make Aadhaar linking hassle free. Right up to the beginning of December 2017, many companies were yet to introduce an online feature for linking Aadhaar. However, for those that had done it, the Aadhaar linking system was riddled with technical glitches.
Most insurance companies are yet to launch an online facility. Life Insurance Corporation (LIC) of India, was among the first insurance providers to extend an online facility for linking Aadhaar to LIC policies.
LIC is one of the oldest insurers with the largest customer base. With a wide network of LIC agents, almost everyone has an LIC policy in their name. The online route will prove convenient to all LIC policyholders who are yet to link their Aadhaar.
PersonalFN highlights how to link Aadhaar with an LIC policy in a few simple steps.
Prerequisites:
Aadhaar Card number
PAN Card number
LIC Policy number
Mobile number linked to Aadhaar to receive the One Time Password (OTP)
How to link Aadhaar with LIC policy online
Step 1: Visit www.licindia.com for the Aadhaar linking facility
On the homepage of www.licindia.com there will be a banner to 'Link Aadhaar and PAN to Policy'. Click on it.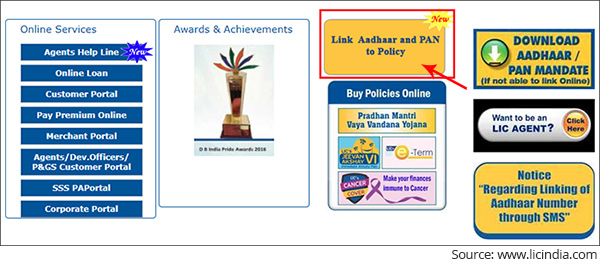 The link will take you to a page (as shown below) outlining the requirements and the process to link your Aadhaar and PAN to your LIC policy. Click on 'Proceed' to continue.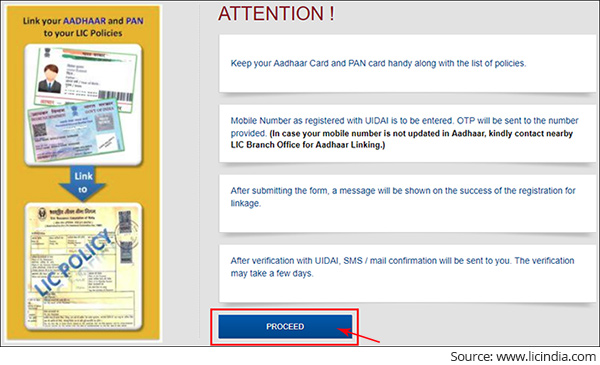 Step 2: Fill up the details on the LIC Aadhaar Linking form
On clicking 'Proceed' as above, the page will be directed to a form as below: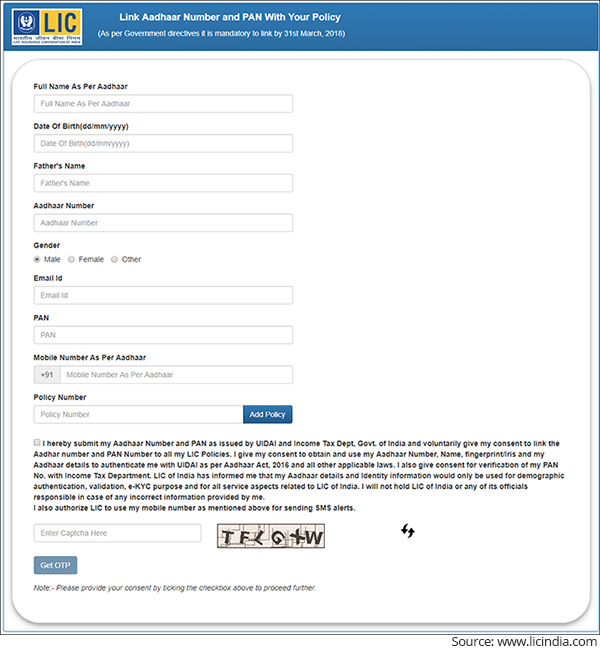 Enter the details as asked. You have the option of linking multiple LIC policies by entering the policy number and clicking on 'Add policy'. Crosscheck all details once, and click on 'Get OTP'. Ensure there are no typographical errors when filling the form, or else the LIC-Aadhaar linking will fail.
Step 3: Verify details and enter the OTP to complete the LIC-Aadhaar Linking
On clicking on 'Get OTP', the OTP you receive on your mobile number registered with UIDAI needs to be entered in the space, as shown below.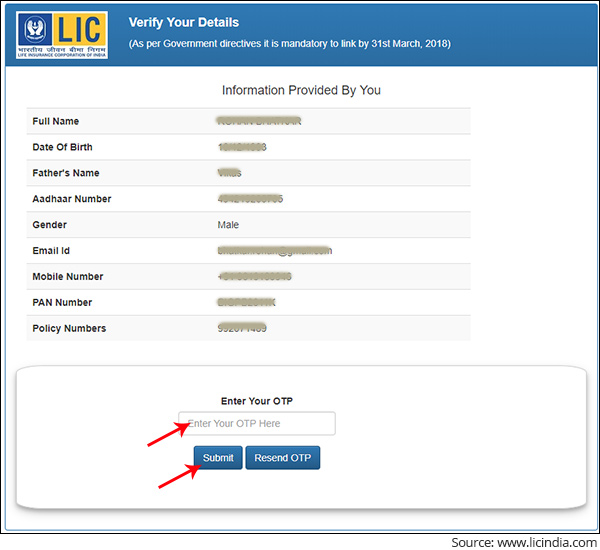 After confirming the particulars of the form, enter the OTP and click 'Submit'. You will receive a confirmation message for the LIC-Aadhaar linking request. The LIC-Aadhaar linking request will be processed in a few days. On successful verification with the UIDAI, a confirmation email will be sent to you.
How to link Aadhaar with LIC policy offline
Due to technical issues or other discrepancies, you may be unable to link Aadhaar to LIC policies online. If you are unable to link your LIC with Aadhaar online, you need to complete and submit this form: https://www.licindia.in/getattachment/Home-(1)/Online-Aadhaar-PAN-Mandate.pdf.aspx, to your LIC agent or at the LIC Branch office. All you need to do is mention the LIC policy numbers and attach a self-attested copy of your Aadhaar card and PAN card.
Link Aadhaar to other insurance policies
Similar to LIC, several other major insurance providers have introduced an online facility to link Aadhaar to insurance policies. The process is similar in most cases.
Link Aadhaar to ICICI Prudential Life Insurance Policy
You can link Aadhaar to ICICI Prudential Life Insurance Policies by using this link: https://www.iciciprulife.com/services/update-your-aadhaar.html.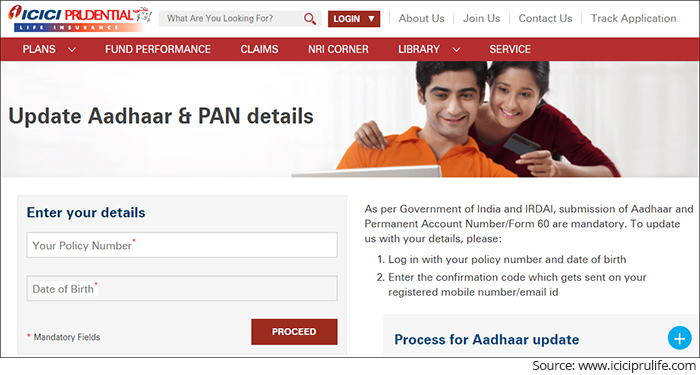 You will need to log in with your policy number and date of birth. On the verification of these details, you will receive a confirmation code on your registered mobile number / email id.
On verification, in the Aadhaar tab, click on 'Edit' and enter your Aadhaar number and click on 'Verify'. An OTP will be sent to your mobile number linked with Aadhaar. Enter the OTP and on verification, click on 'Save' to link your Aadhaar number.
Link Aadhaar to HDFC Life Insurance Policies
You can link Aadhaar to ICICI Prudential Life Insurance Policies by using this link: https://myaccount.hdfclife.com/.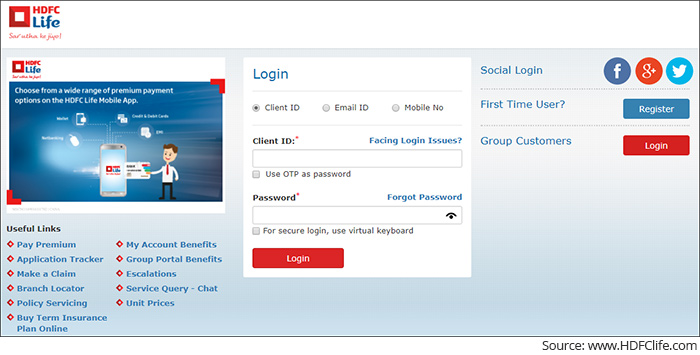 After successful login, you will get an option to view existing policies under 'My Policy'. Here you will get an option to 'Update Aadhaar'. Enter your Aadhaar number and click 'Submit' to complete the linking process.
Online facility for linking Aadhaar provided by other insurance companies
Some insurance providers offer linking Aadhaar without the need of an online account. For the others, you may need to log in to your insurance account online to enter get Aadhaar linked. Here are the links to the online facilities of a few other major insurance companies.
SBI Life Insurance: https://www.sbilife.co.in/en/aadhar-updation-form
Aditya Birla Sun Life Insurance: https://lifeinsurance.adityabirlacapital.com/customer-service/manage-your-policy.aspx
Bajaj Alliance Life Insurance: https://bajajallianzlifeonline.co.in/CustomerPortal/logon/index.jsp#!/login
Bharti AXA Life Insurance: https://online.bharti-axalife.com/PULLSMS/LinkAadhaar.aspx
Reliance Nippon Life Insurance: https://customer.reliancenipponlife.com/Registration/LoginPage.aspx
To conclude...
Many financial service providers are in the process of setting up an online system to link Aadhaar. The variations in process, from one service provider to the other may be cumbersome to deal with. If the name on your policy differs from what is on your Aadhaar, it could lead to further delay and paperwork.
Linking Aadhaar with insurance, mutual funds, etc. is just a temporary phase and should not divert your mind from your ongoing financial goals and other personal finance needs.
PersonalFN believes that without an optimal life insurance cover, you are most probably bidding farewell to the dreams and financial objectives of your loved ones. To ensure that your family lives a stress-free financial life even after you are gone, it would be prudent to find out whether you are adequately insured or not.
Check if you are adequately insured by using this simple calculator. Many tend to underestimate their insurance requirement. Are you one of them? Find out here.
At PersonalFN, we are committed to providing you with unbiased, honest views and opinions on various personal finance issues that can affect your investments and finances. We personalise Financial Planning solutions for our clients in India, as well as to NRIs, so as to help them meet their financial goals and objectives. Check out our financial planning services here.
You can reach write to info@personalfn.com or call on 022-63161200 for superlative guidance on Personal Finance, Mutual Funds and Financial Planning. PersonalFN's Financial Guardians will be happy to help you!
This article first appeared on PersonalFN here.
PersonalFN is a Mumbai based personal finance firm offering Financial Planning and Mutual Fund Research services.
Disclaimer:
The views mentioned above are of the author only. Data and charts, if used, in the article have been sourced from available information and have not been authenticated by any statutory authority. The author and Equitymaster do not claim it to be accurate nor accept any responsibility for the same. The views constitute only the opinions and do not constitute any guidelines or recommendation on any course of action to be followed by the reader. Please read the detailed Terms of Use of the web site.
More Views on News
Apr 20, 2021
Here's the rundown on the company's latest quarterly results.
Apr 21, 2021
PersonalFN explains the outlook for Balanced Advantage Funds and the best Balanced Advantage Funds that can be considered for investment in 2021.
Apr 21, 2021
In this video I'll tell you why trading commodities will make you a better trader.
Apr 21, 2021
The guiding light of Equitymaster for two and half decades.
Apr 20, 2021
PersonalFN analyses the features of TRUSTMF Liquid Fund and explains the potential this fund has to offer to its investors.
More Views on News
Most Popular
Apr 13, 2021
Ajit Dayal on how India's vaccine strategy will impact the markets.
Apr 15, 2021
Narayana Murthy was one of the first unicorn founders to get the backing of this entity...
Apr 16, 2021
There is no stopping this 11-bagger stock from significant upside.
Apr 20, 2021
In this video I tell you the three Nifty ETFs I think are the best.
Apr 13, 2021
In this video, I'll you what I think is the real reason behind yesterday's market crash.
More