THE OUTSIDE VIEW
JANUARY 5, 2018
Is Your Mutual Fund Skewed To Finance Stocks?
Are you planning to invest in a diversified equity mutual fund?
Well, the mutual fund you pick may not meet the definition of diversification.
An equity diversified fund is expected to be diversified across stocks and sectors. If the portfolio is skewed to the top holdings or even to a few sectors, it may not exactly be diversified.
In certain cases, according to the fund's investment objective, it may take concentrated bets. However, when a majority of funds skew their portfolio to a specific sector, it is a cause for concern.
Consider this, on analysing the November 2017 portfolio of the 180 diversified equity funds, we find that as many as 61 schemes had an allocation of over 30% each to financial stocks. About 64 equity schemes had an allocation between 20%-30% to financial stocks. This means that nearly 70% of the equity schemes maintain an exposure of over one-fifth to financial stocks.
Mutual Funds Betting Big On Finance Stocks
Portfolio data as on November 30, 2017
(Source: ACE MF, PersonalFN Research)
As you can see in the table above, the list of top 20 schemes exposed to financial stocks includes as mix of different styled funds. While there are a few mid-cap oriented funds, large-cap, and multi-cap funds that dominate the list.
Why are mutual funds skewed to finance stocks?
The run-up of banks and other financial companies in the recent few years has led to an increase in weightage on the index. As most schemes use the index performance as a yardstick, they often maintain an allocation similar to the benchmark, in order to avoid any uncomfortable divergence in performance.
Sector-wise Exposure of S&P BSE 200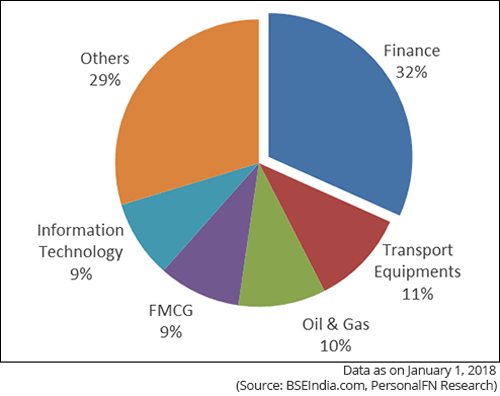 The S&P BSE 200 forms the benchmark of a majority of schemes. As can be seen in the chart above, as much as 32% of the portfolio is exposed to finance stocks. This weightage is nearly triple that of Transport Equipment's, the next highest weighted sector.
Sector-wise Exposure of Nifty 50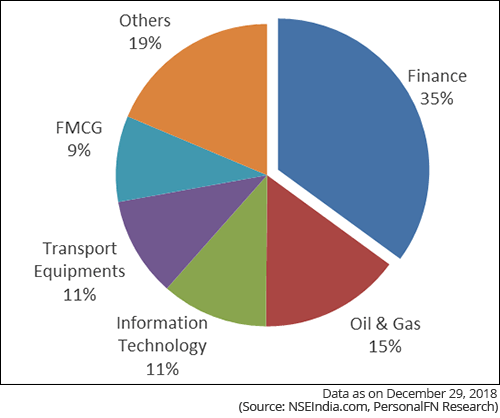 In the Nifty 50 index, another widely tracked benchmark, the exposure is highly skewed to finance stocks. Over 35% of the portfolio is exposed to the financial sector. The remaining sector allocations are in line with the broader S&P BSE 200 index.
Given this structure of the benchmark indices, mutual funds tend to adopt a similar approach. Hence, it will not be surprising to see mutual funds having a higher exposure to energy, auto, IT, and FMCG stocks too. It is evident that such stocks can't be ignored if the fund manager wants the portfolio to perform in line with any of these indices.
Are mutual funds risking your money with an exposure to finance stocks?
Market participants are relying on banks to lead the market rally over the long term. Majority of Domestic Institutional Investors (DIIs) and Foreign Institutional Investors (FIIs) are gung ho on banking and financial stocks.
On the flip side, Non-Performing Assets (NPAs) of Indian banks continue to remain at precariously high levels. Loan growth has languished to a multi-decade low and banks seem to have lost prominence, albeit temporarily. As per the RBI figures, the share of banks in the total outstanding credit in the economy has shrunk from 50% in the Financial Year (FY) 2015-16 to about 38% in FY 2016-17. The contribution of the major corporate borrowers is 87% (terribly high).
However, as per recent data, the credit off-take from banks is gradually gathering steam. Year-on-year growth in credit inched close to 10% as on November 24, 2017. In its fifth bi-monthly monetary policy statement, the RBI mentioned, "On the positive side, there has been some pick-up in credit growth in recent months. Recapitalisation of public sector banks may help improve credit flows further."
After plunging to a multi-decade low of 4.1% in May 2017, non-food bank credit has witnessed a rising trajectory every month since June, although it has been lower vis-a-vis the year-ago period. Commenting on this trend, the RBI Governor Urjit Patel said, "And as the economy picks up, the demand for credit should go up and there is enough supply to ensure that lack of credit is not in the way of supporting higher growth. So, the uptick in credit growth has already happened."
It is also important to note, Public Sector Banks (PSBs) contribute significantly to the overall stress in the banking system. After all, they are the main lenders to corporations. Compared to this, a majority of private sector banks lend to retail borrowers, who are relatively less risky customers for banks, compared to the corporate borrowers. Looking at the mutual fund holdings, most schemes have an allocation of under-5% to PSBs.
Further, Non-Banking Finance Companies (NBFCs) and Housing Finance Companies (HFCs) have become a favourite with mutual fund houses. 'Housing finance' is one of the safest portfolios. And, select NBFCs are playing a key role in making good for the shortfall of capital the impairing banks, especially the PSBs, cause. Some NBFCs have an impeccable track record, and some fund managers might have seen merit in relying on them.
So fund houses are looking at the low interest rates in spurring credit growth. The government's focus on infrastructure development and housing for all will provide a fillip to banks and other finance companies.
This is probably the main underlying reason why most schemes are a burden on banks. Overconcentration has its own share of risks.
Should you invest in mutual funds that have a high exposure to finance stocks?
PersonalFN is of the view that, investment-worthy mutual funds should go by the merit of a company rather than seizing opportunities present in a sector as a whole. Such funds have a better chance of generating higher risk-adjusted returns in the long run.
PersonalFN suggests that you must take a closer look at the performance of your mutual funds. Staying invested in funds with a proven track-record of consistent performance may pay off in the long run.
Thus, in the interest of your long-term financial wellbeing, it is best that you remain wisely structured and review your mutual fund portfolio. If you are unsure where to invest fresh investible surplus currently, to strike the correct risk-return trade-off, we recommend adopt a 'core and satellite approach' to investing.
Constructing a portfolio with a stable core of long-term investments and a periphery of more specialist or shorter-term holdings can help to deliver the benefits of asset allocation and offer the potential to outperform the market. The satellite portfolio provides the opportunity to support the core by taking active calls determined by extensive research.
So, PersonalFN offers you a great opportunity, if you're looking for "high investment gains at relatively moderate risk". Based on the 'core and satellite' approach to investing, here's PersonalFN's latest exclusive report: The Strategic Funds Portfolio For 2025. In this report, PersonalFN will provide you with a readymade portfolio of its top recommended equity mutual funds schemes for 2025 that have the ability to generate lucrative long-term returns. We highly recommend that you opt for The Strategic Funds Portfolio For 2025.
This article first appeared on PersonalFN here.
PersonalFN is a Mumbai based personal finance firm offering Financial Planning and Mutual Fund Research services.
Disclaimer:
The views mentioned above are of the author only. Data and charts, if used, in the article have been sourced from available information and have not been authenticated by any statutory authority. The author and Equitymaster do not claim it to be accurate nor accept any responsibility for the same. The views constitute only the opinions and do not constitute any guidelines or recommendation on any course of action to be followed by the reader. Please read the detailed Terms of Use of the web site.