THE OUTSIDE VIEW
NOVEMBER 9, 2018
How Mutual Funds Can Help You Plan Your Retirement?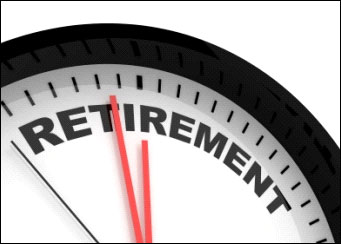 Last week, my dad invited his best friend and colleague, Mr Agarwal and his family over to dinner to celebrate his early retirement, or as my dad exclaimed, 'Freedom!'
Mr Agarwal informed us that after 35 years of service, his company was giving him a lump sum settlement of approximately Rs 35 Lakhs as well as a pension of Rs 15,000 every month. To which my dad exclaimed, 'Well Agarwal ji, this money will last you a lifetime!'
If only he knew it wouldn't.
My dad asked him about what he would want to do with all his free time and money. Mr Agarwal said that he wanted to maintain the same lifestyle as before and take one vacation every year.
His daughter was married, his son was settled abroad, and he had paid off his home loan. He didn't have any outstanding financial debt.
Being a conservative, live-within-your-means kind of person, Mr Agarwal's post-retirement lifestyle seemed prudent. He did not dream of leading a lavish lifestyle or travelling to exotic places, he only wanted to retire peacefully and remain financially independent.
And in reality, that is what majority of us want. Isn't it?
A peaceful life, where alarm clocks are set only for morning walks, not for catching trains, and the entire day can be spent in leisure taking up old hobbies, learning new things, and spending time with loved ones.
For the majority of us, working life starts at 21 and ends at 60; whereas our post-retirement life starts at 60 with an average life expectancy of 85. This means that, we have 39 years to amass wealth to fund the balance 25 years. Should be easy, right?
--- Advertisement ---


Be Greedy When Everyone Else Is Fearful…

The current market crash is indeed a cause of concern for most investors.

But if you're an opportunist, it could be a blessing in disguise.

Tanushree Banerjee, our Safe-Stocks Expert, has carefully picked 7 Blue chip stocks for her loyal subscribers and they're now available at bargain prices.

But these stocks may not be available at such attractive valuations for long.

So before it's too late, click here to claim our special report on 7 stocks To Profit From This Market Crash.
------------------------------
Unfortunately, the vast majority of Indians do not plan for their retirement till they are well over 45 years. This changes the equation drastically, now we have 15 years to amass wealth for 25 years.
Coming back to Mr Agarwal's story, he went on to explain his entire post retirement plan over dinner. Being a financial planner, I was curious to know how he planned to achieve his post-retirement cash flows. He explained it as below....
| Cash Inflow | |
| --- | --- |
| Monthly Pension | Rs 15,000 |
| Monthly Rental Income from Patna Property | Rs 7,500 |
| Total Income | Rs 22,500 |
| Cash Outflow | |
| --- | --- |
| Monthly Expenditure (Incl. of travel/lifestyle) | Rs 20,000 |
| Monthly Vacation Expenditure* | Rs 17,000 |
| Total Expenditure | Rs 37,000 |
*Yearly vacation expenditure of 2 Lakh converted to months
His total income was Rs 22,500 whereas his expenditure was Rs 37,000, leaving him with a shortfall of Rs 14,500 per month.
To wrinkle out this deficit, his master plan was to invest the retirement settlement of Rs 35 Lakhs in a bank FD, make Rs 2.53 Lakhs per annum at 7.25% interest. He thought it would easily cover his deficit of Rs. 1.74 Lakh and he could even manage to save Rs. 79,000 per annum. He called it his 'full-proof' strategy.
To this I blatantly responded, 'You know that's not going to work right?'
Everyone at the table was curious. I explained that While Mr Agarwal's strategy was on point and would indeed serve him well for the next couple of years, after three years this "full-proof" strategy was surely going to fail him. He has failed to account for the most critical aspect in retirement planning, inflation.
Here's proof.
Table 1: The Calculations by a Naive Investor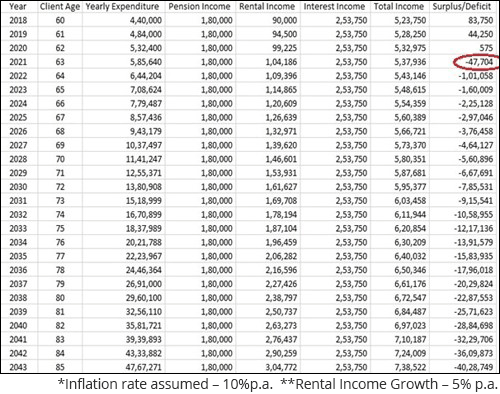 As predicted earlier, he will start incurring short falls from 2021.
His strategy would have worked only if the inflation rate was 0%, i.e. every year he requires the same Rs 37,000 to fund his retirement. But unfortunately, the average inflation rate over the last decade has been 6.5% and the chances of it becoming 0%, are just that, zero!
I explained that if he earns 7.25% on his FD, and the average inflation is 6.5%, his real return was only 0.70%. Contrary to his belief, his Rs 35 Lakhs will grow by 0.70% and not by 7.25% as per his assumption.
At this point, the atmosphere around the table went from being cheerful to outright sad.
I immediately remarked that it wasn't tough to make his hard-earned retirement corpus work for him. All he needed was the assistance of a financial planner to plan for his investments and assist in his post-retirement cash flow planning, here's how it can be done.
Table 2: The Expert Cash flow by a Certified Financial Planner - 1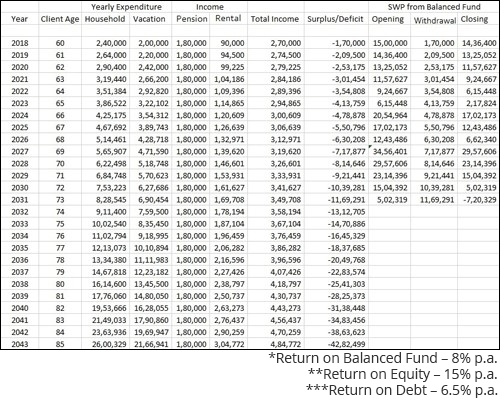 After the reallocation of assets, his shortfall now starts from 2031 rather than 2021 earlier. A simple adjustment of assets gave him a 10-year extension.
But the deficit still persisted. I recommended that a simple tweak in expenditure could change his cash flow drastically. All he had to do was reduce his vacation from once every year, to once every 2 years.
As expected, the result was mind blowing. Not only did the corpus last him the entire 25 years, he had a surplus of Rs 2.61 Cores! That's not a typo, I really do mean a surplus of Rs 2.61 Crores.
Table 3: The Expert Cash flow by a Certified Financial Planner - 2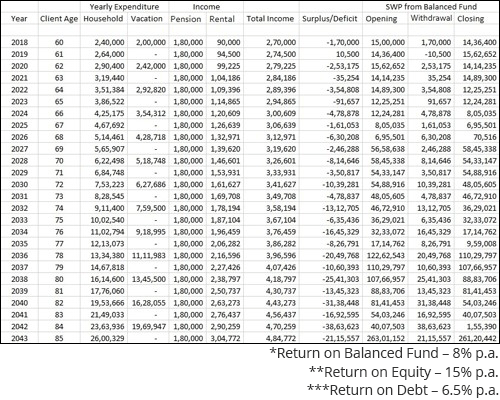 Finally, the celebratory mood returned to the dinner table. Mr Agarwal was happy to see that not only would his money last his lifetime, but he can also pass some off as inheritance to his son and daughter.
He was impressed. Now that his cash flow seemed doable, he wanted to know how the above table can become a reality.
The answer was really simple, "Mutual Funds".
He became a bit apprehensive and remarked, 'Mutual Funds are subject to market risks beta. At this stage, we cannot afford to take any risk. Mutual funds are only for the rich'.
I have never understood why we hesitate in investing in mutual funds. Mutual Funds have time and again proved that they can provide far superior returns in the long run.
In reality, Mutual Funds aren't only for the rich, they make you rich!
I elucidated that mutual funds are indeed one of the best investment vehicles to grow money in the long run. He was more likely to go bankrupt after three years with his savings in Fixed Deposits. Whereas mutual funds could help him achieve his retirement dreams as well as provide an additional Rs 2.61 Crores, albeit with caveat emptor.
The caveat emptor here is simply this, select a mutual fund which is in line with your risk profile and objective.
Understand the Risk Return Trade off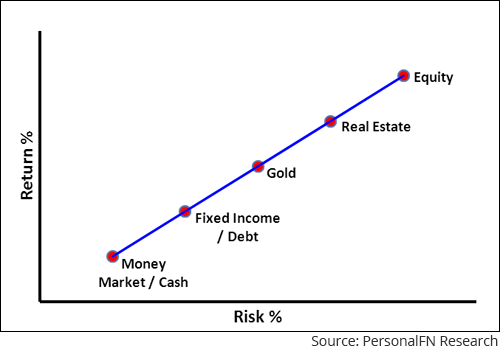 As you may be aware, the potential of a return rises with an increase in risk. This is what risk-return trade-off is all about.
Looking at the above graph, you can easily figure out that an asset class like equities have a High Risk-High Return characteristic and debt are known to be Low Risk-Low Return generating assets. But before falling for any asset class, you should relate each asset to your own risk appetite and investment time horizon.
While you can maximise your return by taking maximum risk, you should not forget that you are allocating your portfolio across assets to minimize the level of risk for a certain level of expected return.
Even if you have a willingness to take high risk, your short time horizon (depending on your age) may not allow you to take that high risk. Therefore, the high-return generating asset class may prove unsuitable for you to a certain extent. Accordingly, you may need to settle for an asset class that can generate low to medium returns for you.
Moreover, you should have a fair diversification across asset class that do not have a direct or positive correlation. What I mean is, every asset class should not gain or lose at the same point of time. You would not like to see all assets in your portfolio tumbling down at the same point of time.
There is a mutual fund for almost every need and risk appetite, across both equity and debt categories. In addition, the return potential of each category of funds vary according to the risk they take.
Therefore, it is very much important to understand the risk-return potential of the funds you choose for your retirement as well as post-retirement goals.
Indicative Risk Return Matrix - Equity & Debt Categories

While selecting mutual funds, you need to evaluate the risk return trade-off they have to offer. While different assets may have different moods based on the market fluctuations, a proper allocation across asset class and investment style may protect you from significant ups and downs of any single asset class and scheme in your portfolio.
Table 4: Indicative Category wise Allocation For Ones Retirement Portfolio
| Age Group | 25-35 | 35-45 | 45-55 | 55-60 | Above 60 |
| --- | --- | --- | --- | --- | --- |
| Category | Very Aggressive | Aggressive | Moderate | Conservative | Very Conservative |
| | | | | | |
| Equity | 90%-100% | 75%-80% | 60%-70% | 40%-50% | 20%-30% |
| Large Cap Funds | 10%-15% | 10%-15% | 10%-15% | 15%-20% | 10%-15% |
| Midcap Funds | 20%-25% | 15%-20% | -- | -- | -- |
| Large & Midcap Funds | 20%-25% | 15%-20% | 10%-15% | -- | -- |
| Multi Cap Funds | 15%-20% | 15%-20% | 10%-15% | -- | -- |
| Value Style Funds | 15%-20% | 10%-15% | 10%-15% | 10%-15% | 0%-10% |
| Aggressive Hybrid Fund | -- | -- | 10%-15% | 15%-20% | 10%-15% |
| | | | | | |
| Debt | 0%-5% | 10%-15% | 20%-30% | 40%-50% | 70%-80% |
| Dynamic Bond Funds | 0%-5% | 10%-15% | 10%-15% | 20%-25% | 15%-20% |
| Short Duration / Corporate Bond Funds | -- | -- | 10%-15% | 20%-25% | 25%-30% |
| Liquid / Ultra Short Duration Funds | -- | -- | -- | 0%-10% | 20%-30% |
| | | | | | |
| Gold | 0%-5% | 5%-10% | 5%-10% | 5%-10% | 0%-5% |
| Gold Funds | 0%-5% | 5%-10% | 5%-10% | 5%-10% | 0%-5% |
| | | | | | |
| | 100.0% | 100.0% | 100.0% | 100.0% | 100.0% |
This table is for illustration purpose only.
(Source: PersonalFN Research)
I understand, it might be difficult for you to take into account all of the above factors and then shortlist funds that suit your investment parameters. But don't worry, for that you can sign up for our mutual fund recommendation service - FundSelect. Moreover, to decide the investment amount and the corpus needed to retire peacefully, you may need a Certified Financial Planner or a Certified Financial Guardian.
A Financial Planner will ensure that:
Investments are made as per your risk profile and financial goals.
Asset allocation is set and followed as per the time line of the financial goals.
Cash Flow is utilised in the best manner.
Schemes are recommended in line with set asset allocation strategy.
Any deviation from the financial plan is eliminated.
It is therefore the responsibility of every individual to plan for their retirement as soon as they start earning. Retirement cannot be a low priority goal. Investing for Retirement should be treated as investing for peace of mind and financial independence post retirement, which is essentially what you want.

Happy Investing!
Author: Deepika Khude
This article first appeared on PersonalFN here.
PersonalFN is a Mumbai based personal finance firm offering Financial Planning and Mutual Fund Research services.
Disclaimer:
The views mentioned above are of the author only. Data and charts, if used, in the article have been sourced from available information and have not been authenticated by any statutory authority. The author and Equitymaster do not claim it to be accurate nor accept any responsibility for the same. The views constitute only the opinions and do not constitute any guidelines or recommendation on any course of action to be followed by the reader. Please read the detailed Terms of Use of the web site.