OUTLOOK ARENA
MAY 31, 2019
Global Bond Yields Are Screaming But Are We Listening?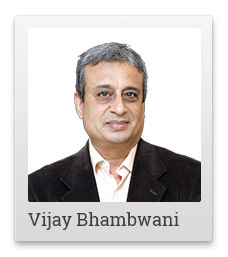 For financial markets our size, we Indians have a limited understanding of the capital markets.
Most traders who have learnt to trade trend lines, triangles or head and shoulder patterns, dream of turning professional.
What? Quit your job to trade full-time just because you traded a few turning points in the markets?
Also, we lack the vision that encompasses a larger canvas, a worldview if you will. The direct fallout is that we assume that equities are the only game in town.
And that the stock indices are an adequate and accurate picture of the nation's economic health!
What percentage of Indians invests in equities?
The answer is in single digits, if the number of demat accounts are not used as a benchmark. This is because people tend to have multiple demat accounts for diverse reasons.
The nation's currency is a far better yardstick. It is used by every man woman and child in the country. If you could buy 4 kilos of wheat yesterday for a hundred rupee note and you can only buy 3 kilos today, you are 25% poorer. It's that simple really.
But our currency is not 100% convertible and it cannot be used as a standalone indicator. So, we need another metric to supplement the INR reading.
Enter the bond market.
Globally it's a big boy's game. HNIs, corporates, individuals, and governments invest in this asset class. In terms of turnover, it is maybe 15 to 20 times bigger than the equity market. So, when you watch the bond yields, you are following the money trail of the big boys. The doers of deeds, rather than kings of the spoken word.
You know where the market is headed. The analysis of bond yields is simplicity itself. It's the interpretation of the same that makes a difference.
If you were to buy a bond of a face value of Rs 100 offering an interest rate of 7% your yield would be 7%. However, if you were to buy the same bond at 110, by paying a 10% premium on the price, you shaved off 10% of your yield well. This is too simplistic by far, but you get the drift dear reader.
Now you know the bond prices and bond yields are inversely related. If one goes up the other goes down and vice versa.
You know where prices are headed when you see the yields mentioned in financial TV channels, websites, and newspapers. Now for the interpretation part...
There are two viewpoints really - one of the investor-saver and the other of the analysts (no offence meant to any analyst out there. Many are very dear friends).
Bond yields fall when markets feel interest rates are going to fall. So, people buy the existing higher interest-bearing bonds to lock in higher returns. This pushes the yields lower.
The analyst community is used to looking at the picture from the corporate viewpoint. After all, they are analysing the companies' figures most of the time. Fair enough. From the corporate point of view, falling interest rates means cheaper loans and higher profits.
But from the investor-saver's point of view (fair disclosure - I belong to this camp), the falling interest rate regime does not suit me at all. It means my fixed deposits, insurance policies, debt funds, and bonds start cutting my passive fixed income returns down. It hurts my buying power.
The late Sir John Templeton was a big fan of policies that rewarded savers. When you cut interest rates, you are encouraging borrowers and discouraging savers. George Cooper in his book "The Origin of Financial Crises" states - lowering interest rates is a wealth transfer mechanism. Savers are discouraged from saving and enticed to spend. The corporates are encouraged to borrow cheap money, produce goods, and sell to the erstwhile savers.
There is another way to look at it from a behavioral finance perspective.
Who buys bonds?
The ultra-conservative, highly cautious guys, who don't want to risk their money in higher risk assets. Now these ultra conservatives are paying a premium, to buy these bonds. That tells you that opportunities for investments are shrinking.
Also note, big money knows when it's time to get off the bus. If they too start buying bonds, you know which way the wind is blowing.
There have been instances when the German 7-year bond (of the Bundesbank, the German central bank) has traded at a yield of 0%. Yes, zero yields!
You can either celebrate, that the German companies now can borrow cheap money. Or you can lament that investors are so spooked they are stashing their money at 0% interest for 7 years. Remember, it is a 7-year bond. You will have a lot of convincing to do, before I start believing that such actions are signs of confidence.
Are you then surprised that the German economy is shrinking? Can't you read the writing on the wall? On 1 February 2019, Bloomberg put up a shocking update. The world's largest pension fund, the Japanese government pension investment fund, lost 9.1% of its corpus in just one short quarter.
It translated into US$ 136 billion. The fund manager blamed the fund's investment policies, which forbid him from investing in bonds. The Japanese nearly follow the ZIRP (zero interest rate policy), so bonds would have yielded nothing. Total exposure to equities only, resulted in the rout of this pension fund.
It may be noted that falling yields were also seen ahead of the 2008 global financial crisis. Big money was taking out funds from risky assets and parking them in sovereign (i.e. government guaranteed) bonds.
Is history about to repeat itself? I don't know for sure. I hope not!
I have a nagging doubt in my mind since many quarters. NIMs (net interest margins) of some Indian banks are approximately 3%. In some cases, the NPAs (bad loans) have crossed 20%. This means these banks won't be profitable for many years.
An average FD holder invests for between two and a half to three and half years. Where is the money to pay them back, going to come from? Fresh FDs of course.
But bond yields in India, currently at 7.13%, are saying interest rates are about to fall. Will enough FDs flow in, at lower rates, to keep some of the cash strapped banks going?
The Indian 10-year benchmark bond yields are falling rapidly. Should we be celebrating cheaper cost of borrowing? Or worry about falling fixed income returns?
I would love to be totally wrong here and I've been wrong many times.
But for the life of me, I cannot bring myself to make high risk investment calls right now.
To take a 360-degree view, the bond yields around the world are falling. The US Muni bonds (municipal bonds), which are not even as safe as the central bank guaranteed paper, are yielding the lowest after 2007.
Is that Euphoria over cheap money? Or should we read that as flight to safety? There can be no clear answers. It's like the glass is half full or half empty. You may choose to disagree with this view. Alpha into Omega, or Omega into Alpha, is a choice that each one of us should make for ourselves.
I have observed the concern of the saver-investor category. The analyst fraternity is optimistic. It all depends on which side of the fence you are sitting on.
Have a profitable day.
Warm regards,

Vijay L Bhambwani
Editor and Research Analyst, Weekly Cash Alerts
Copyright © Equitymaster Agora Research Private Limited. All rights reserved.
Any act of copying, reproducing or distributing this newsletter whether wholly or in part, for any purpose without the permission of Equitymaster is strictly prohibited and shall be deemed to be copyright infringement.
LEGAL DISCLAIMER:
Equitymaster Agora Research Private Limited (Research Analyst) bearing Registration No. INH000000537 (hereinafter referred as 'Equitymaster') is an independent equity research Company. Equitymaster is not an Investment Adviser. Information herein should be regarded as a resource only and should be used at one's own risk. This is not an offer to sell or solicitation to buy any securities and Equitymaster will not be liable for any losses incurred or investment(s) made or decisions taken/or not taken based on the information provided herein. Information contained herein does not constitute investment advice or a personal recommendation or take into account the particular investment objectives, financial situations, or needs of individual subscribers. Before acting on any recommendation, subscribers should consider whether it is suitable for their particular circumstances and, if necessary, seek an independent professional advice. This is not directed for access or use by anyone in a country, especially, USA, Canada or the European Union countries, where such use or access is unlawful or which may subject Equitymaster or its affiliates to any registration or licensing requirement. All content and information is provided on an 'As Is' basis by Equitymaster. Information herein is believed to be reliable but Equitymaster does not warrant its completeness or accuracy and expressly disclaims all warranties and conditions of any kind, whether express or implied. Equitymaster may hold shares in the company/ies discussed herein. As a condition to accessing Equitymaster content and website, you agree to our
Terms and Conditions of Use, available here
. The performance data quoted represents past performance and does not guarantee future results.
SEBI (Research Analysts) Regulations 2014, Registration No. INH000000537.

Equitymaster Agora Research Private Limited (Research Analyst)
103, Regent Chambers, Above Status Restaurant, Nariman Point, Mumbai - 400 021. India.
Telephone: +91-22-61434055. Fax: +91-22-22028550. Email: info@equitymaster.com. Website: www.equitymaster.com. CIN:U74999MH2007PTC175407