OUTLOOK ARENA

JUNE 5, 2019
How Geo-Political Events Impact Indian Traders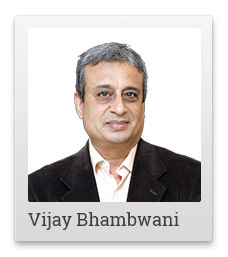 Imagine this, dear reader.
You are an astute trader and believe in leaving no stone unturned before you initiate your trades.
You watch the fundamentals, technical charts, trading screens, and do basic statistical analysis using Microsoft Excel.
Having all that knowledge makes you feel empowered...and you should be!
You're raring to go, when the markets open. Today you've already chosen to trade long in OMCs (oil marketing companies). You sat up all night and isolated yourself from all the "noise" and the "static". You studied everything.
When the markets open, you dive right in. You buy one lot of every OMC stock.
But wait! They sink like stones right after you buy them. Is this a conspiracy against you?
Not really. You probably succumbed to a school of thought called the efficient market hypothesis (EMH).
---

Advertisement

---

Are You Ready to Profit From Small Caps On A Rebound Post Modi's Victory?

Post Modi's victory…or rather, right after the exit poll results were out…many small cap stocks that were down earlier started on their rebound path.

But not all of these small cap stocks are good. And not all will continue to rise in the long run.

Finding the right small cap companies to benefit from in the long run requires a proven and effective strategy.

And we not only possess the strategy, but also 4 small companies identified using the same strategy that you could consider investing in.

To get the full details on the 4 stocks and our proven strategy, just click here…
------------------------------
EMH advocates that everything is built into the price. So there is no need to monitor the news.
Bizarre, but let's go with it. To each his own. Unknown to you, terror groups operating in the gulf, bomb an oil pipeline there overnight, sending crude prices to the moon.
Now crude is the raw material for these OMCs. This means lower profitability for them and the threat of demand destruction as consumers buy less.
Obviously, the OMC stocks will fall...the EMH experts notwithstanding.
So ask yourself the question...
Why does news impact prices as it unfolds, even if it was half expected?
It's simple really. Imagine this...
A near and dear one is in the ICU and the doctors have given up hope. It's a matter of time they tell you, but the person lingers on.
You tell yourself you are going to lose this person. Your heart has reconciled itself to the sad eventuality. Yet when the person departs, do you not cry?
But why?
After all, you knew it was coming, right? You prepared yourself for it. Then why the emotional outburst?
Because we are humans. We have emotions. There will always be some kind of emotional response to a tragic event.
Now extrapolate the situation and think about this. Millions of investors and traders will react to bad news. Will the prices not react to the actual news event?
There goes the theory that says everything is built into the price because the markets are perfectly logical!
Warren Buffett is quoted in his biography "The Snowball" that the EMH (efficient market hypothesis) was a flop theory advocated by non-market participants.
In reality... the markets are constantly digesting the events unfolding around them and then pricing assets accordingly.
Now that we allow both FDI (foreign direct investment) and FPI (foreign portfolio investment), our markets are closely integrated with the global markets. If there is a significant event abroad, its ripples will reach our shores too, maybe with small lag.
After all, the FPI investments total up to one fourth of all the total market cap of the 75 largest companies in India. They will weigh in everything - the USDINR, crude oil prices, US interest rates, global economic growth, mutual fund inflows into the overseas markets, etc.
They will also look at commodity prices which form raw materials for India Inc. Remember India is a net importer nation. Changes in the overseas prices, currency pegs, FPI inflows, shipping and transport costs, will impact the Indian markets for sure.
It is just a matter of your acceptance of this fact or living in denial. If after this you are still a believer in the efficient market hypothesis, here is my final argument before I rest my case.
Since markets are efficient, everything is priced in so there is no need to do extensive research. Our road traffic systems are efficient too if drivers are careful, traffic cops are present, CCTV cameras are installed at busy junctions, etc.
Then, why don't you blindfold yourself and cross the road? It's an efficient system and you will not face any harm, right?
A smart trader should have a 360-degree worldview, remain alert to his global surroundings. You owe it to yourself to monitor all aspects that impact your assets' prices.
The big money does.
Have a profitable day.
Warm regards,

Vijay L Bhambwani
Editor and Research Analyst, Weekly Cash Alerts
Copyright © Equitymaster Agora Research Private Limited. All rights reserved.
Any act of copying, reproducing or distributing this newsletter whether wholly or in part, for any purpose without the permission of Equitymaster is strictly prohibited and shall be deemed to be copyright infringement.
LEGAL DISCLAIMER:
Equitymaster Agora Research Private Limited (Research Analyst) bearing Registration No. INH000000537 (hereinafter referred as 'Equitymaster') is an independent equity research Company. Equitymaster is not an Investment Adviser. Information herein should be regarded as a resource only and should be used at one's own risk. This is not an offer to sell or solicitation to buy any securities and Equitymaster will not be liable for any losses incurred or investment(s) made or decisions taken/or not taken based on the information provided herein. Information contained herein does not constitute investment advice or a personal recommendation or take into account the particular investment objectives, financial situations, or needs of individual subscribers. Before acting on any recommendation, subscribers should consider whether it is suitable for their particular circumstances and, if necessary, seek an independent professional advice. This is not directed for access or use by anyone in a country, especially, USA, Canada or the European Union countries, where such use or access is unlawful or which may subject Equitymaster or its affiliates to any registration or licensing requirement. All content and information is provided on an 'As Is' basis by Equitymaster. Information herein is believed to be reliable but Equitymaster does not warrant its completeness or accuracy and expressly disclaims all warranties and conditions of any kind, whether express or implied. Equitymaster may hold shares in the company/ies discussed herein. As a condition to accessing Equitymaster content and website, you agree to our
Terms and Conditions of Use, available here
. The performance data quoted represents past performance and does not guarantee future results.
SEBI (Research Analysts) Regulations 2014, Registration No. INH000000537.

Equitymaster Agora Research Private Limited (Research Analyst)
103, Regent Chambers, Above Status Restaurant, Nariman Point, Mumbai - 400 021. India.
Telephone: +91-22-61434055. Fax: +91-22-22028550. Email: info@equitymaster.com. Website: www.equitymaster.com. CIN:U74999MH2007PTC175407