OUTLOOK ARENA

VIEWS ON NEWS

JUNE 8, 2018
Is Data Pointing Towards a Revival in the FMCG Sector?
The investment fraternity is focused on the consumption theme. And going by the recent quarterly results, they have got their call right. Most consumption theme-based companies have performed well and have delivered good results.
Consumption theme is much broader in space and includes a wide variety of sectors. Some of them are non-banking financial companies lending for consumption, automobiles, consumer durables, textiles, paints, media and entertainment, leisure, pharmaceuticals, power, telecom and other utilities. However, Fast Moving Consumer Goods (FMCG) companies make up a chunk of these consumption themed stocks. And that's what we are going to focus on today...
The FMCG sector has seen a significant turnaround this year after turning in below par growth for the two last years. Two years of deficient monsoon and unprecedented events like demonetisation and GST had bruised the sector.
The scenario has now changed. The pains of demonetisation and GST implementation have receded and the benefits of GST are kicking in.
--- Advertisement ---


A Proven Way To Potentially Make Money Even In Sluggish Markets

We often come across phases where there's not much happening in the stock market.

Most investors would take such phases in their stride thinking that sluggish and down phases are a part and parcel of the stock market.

But research analyst Apurva Sheth found that banks and insurance companies were using a secret method that enabled them to generate solid gains even when the markets (or individual stocks) were doing almost nothing.

Yes! To find out all about that secret method, just click here...
------------------------------
FMCG Sector - A Star Performer
The data makes interesting reading. The sector stood at the second position in a six-month time frame. FMCG stocks haven't been in such a dominant position recently.
Sector Indices - Six Month Return vs Over 3 Years (%)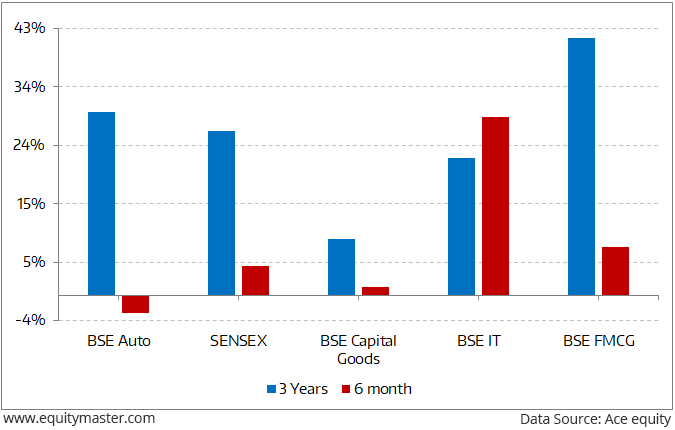 This begs the question, will the FMCG sector continue to dominate in the weeks to come? Here are some of the factors that bode well for the FMCG space, going forward.
Stellar Q4 Results
From Colgate to ITC, Nestle, Britannia and Hindustan Unilever (HUL), all have reported street-beating earnings for the fourth quarter.
FMCG Companies Signal Green Shoots of Recovery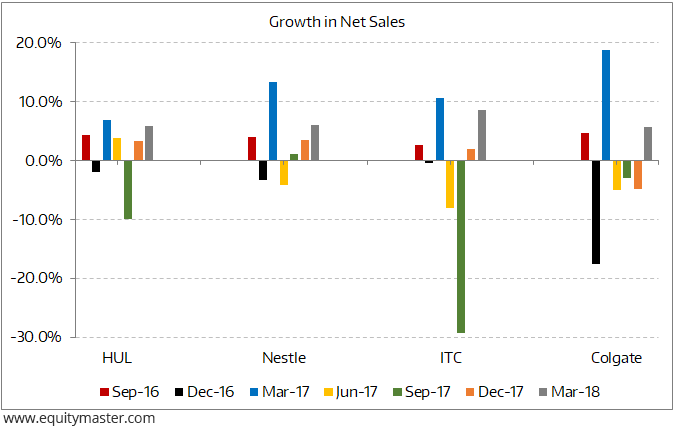 Note that, net sales of the top FMCG companies dropped in the December 2016 quarter due to demonetisation. Similarly, the drop in September 2017 quarter was due to GST implementation woes.
However, despite these twin blows, the sector has shown remarkable resilience and sales seem to be reviving.
And it's not just sales numbers that are doing well. FMCG companies have not only retained strong profit margins, but have improved on it over the year.
In FY18, ITC, P&G, Nestle and HUL reported healthy growth in net profit.
PAT Grows Too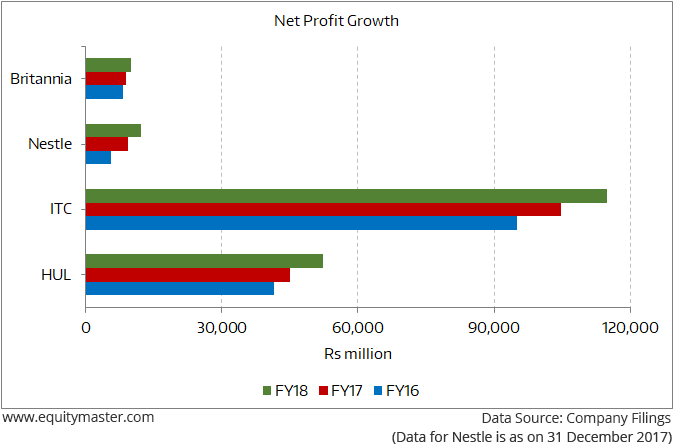 Rural Segment is Quickly Catching Up
The stellar quarterly performance is mainly driven by a revival in rural demand and new product launches.
And when it comes to the FMCG space, revival in rural market demand is what everyone is talking about these days. Growth in the rural segment, which contributes a significant chunk of the FMCG revenue, had slowed down due to demonetisation followed by GST.
In rural India, the income of the consumers is increasing and the lifestyles are changing. The rural FMCG market accounts for 40% (on average) of the overall FMCG market in India, in revenue terms.
According to an India Brand Equity Foundation (IBEF) report, among the leading retailers, Dabur generates over 40-45% of its domestic revenue from rural sales on an average. HUL's rural revenue accounts for 45% of its overall sales while other companies earn 30-35% of their revenues from rural areas.
Further as per the report, the FMCG market has grown at a faster pace in rural India compared to urban India in the last few years. And, FMCG products account for majority of total rural spending.
Rural FMCG Market on Fast Track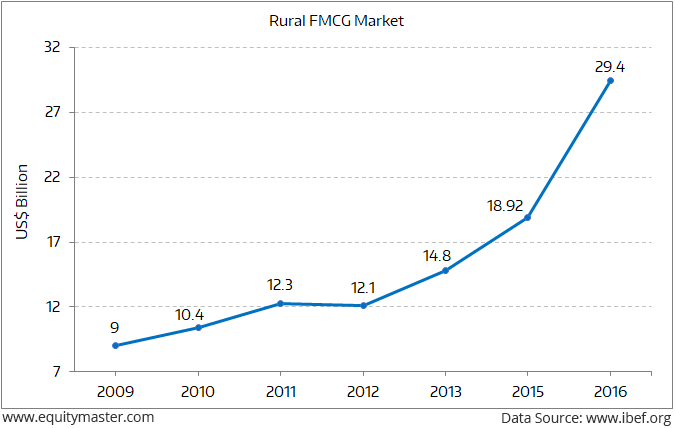 4QFY18 saw a pick-up in rural demand, however, companies are in wait and watch mode before calling it a recovery trend. Volume growth (aided by demand pick-up and GST rate cut in November), benign raw material inflation and focus on operating efficiencies were the key themes of the quarter gone by.
The growth in rural India may be a combination of trade channel normalisation, as one-off demonetisation/GST-type events fade, and an expectation of good rainfall and Minimum Support Price (MSP) increase. However, the rural macro indicators have remained muted as wage growth has been subdued and on declining trend since April 2017.
The Rural Drought Seems to have Ended for FMCG Firms
It is only now that the pain of demonetisation, GST, and deficient monsoons seems to be ebbing away.
Demonetisation and GST implementation had disrupted trade channels, particularly the wholesale channel, which is the backbone of the rural distribution channel.
Post the dent in the distribution channels post GST implementation, FMCG companies are now focusing on reducing their wholesale dependence and increase their direct reach. Further, the smooth movement of products in GST regime has also helped the companies in improving their direct reach, even in rural areas.
Further, anti-profiteering measures restricted any major benefits to companies so far as the full benefits of GST rates were to be passed on to consumers. However, this has improved the affordability of several daily use products, leading to a marked uptick in FMCG volumes.
Moreover, companies started signaling some green shoots for the recovery of the rural market in the quarter.
The rural growth revival was reflected in the earnings of the country's largest consumer goods firm, HUL. This uptick in sales was prompted by a cut in GST rates across various daily use product categories such as detergents, skincare, shampoo, noodles, etc., leading to growth in volumes.
Robust Rural FMCG Growth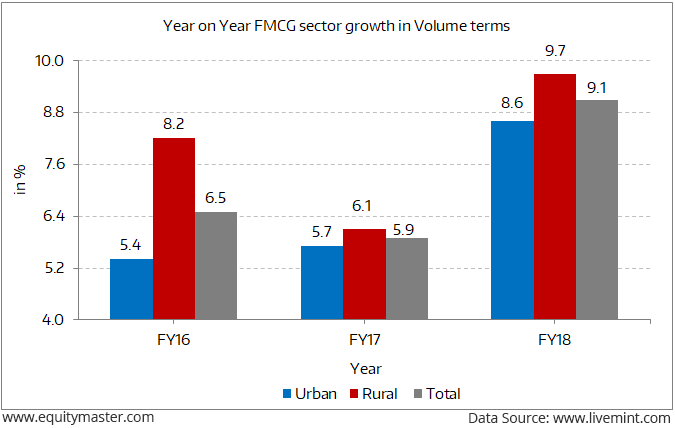 Overall, FMCG companies grew sales at 13.5% in the year ended 31 March, the fastest pace in last three years. The growth was led by volume growth, which rose 9.1%, or almost 2.5-3 percentage points faster than the previous two years.
Hence, prospects of the FMCG sector look positive given the rural demand revival, GST benefits, product differentiations/innovations, and premiumisation (especially by launching premium products in affordable packs for uptrading).
Moreover, companies with a higher exposure to rural markets can surprise on the growth front.
However, a full recovery is still awaited, and other indicators point to areas of unresolved stress.
Growth in rural wages, for instance, dropped to 3.1% this January, down from 6.6% a year ago. Rising oil prices could lead to inflationary trends affecting the pricing power of FMCG firms. What's more, a below average monsoon can wash away all dreams of revival.
Nevertheless, India's FMCG sector is at an interesting crossroads.
Will the rural consumption theme pan out as expected? Or could external factors delay the long-awaited revival?
We'll be sure to be right on top of it as it pans out.
Warm regards,
Rini Mehta
Copyright © Equitymaster Agora Research Private Limited. All rights reserved.
Any act of copying, reproducing or distributing this newsletter whether wholly or in part, for any purpose without the permission of Equitymaster is strictly prohibited and shall be deemed to be copyright infringement.
LEGAL DISCLAIMER:
Equitymaster Agora Research Private Limited (Research Analyst) bearing Registration No. INH000000537 (hereinafter referred as 'Equitymaster') is an independent equity research Company. Equitymaster is not an Investment Adviser. Information herein should be regarded as a resource only and should be used at one's own risk. This is not an offer to sell or solicitation to buy any securities and Equitymaster will not be liable for any losses incurred or investment(s) made or decisions taken/or not taken based on the information provided herein. Information contained herein does not constitute investment advice or a personal recommendation or take into account the particular investment objectives, financial situations, or needs of individual subscribers. Before acting on any recommendation, subscribers should consider whether it is suitable for their particular circumstances and, if necessary, seek an independent professional advice. This is not directed for access or use by anyone in a country, especially, USA, Canada or the European Union countries, where such use or access is unlawful or which may subject Equitymaster or its affiliates to any registration or licensing requirement. All content and information is provided on an 'As Is' basis by Equitymaster. Information herein is believed to be reliable but Equitymaster does not warrant its completeness or accuracy and expressly disclaims all warranties and conditions of any kind, whether express or implied. Equitymaster may hold shares in the company/ies discussed herein. As a condition to accessing Equitymaster content and website, you agree to our
Terms and Conditions of Use, available here
. The performance data quoted represents past performance and does not guarantee future results.
SEBI (Research Analysts) Regulations 2014, Registration No. INH000000537.

Equitymaster Agora Research Private Limited (Research Analyst)
103, Regent Chambers, Above Status Restaurant, Nariman Point, Mumbai - 400 021. India.
Telephone: +91-22-61434055. Fax: +91-22-22028550. Email: info@equitymaster.com. Website: www.equitymaster.com. CIN:U74999MH2007PTC175407