OUTLOOK ARENA

JUNE 24, 2021
Apollo Hospital Shares Plunge 2% on Weak Results. What's Next?
Healthcare chain Apollo Hospitals Enterprise (AHEL) on Wednesday reported a consolidated net profit of Rs 1.7 bn for the fourth quarter ended March 2021.
The company posted a consolidated net profit of Rs 2.1 bn in the same quarter of the previous fiscal.
However, this sharp fall in profits was accounted for by Rs 2 bn exceptional gain in March 2020 quarter on account of transfer of the retail pharmacy business.
Profits before exceptional items were up 2.5 times year on year (YoY) in March 2021 quarter.
Consolidated revenue from operations in the fourth quarter stood at Rs 28.7. It was Rs 29.2 bn in the year-ago period.
Financial performance for the year 2021
The company's consolidated net profit stood at Rs 1.4 bn for the year ended 31 March 2021. It was at Rs 4.3 bn in the last year.
Full year revenues for the year 2021 stood at Rs 105.6 bn, down 6.1% on account of Covid related core business pressures.
Among the verticals, the healthcare segment saw 10% YoY growth at Rs 15.4 bn while the pharmacy distribution business saw fall in revenues even as clinics revenues were higher.
The company said the divestment of its front-end retail pharmacy business in favour of Apollo Pharmacies, a wholly-owned subsidiary of Apollo Medicals (AMPL) for an overall cash consideration of Rs 5.3 bn was effective from 1 September 2020.
Subsequently, the company said it invested Rs 365 m and its ownership interest in AMPL changed to 25.5%, resulting in loss of control with effect from 1 September 2020.
Hence, the figures for the quarter and year ended 31 March 2021 are not comparable with the figures for the same period a year ago, the filing said.
Key Parameters
| Rs in bn | Mar-21 | Mar-20 | YOY | Dec-20 | QOQ |
| --- | --- | --- | --- | --- | --- |
| Total Income | 28.7 | 29.2 | -1.9% | 27.6 | 3.9% |
| Net Profit | 1.7 | 2.2 | -23.5% | 1.3 | 28.7% |
| Diluted EPS (Rs) | 11.8 | 15.8 | | 9.4 | |
| Net Margins | 5.9% | 7.5% | | 4.7% | |
Data Source: Company's Quarterly Report
Dividend
The board of directors has recommended a dividend of Rs 3 per share that is 60% of face value of Rs 5 per share for the financial year ended March 2021, on the paid up equity shares of the company.
Restructuring: Apollo Hospitals forms Apollo HealthCo
Apollo Hospitals Enterprise reorganised its business by slump sale of its four businesses to form a 100% subsidiary Apollo HealthCo (AHL).
The company stated with this move Apollo group is creating India's largest omni-channel healthcare platform.
The company will receive Rs 12.1 bn with the slump sale of these businesses.
It underwent a restructuring by merging business such as AHEL's back-end offline pharmacy business (excluding hospital-based pharmacies), its digital healthcare platform Apollo 24/7, AHEL's investment in retail pharmacy business (Apollo Medicals), and Apollo 24/7 brand.
This platform will combine the strengths of Apollo group's offline healthcare leadership with its new-age digital offerings to address all healthcare consumer needs.
The offline pharmacy business of Apollo Hospitals will continue to grow to 5,000 stores and maintain a healthy revenue growth rate of 18-20% in the next 3 years.
The margin trajectory of this business remains intact.
In addition, the digital healthcare platform Apollo 24/7, has demonstrated the capability of delivering medicines in 2 hours in over 10,000 pin codes combined with the highest availability of medicines.
Apollo 24/7 aspires to achieve 100 m registered users in five years.
Shobana Kamineni, executive vice chairperson of the company said,
This proposed re-organisation will set the platform for tapping new pools of investor capital that will enable rapid scale up of the digital healthcare platform.

At the time of capital raise, AHL valuation will reflect current and future growth potential.

Post external capital raise at AHL, AHEL is expected to retain dominant majority shareholding in AHL and a slump sale consideration of Rs 12.1 bn will be received by AHEL.
Equitymaster's view on the pharma sector
We reached out to Tanushree Banerjee, Co-Head of Research at Equitymaster, and editor of the premium stock recommendation service StockSelect, for her view on the pharma sector.
Here's what she has to say...
The second Covid wave has given a new lease of life to pharma stocks. As the sector continues to invest in capacities for new drugs, the profitability will depend on the companies' ability to seek USFDA approval for the plants.

Or their ability to tie up with MNC pharma for producing variants of their vaccine.
How the stock markets reacted to Apollo Hospitals March quarter numbers today
Shares of Apollo Hospitals opened the day at Rs 3,247 on the BSE and Rs 3,230 on the NSE.
Its share price closed at Rs 3,174.8 (down 2.1%) on the BSE and Rs 3,177.1 (down 2.1%) on the NSE.
At its current price, it is trading at a P/E of 237.3.
The share touched its 52-week high of Rs 3,432.9 and 52-week low of Rs 1,311.7 on 3 June 2021 and 1 July 2020, respectively.
Over the last 30 days, the Apollo Hospitals share price is down 2.6%. Over the last one year, the company's share price is up 127.1%.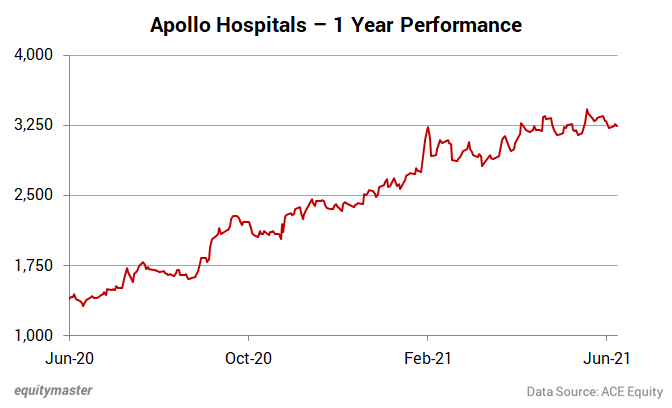 About Apollo Hospitals
Apollo Hospitals Enterprise is an Indian multinational hospital chain headquartered in Chennai, Tamil Nadu, India.
It was founded by Prathap C. Reddy in 1983 as the first corporate healthcare provider in India.
Several of the Apollo's hospitals have been among the first in India to receive international healthcare accreditation by the America-based joint commission international as well as 13 national accreditation board for hospitals & healthcare providers hospitals (NABH).
In addition to providing hospitals, Apollo has developed services in telemedicine, after starting a pilot project in 2000 at Aragonda, Prathap Reddy's home village.
Apollo signed an MoU with health education England in April 2017 to provide a large number of doctors to fill vacancies in the English national health service.
In association with Adlux Angamaly, Apollo Hospitals established the Apollo Adlux Hospital in the city of Kochi, near Cochin International Airport.
For more details about the company, you can have a look at Apollo Hospitals factsheet and quarterly results on our website.
You can also compare Apollo Hospitals with its peers.
Apollo Hospitals vs Max Healthcare
Apollo Hospitals vs Fortis Healthcare
Apollo Hospitals vs Metropolis Healthcare
To know what's moving the Indian stock markets today, check out the most recent share market updates here.
Disclaimer: This article is for information purposes only. It is not a stock recommendation and should not be treated as such. Learn more about our recommendation services here...
Copyright © Equitymaster Agora Research Private Limited. All rights reserved.
Any act of copying, reproducing or distributing this newsletter whether wholly or in part, for any purpose without the permission of Equitymaster is strictly prohibited and shall be deemed to be copyright infringement.
LEGAL DISCLAIMER:
Equitymaster Agora Research Private Limited (Research Analyst) bearing Registration No. INH000000537 (hereinafter referred as 'Equitymaster') is an independent equity research Company. Use of the information herein is at one's own risk. This is not an offer to sell or solicitation to buy any securities and Equitymaster will not be liable for any losses incurred or investment(s) made or decisions taken/or not taken based on the information provided herein. Information contained herein does not constitute a personal recommendation or take into account the particular investment objectives, financial situations, or needs of individual subscribers. Before acting on any recommendation, subscribers should consider whether it is suitable for their particular circumstances and, if necessary, seek an independent professional advice. This is not directed for access or use by anyone in a country, especially, USA, Canada or the European Union countries, where such use or access is unlawful or which may subject Equitymaster or its affiliates to any registration or licensing requirement. All content and information is provided on an 'As Is' basis by Equitymaster. Information herein is believed to be reliable but Equitymaster does not warrant its completeness or accuracy and expressly disclaims all warranties and conditions of any kind, whether express or implied. Equitymaster may hold shares in the company/ies discussed herein. As a condition to accessing Equitymaster content and website, you agree to our
Terms and Conditions of Use, available here
. The performance data quoted represents past performance and does not guarantee future results.
SEBI (Research Analysts) Regulations 2014, Registration No. INH000000537.

Equitymaster Agora Research Private Limited (Research Analyst)
103, Regent Chambers, Above Status Restaurant, Nariman Point, Mumbai - 400 021. India.
Telephone: +91-22-6143 4055. Fax: +91-22-2202 8550. Email: info@equitymaster.com. Website: www.equitymaster.com. CIN:U74999MH2007PTC175407