OUTLOOK ARENA
JUNE 27, 2019
The Mathematics of Trading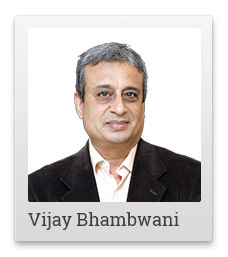 Musicians form of bands worldwide every year. Every band dreams of winning the Grammy award. Behavioural science calls it the survivorship bias. Nobody wants to or expects to fail.
This goes for traders too. Yet, they don't pay enough attention to some important things. Things like managing capital, controlling risk, monitoring trades...
The untruths and the half-truths spread by non-market participants adds to the chaos. The market is mathematical in nature. It is also behavioural by design. It hums like a clock.
Markets are the sum of all the buy and sell decisions of all the market participants, at any given time. Since every participant cannot be mathematical, emotions creep in.
The mathematics you apply to trading must have a tinge of behavioural psychology. Let's call it behavioural mathematics.
---

Advertisement

---
Get This Hardbound Book Worth Rs 1,950 Virtually FREE!
It's true!

You can now get this hardbound book selling for Rs 1,950 on Amazon virtually FREE.

Nearly 2,000 copies claimed already.

Click here to find out how you can claim yours…

------------------------------
Let us say you live in a metro or a tier-I city, with a family of four. You're the sole bread winner of the family. You're also a full-time trader. You need to earn about Rs 1 lakh every month. You have about 20 trading sessions to achieve this target. This means you need to make Rs 5,000 per day. Now there will be some days when you achieve the target. You have only won the battle but not the war.
What if you don't trade on day 1? You will then need to make Rs 10,000 on day 2. What if you lose Rs 5,000 on day 1? You need to make Rs 15,000 on day 2.
It seems simple enough on paper but you can't describe the stress a trader undergoes in plain speak. Do you think your stress only doubles when your target rises to Rs 10,000 or triples when the target rises to Rs 15,000? You would be wrong.
The stress rises geometrically as fear and anxiety set in. Fear is an irrational emotion, it magnifies the threat perceptions. So you see demons in a dark room. Same for a trader. When his target doubles or triples his belief system begins to waiver. Then errors of judgement become a high probability.
I was on the brink of bankruptcy in the dotcom bust in 2000. At that time, my immediate reaction was... give me one or two years and I will be back.
How wrong I was! My mathematics was faulty.
No text book, or professor could teach me 'how to think' as against 'what to think' under those circumstances. The 'university of life' stepped in. It taught me real world lessons in trading mathematics.
If you keep a stop loss of 10%, and the trade hits it, your capital is down to 90%. Now you'll have to make 11% to come back to ground zero.
What if you lose 50% of your capital? You will need to make 100% profits on the remaining capital to get back to where you started!
This is something the non-participating stakeholders in the market do not realise. The mental stress. They can only tell you that a stop loss is your best protection against losses. Sure, you need stop losses. But if your trades are ill planned, your stop losses will only ensure that your bankruptcy is slower. How good is that?
The key to this is proper research into the trade...before you make the trade. The more research that goes into the trade, the better and more firmer footing you are on that counter.
Remember Warren Buffett two rules on investing.
Rule #1 - Don't lose money.
Rule #2 - Don't forget rule # 1.
Trading is somewhat similar. It is investing on steroids. The same rules apply.
Have a profitable day.
Warm regards,

Vijay L Bhambwani
Editor and Research Analyst, Weekly Cash Alerts
Copyright © Equitymaster Agora Research Private Limited. All rights reserved.
Any act of copying, reproducing or distributing this newsletter whether wholly or in part, for any purpose without the permission of Equitymaster is strictly prohibited and shall be deemed to be copyright infringement.
LEGAL DISCLAIMER:
Equitymaster Agora Research Private Limited (Research Analyst) bearing Registration No. INH000000537 (hereinafter referred as 'Equitymaster') is an independent equity research Company. Equitymaster is not an Investment Adviser. Information herein should be regarded as a resource only and should be used at one's own risk. This is not an offer to sell or solicitation to buy any securities and Equitymaster will not be liable for any losses incurred or investment(s) made or decisions taken/or not taken based on the information provided herein. Information contained herein does not constitute investment advice or a personal recommendation or take into account the particular investment objectives, financial situations, or needs of individual subscribers. Before acting on any recommendation, subscribers should consider whether it is suitable for their particular circumstances and, if necessary, seek an independent professional advice. This is not directed for access or use by anyone in a country, especially, USA, Canada or the European Union countries, where such use or access is unlawful or which may subject Equitymaster or its affiliates to any registration or licensing requirement. All content and information is provided on an 'As Is' basis by Equitymaster. Information herein is believed to be reliable but Equitymaster does not warrant its completeness or accuracy and expressly disclaims all warranties and conditions of any kind, whether express or implied. Equitymaster may hold shares in the company/ies discussed herein. As a condition to accessing Equitymaster content and website, you agree to our
Terms and Conditions of Use, available here
. The performance data quoted represents past performance and does not guarantee future results.
SEBI (Research Analysts) Regulations 2014, Registration No. INH000000537.

Equitymaster Agora Research Private Limited (Research Analyst)
103, Regent Chambers, Above Status Restaurant, Nariman Point, Mumbai - 400 021. India.
Telephone: +91-22-61434055. Fax: +91-22-22028550. Email: info@equitymaster.com. Website: www.equitymaster.com. CIN:U74999MH2007PTC175407