Isn't it hard to believe the market started 2018 on a high note? The Sensex seemed to be well on its way to 40,000.
Then came the correction.
On budget day, 1 February, the market fell...and kept falling for the next 8 weeks.
But now?
The correction seems to have ended on 29 March. The Sensex fell only 10.2% from its life-high.
Yes, that's it. Only 10.2%.
It would a tame correction indeed if we have seen the bottom already.
Of course, mid and small caps have fallen much more. But then again...that's to be expected.
Here's a chart of the three major indices since the start of the year.
Sensex Outperforms Broader Market in 2018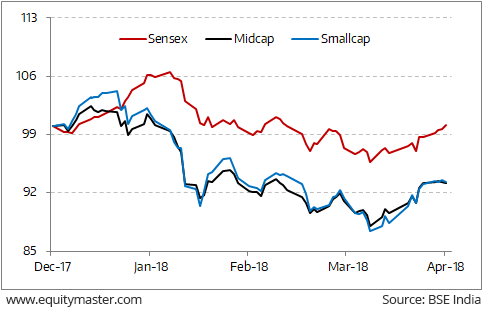 The outperformance of large caps is clear.
Tanushree's safe stocks approach has been vindicated. Regular readers, would know all about her twin predictions.
She believes the Sensex could fall 30% from the peak. This could happen if I'm wrong about the correction being over.
She also predicted the rise of the Sensex to 100,000. She's so sure about this long-term prediction, she recommended 5 safe stocks to StockSelect subscribers.
If the correction is indeed over, she could recommend booking profits soon.
Like Shriram Transport Finance for example. Tanushree closed this position recently with 52% returns. It was a classic case of a safe stock coming through strongly in difficult times.
On the other hand, if the correction isn't over, she could recommend some more safe stocks. After all, these are the kind of stocks that don't trade cheap very often.
So when they do, you should grab the opportunity.
What Does Rahul Shah Think?
He isn't worried about the correction. Rahul believes it's good that the market has fallen.
Why?
Because this is the time he can recommend deep value stocks.
These stocks, by their very nature, are hard to find in a bull market. But when the market falls, there are opportunities to choose from.
Rahul recently chose five of his best picks for a special report - The Top 5 Microcaps You Could Consider Buying.
Ever since we launched Rahul's premium service Microcap Millionaires, four years ago, this is how the Sensex has performed.
Sensex Over the Last Four Years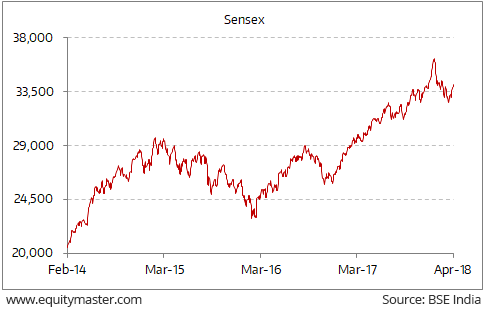 That's a lot of up and down moves.
In these four years, Rahul has closed thirty-five recommendations.
How many did he close in the green?
Thirty-one.
That's right. Only four losing recommendations in the last four years!
It's no wonder he's not worried about the next direction of the market.
Rahul's next Microcap Millionaires report will be out Friday, 20 April.
A Very Special Offer...
Speaking of Rahul Shah, have you acted on the special discounted offer on Microcap Millionaires?
In this offer, you can get Rahul's deep value stock recommendation service...at 75% Off!
Yes, that's right!
Microcap Millionaires, is available at a massive discount...
...But for a few days only. So you must hurry.
This is a limited period offer. It ends at midnight on Monday, 16 April.
Warm regards,
Rahul Goel and Sarit Panackal
PS: Rahul Shah, editor of Profit Hunter, and creator of the Microcap Millionaires service, has had enormous success with his brilliant systems. He has just released a special report - The Top 5 Microcaps You Could Consider Buying. Click here to get access to the report.