Last week, I tentatively asked the question: Is the market correction over?
Well, it does seem like it. Consider these facts...
The Sensex is up about 5.5% in the last 4 weeks.
It had fallen more than 10% in the 8 weeks before that.
It's only 5.5% from its life high.
It has recovered half its losses in half the amount of time that it had fallen.
It completed its longest consecutive winning streak (on closing basis) since 2014.
The Market Has Recovered Half Its Losses Already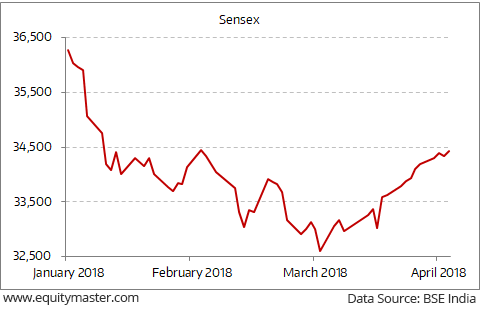 If this trend continues, we would see a new life high at the end of next month.
But wait. Let's not jump the gun...
There're still risks on the horizon. Tanushree's prediction of a 30% market crash can't be ruled out just yet.
On the other hand, if the bull market has resumed... it's hard to say what could possibly stop it.
Think about it. The market is rising despite...
The government's popularity has taken a hit recently
The US attacked Syria
FII's are either not buying stocks or are selling quite often
Crude oil prices are rising
The market doesn't seem too worried about these things. The met department's forecast of a normal monsoon has helped sentiment a little bit.
But what explains such a sharp recovery?
No one knows.
Three week ago, I wrote to you that our editors Kunal Thanvi, Tanushree Banerjee, and Richa Aggarwal were not concerned about the short-term direction of the market.
And they haven't changed their views.
They're still recommending stocks.
Kunal is all set to release his next stock recommendation in Smart Money Secrets. For the first time in this service, he will recommend a banking stock.
Has your broker or RM asked you to avoid banking stocks in the short-term because of all the controversies?
Well, why should you listen to them?
I understand the sector is in a mess right now. But that doesn't mean all banking stocks are bad.
And Kunal has found a good one...backed by a super investor.
In case, you don't have access to Smart Money Secrets you can get it here.
Rahul Shah just published his monthly Microcap Millionaires recommendation report.
I asked Rahul Shah if he was finding it difficult to give buy recommendations despite the recent correction.
This is what he said...
The Microcap Millionaires team would love to give fresh buy recommendations but the run up in the markets has meant that the stocks we're coming across these days are increasingly 'problem' stocks. These either don't have decent fundamentals or they have some corporate governance red flag we'd rather avoid.

This is not surprising. In fact, this is a good sign of an expensive market. At times like these, it can be much more profitable to not load up on too many stocks and just sit on the cash instead. The stocks/cash breakup in our model corpus reflects this.

Also, from the existing open positions, some stocks are still up for grabs...even at current prices.
If you don't currently have access to Rahul Shah's premium service, Microcap Millionaires, you can get it here.
Talking to the research team...it's clear that they're calm amid this volatile market. That's because they're bottom-up stock pickers. They don't put too much weight in the so-called 'macros'.
Of course, they don't ignore them either.
As far as macros are concerned, Radhika Pandit will be back next week, after a relaxing trip to Portugal, and take over as editor of The India Letter.
As you're aware, she takes over from Tanushree. Radhika will consider Vivek Kaul's big picture macro views when short-listing stocks to recommend in The India Letter.
More about this next week. Stay tuned...
Equitymaster Turns 22!
Yes, that's right. We're celebrating our 22nd anniversary tomorrow 21 April 2018.
And we're in a bit of a celebratory mood.
So much so, that we've put together a mind-blowing offer for you.
I know that adjectives like mind-blowing tend to be over used...but not in this case.
This is a specially designed one-time offer you shouldn't ignore.
It's coming to your inbox tomorrow at 10 A.M. Watch out for it...
Warm regards,
Rahul Goel and Sarit Panackal
PS: We are celebrating our 22nd anniversary here at Equitymaster. On this occasion, starting tomorrow, we have a lined up a special offer for you. If you act on it, you could get lifetime access to 4 of our best services...virtually for FREE! You only have a short time to get the best of Equitymaster right away in this special one-time anniversary offer. It's coming to your inbox tomorrow at 10 A.M...