Sell in May and go away. - An old Wall Street adage
You could have saved yourself from a lot of volatility...if you're a trader.
If you're an investor, the month was not about the indices but all about the kind of stocks you were invested in.
Blue chips, specifically the 'safe stock' variety that Tanushree recommends, were largely unmoved. Some even posted good gains!
Mid and small caps though... well that's a completely different story.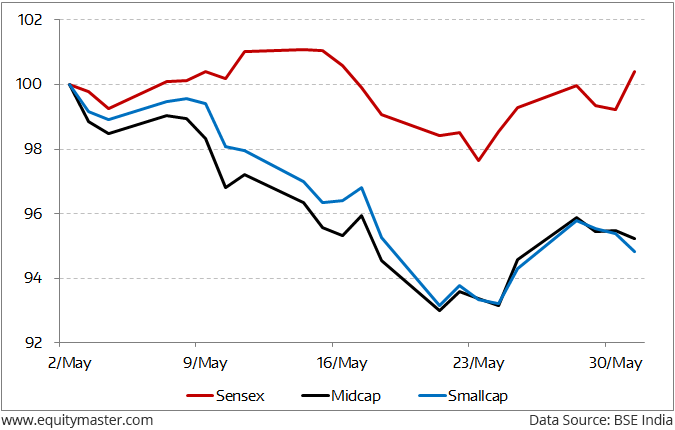 The new mutual fund regulation has clearly caught many investors in mid and small caps on the back foot.
Richa, our resident small cap expert, who I believe is an optimist, says there are opportunities amid this carnage. You can read her view here.
In fact, it was this carnage that gave Richa the ideal opportunity to recommend a high-tech Textile stock!
Yes, I know that 'high-tech' and 'textile' don't always go together. But in the case of Richa's latest Hidden Treasure recommendation, they do...resulting in a potential upside of 45%.
Speaking of upsides...
Kunal and Sarvajeet were busy recently putting together their latest recommendation for Smart Money Secrets subscribers. This one has a potential upside of almost 70% from current levels.
Due to the recent sell-off, the mid and small caps they have recommended took a bit of a beating. But they don't worry about this too much. They have selected these stocks with great care.
All 12 open positions in Smart Money Secrets, have scored highly on the Smart Money ScoreTM and are likely to do well.
By the way, did you know that we are running a special limited period offer for Smart Money Secrets? You can it try out for 30 days at just Rs 99!
But please note... this offer is valid only till midnight on Monday, 4 June. Full details here.
Now coming the prospects for June...
My prediction about the market remaining 'confused' is certainly playing out well. At least it has, so far.
I'll stick my neck out and maintain this 'forecast'...for now.
I don't believe the benchmark indices are going to move in either direction any time soon. They have no reason to.
There are 'macros' to worry about. Turkey, Venezuela, Argentina Iran, North Korea, Syria, Italy...it's quite a list. Any one of them could be responsible for more volatility.
On the other hand, mid and small caps could see some respite if domestic fund managers have completed the forced churning of their portfolios.
I hope they have. If not...then there's more pain ahead.
Don't forget that foreign investors remain net sellers. It's only the retail and HNI money that's preventing a full-blown crash.
How long can this tense state of affairs continue?
Your guess is as good as mine. But I hope it lasts until the foreign money starts to come back. Other-wise the rug will get pulled out from under the market...and that won't be a pleasant experience.
Warm regards,
Rahul Goel and Sarit Panackal
PS: Have you tried the Equitymaster app? If you haven't then you're missing out. You can now access all Equitymaster recommendations and free news-letters on the app itself. And yes, it's free! You can get it on Google Play Store and Apple App Store.