Last week I showed you the chart of the stealth bear market that we are in right now.
Here it is again updated...
What a Stealth Bear Market Looks Like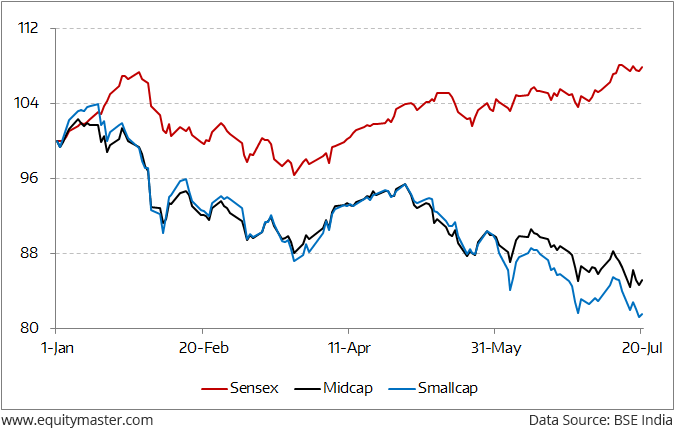 The Sensex and Nifty are at life-highs. But most stocks in the market are down.
In fact, more than half are down more than 30%. Some are down more than 70%. The week ended with more than 250 stocks at their 52-week lows.
We are clearly in a bear market. But this is unlike any bear market in our history. I believe the name 'stealth bear market' is appropriate.
If we dig beneath the surface, we find only a few stocks holding their heads above water. Apurva Sheth even has a name for these stocks - HRITHIK.
I: Infosys
T: TCS
H: HUL
This is what Apurva wrote to his premium Profit Hunter Pro readers...
Over the last one year the total market capitalisation of all the stocks listed on the BSE increased by approximately 22 trillion rupees.

Of this, nearly 9 trillion (41%) came only from these eight HRITHIK stocks in the index. A major portion of the wealth in the Indian stock markets was created only from these eight stocks over the last one year.
If you don't own any of these stocks then chances are that you haven't made much money recently.
Apurva also recommends you avoid ROSHANs!
O: ONGC
S: Suzlon
H: HCC
A: Aban
N: NDTV
I tend to agree with Apurva. He recently closed a HRITHIK stock trading recommendation with 13% gains!
If you've subscribed to Profit Hunter Pro and haven't read Apurva's brilliant piece - Mere Paas HRITHIK Hai - just click here.
If you don't have access to Profit Hunter Pro, you can sign up here.
By the way, Apurva has just published his latest trading recommendation! Is it another HRITHIK stock? Find out here.
How Long Will This Last?
Surely, HRITHIK stocks alone cannot take the Sensex to 40,000...can they?
You never know. Stranger things have happened in the markets.
But I do know one thing...
This is clearly the most ignored and perhaps most irrelevant all-time high in our market's history.
Watching our parliamentarians and their no confidence motion, I believe investors have given the markets a vote of no confidence!
The wealth destruction over the past six months has been astonishing. For mid and small cap investors, it feels like 2008 all over again. There's fear all around and nowhere to hide.
To make matters worse, we have auditors resigning left, right, and centre. Kunal Thanvi keeps reminding us about that!
The latest example is Sintex. I highly recommend you read Kunal's analysis - Sintex's Auditor Resigns. How You Can Protect Yourself from Such Stocks.
Speaking of Kunal, he will publish his next stock recommendation on Monday. Smart Money Secrets subscribers should keep an eye on their inbox.
If you haven't signed up for Kunal's Smart Money Secrets, you can do so here. His recommendation last month has held up well in a falling market.
Also, do check out Kunal's latest special report if you haven't read it yet - The Top 3 Regulation 31 Stocks.
Of course, Kunal isn't the only Equitymaster editor recommending stocks. Tanushree will publish her next safe stock recommendation in StockSelect in just a few days. Watch out for that one too.
If you don't have a StockSelect subscription, just click here.
I'll be back next week hopefully with some positive news about the markets. Who knows? Maybe the broader market will bounce back!
One can always hope for the best...but in case that doesn't happen, you must be prepared for the worst.
How can you do that?
Well, I don't want to spoil the surprise here.
But I can tell you that Tanushree has been working on a project for a while now. It's a blueprint for building long-lasting wealth with stocks.
You will hear more about it on Monday!
Warm regards,
Rahul Goel and Sarit Panackal
PS: Kunal Thanvi is the Sherlock Holmes of investing. He is on a mission to reveal the top picks of India's best investors to you. For clean, high quality stocks that won't put your wealth in peril, subscribe to Kunal's Smart Money Secrets.