Hawa and Leher.
I think if one were to get a hang of sensing these two real life situations, one could make a killing in any market!
Narendra Modi rode a leher of change all the way from Gandhinagar to Delhi. If you sensed that ahead of the others in September 2013, and punted (I hope you didn't and will not!), well, you would have made a killing.
But our dear readers know that our beat here is stocks, so that's where we turn our attention...
First, I want to say this as clearly as is possible on this page...
We are BIG BULLs when it comes to the long-term India story.
There's big money to be made riding this story. Sensibly.
That's our belief. Our stance.
But that's not to say everything is going to be good-good all along this path.
There are going to be challenges.
At all times, I assure you, that the Equitymaster team will stay firmly focused on the long-term opportunity, while NEVER ignoring short term pitfalls.
And as it happens, one such pitfall is potentially staring us in the face right now...
The Curious Case of Missing Earnings
This chart goes right to the heart of the matter...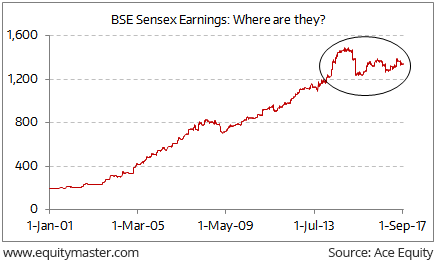 It shows how earnings of the BSE Sensex companies have grown since 2001. It's by no means a straight line. The earnings tend to halt (2001 - 2003)...and even drop at times (2008, and quite sharply in 2015).
Why are earnings important?
Well, for the simple fact that a stock price is a function of two things.
One, the earnings.
Two, the sentiment i.e. the leher about how earnings could grow in future.
Given what you have seen in the chart, where earnings collapsed since 2015, what would you expect the Sensex to do?
Fall also right?
But what did it do?
As if to drive home the point about that it doesn't care about earnings, the BSE Sensex just hit an all-time high when earnings were low.
So much for the fundamentals of stock picking.
Having said that, there are two points to be made here...
First, the earnings collapse is an extremely worrying development. And it can't be ignored.
Second, that sooner or later the earnings cycle will turn, and companies will start to grow and prosper again (the long-term story intact).
But for now, there's something that is crying out for attention...
The Ultimate Reality Check
This chart (below) shows the long-term trend of sentiment in the stock market. The leher. It also called the Price-Earnings (P/e) ratio.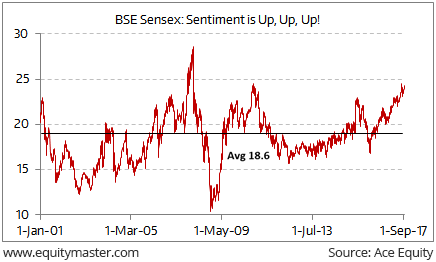 A high number on the chart tells us that investors are euphoric about the future...a low number that expectations are depressed. That's the range of sentiment anyways.
The Sensex P/e (based on historical earnings) is currently at a shade over 24x. That's as high as what we experienced when easy money flooded the world in 2009 - 2010.
But not quite as high as when things went completely crazy in 2007.
Safe to say then, that over the last 17 years, we have been right up there in terms of sentiment.
It's a leher.
A leher is a wave that sweeps clean the minds (sometimes) of all rationality and makes them expect the unexpected. And this often ends in disaster.
Now, overlay this elevated P/e chart with the earnings, which have been a huge disappointment...
What do you get?
Hawa.
It's all hollow. Nothing solid in there to drive stock prices.
You could also say the stock market rally is running on empty. There are no earnings to support these high levels.
At this stage, there could only be two options...
One, stock prices collapse and effectively bring back sentiment to a saner level. The leher deflates.
Two, earnings surge and meet the extremely high expectations of the investors. The hawa is filled up with solid earnings
What's more likely?
I would hazard a guess that it's going to be a mix of both.
The earnings cycle will eventually turn around and, the leher will ease off. However, if only one were to happen, then things could get very volatile.
The Equitymaster research team will be keeping a close watch.
In the meantime, be aware that there is a leher which has created a massive surge in stock prices...all out of hawa!
What's in it for Us, the Investors?
Now, like I said before...there's a solid long-term story that is playing out in India today.
In their travels, the Equitymaster research team has unearthed some great long-term opportunities.
They have found companies growing their earnings at a decent pace... Companies that are run by good promoters who are competent and don't cheat their shareholders.
These are not companies you will read about in the news. They are not well-known. Many of them are too small to be noticed.
But there's no hawa in them! They are rock solid businesses. They are growing at a good pace...and if the stock market undervalues them for any short-term reason, the research team won't hesitate to recommend them. Just ask Richa...
As editor of Hidden Treasure, Richa loves finding such opportunities for her subscribers.
And a few days ago, she did.
On Thursday, 14 September, Richa recommended a stock from the oil and gas sector.
The company is facing short term problems but its long-term growth story is very much intact. The market was undervaluing it.
Richa seized the opportunity and recommended it to Hidden Treasure subscribers.
In fact, Richa's last recommendation, made less than two months ago, is already closing in on its target price. It's less than 25% away!
This is what happens when you keep your eyes and ears open to possibilities...even in the middle of all the skepticism about the economy.
You can find opportunities.
India's long-term growth story is still intact... And when the market ignores good opportunities...act fast and act decisively.
Updates from the Research Team
Speaking of taking decisive action, just three days ago, Tanushree recommended not one...not two, but three actions for The India Letter subscribers!
The first was her monthly stock recommendation. You can get it here. She recommended only a 25% exposure to this pharma stock...and increasing it as and when the stock gets cheaper.
The second was a sell recommendation on Gruh Finance. This stock (up 179% in two years and eleven months) is the second best performing stock in the 3-year history of The India Letter!
The third was a recommendation to consider doubling the exposure in this engineering stock. Tanushree believes this stock has a bright future ahead.
Richa closed a position too recently. She recommended Hidden Treasure subscribers to consider booking profits in Savita Oil Technologies. The stock was up about 25% in the last month and Richa did not believe there was sufficient margin of safety in holding on.
By the way...watch out for two recommendations coming your way next week.
Kunal will release his next Smart Money Secrets recommendation on Monday, 25 September and Tanushree will release her next StockSelect recommendation on Friday, 29 September.
Equitymaster's Hall of Fame
The Biggest Money Multipliers We've Recommended
* Returns calculated up to January 2017. Past performance does not guarantee future results.
** Returns up to 30 June 2017.
Warm regards,


CEO, Equitymaster