What I Learnt About Small Caps in 2018... And 4 Stocks to Kickstart 2019
Jan 1, 2019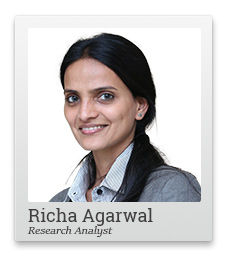 As the curtains fell on 2018 I decided it was time to reflect on the year gone by, and take what I had learnt with me in 2019.
2018 was, by all accounts, a difficult year for small caps and its believers. After touching an all-time high in January 2018, the small cap index plummeted by around 33%. The carnage in some individual small caps was even more painful.
It's a year many small cap investors would like to forget... One they pray never happens again in their investing lives.
--- Advertisement ---
Buying this stock today is like buying HCL Tech in 2003

Do you know what was the price of HCL Tech in 2003?

Just Rs 20...

And today, it's trading at Rs 810.

A mind-blowing return of 3,950%.

Now we can't go back in time to get these massive returns. But markets keep throwing such mega opportunities from time to time.

All you need to do is identify them and act on them at the right time.

And one such rare opportunity exists today...

This company is tapping aggressively into a Rs 4 trillion opportunity. And this is likely to propel its stock price to crazy heights.

If you'd like to make a potential fortune in the years ahead, you need to act now.

Go here for more details on this stock.
------------------------------
It's a year that will perhaps make many first-time investors in small cap turns their backs on this equity class...
...making them lose forever an opportunity to earn life changing gains.
How? To explain, I'm going to take a quick trot down the small cap memory lane...
In 2008, Hidden Treasure was launched. It might not have seemed the best idea to come up with a small cap recommendation service in a year when the small cap index itself crashed by 76%.
Well, we proved the skeptics wrong.
Of the 11 stocks we recommended that year, 8 were successful. The average gains on these stood at 188% (minimum gain of 52% in 2 years and maximum gain of 550% in 6.8 years).
In 2009, when the small cap index witnessed fresh lows, down 80% from the peak in 2007, we asked our subscribers to buy 12 small cap stocks. 6 of these were closed successfully. While the success ratio at 50% may look unimpressive, some of the best returns - 1,058% on Balkrishna Industries, 10,574% on Page Industries and 2,133% on eClerx Services were made during this period.
These gains more than compensated for the loss-making picks.
--- Advertisement ---
For Those Looking to Buy Stocks

If you're looking to buy stocks now, then we've uncovered 3 great stocks for you.

Our research says, these stocks have the potential to create a wave of Indian millionaires.

Get the Details Now
------------------------------
The year 2010 was a humbling and learning period for us.
Of the 12 stocks we recommended, only three were successful. And here is the most interesting part - The small cap index itself did well during this period, gaining as high as 292% from the lows in 2009.
In 2011, 9 of our 12 calls were successful. Do note that the small cap index was down by as much as 43% from 2010 levels.
6 of 8 stocks that we recommended were successful in 2012, a year of modest recovery in smallcaps from the lows in 2011 (but still way down from the highs in 2011).
Of the 7 stocks that we recommended in 2013, 6 were successful. Do note that the small cap index in 2013 itself closed lower 11% lower than in 2012.
The next four years - 2014 to 2017 saw a massive bull run in small caps. Modi, slogans, the acchhe din narrative, and liquidity kept on fueling the bubble in small caps.
We recommended 37 stocks during this period. 23 of these have already been closed for audit purposes. 18 of these have been successful recommendations.
While the success ratio of 78% is impressive, the maximum and minimum gains on successful positions stood at 146% (on Vinati Organics in less than 2 years) and 23% (in less than 3 months on KPIT Ltd).
NEW: 5 Pandemic-Proof Smallcaps You Should Know About...
Do you notice any trend in this history of our recommendations that I just shared?
First, our best gains were made in 2009, when the small cap index had hit its lowest and the fear was at its peak in the small cap space.
Our worst performance was in 2010, when the sentiments were strong again in the small cap space leading to overcrowding in this space. In other bullish years (2014 -2017), while the success ratio has been good, the quantum of returns was least impressive.
The learnings are clear.
With a solid process in place, the best returns are made in small cap space when the sentiments are at their worst.
Second, if you seriously wish to make money in small cap space, and not get slaughtered by the volatility, you must think from a long-term perspective.
As I write this, the small cap index is down by nearly 30% from the peak this year. There is widespread fear in the small cap space. Big investors are shying away from investing in the space and others are following their lead.
In other words, it's the perfect time to take the plunge in the small cap space.
But you need to be very careful. You can't just pick stocks blindly else you might end up catching falling knives.
The stocks that you pick must meet the 3 must-have conditions for successful long-term investing:
Ethical and competent management;
Strong fundamentals; and last but not the least,
Enough margin of safety.
Wondering where to find these stocks?
Well, you could start with - 4 Rebound Stocks to Profit from This Market Crash.
In my view, these rebound stocks don't just offer strong returns, they also protect downside in the current market.
One of the biggest reasons behind Buffett's success is he likes to buy quality merchandise when it is marked down.
The Indian small cap space is offering a discount season.
Make sure you make the most of it.
Happy Investing and Happy New Year!
Regards,



Richa Agarwal (Research Analyst)
Editor, Hidden Treasure
PS: You heard the expert - it is discount season for small caps. NOW is the time to buy. Do not miss this chance or you will regret it. Get the list of small cap stocks here. And be prepared for a wealthy 2019.
Recent Articles