3 Perfect Stocks to Buy for a Financially Happy New Year
Jan 1, 2020
Editor's note: Dear reader, on behalf of everyone at Equitymaster, the Profit Hunter team wishes you a very happy and prosperous new year!
---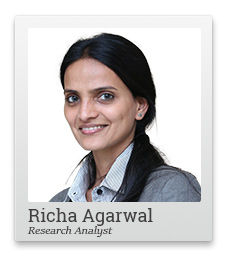 If you caught the recent Arvind Subramanian interview, you know the New Year doesn't sound very bright.
The former Chief Economic Adviser wrote "Clearly, this is not an ordinary slowdown. It is India's Great Slowdown, where the economy seems headed for the intensive care unit."
What a grim note to start the New Year on!
How can it possibly be a happy one then?
This about sums up perhaps the biggest reservation most investors have with respect to stocks right now.
But is that a really a good enough reason to stay away from stocks?
I'll let ace investor Warren Buffett answer that one. In a CNBC interview, he said:
I don't pay any attention to what economists say, frankly.Well, think about it. You have all these economists with 160 IQs that spend their life studying it, can you name me one super-wealthy economist that's ever made money out of securities? No.

If you look at the whole history of [economists], they don't make a lot of money buying and selling stocks, but people who buy and sell stocks listen to them. I have a little trouble with that.
I can't really argue with logic like that.
And it's bang on. I'll tell you why.
Here's an excerpt from Working Paper by the Indian Council for Research on International Economic Relations in 2009.
The Indian economy was on a cyclical slowdown after a five-year record boom and there was every hope that the economy will go for another strong growth phase after this brief slowdown. The global crisis has changed that outlook and instead will deepen and prolong Indian economy's slowdown. It has dealt a severe blow to investment sentiments and consumer confidence in the economy. The policy response so far has been prompt in the form of monetary easing and fiscal expansion but the impact may not be much in the near term. A major worry is the severe weakening of India's fiscal position and balance of payments during this crisis period. The basic question is how long it will take to revive the investment and consumer demand which are falling precipitously.

It would be, therefore, realistic to say that the GDP growth rate for 2009-10 would be in the range of 4.8 to 5.5 per cent.
The punch line: India's GDP grew at 8.6% in 2009-10 and at 8.9% in 2010-11.
--- Advertisement ---
Nearly 2,000 People Paid for This... But You Can Have Free Access for 1 Year

A short while ago Rahul Shah launched his latest recommendation service, Double Income.

Through this service, Rahul offers a way for subscribers to potentially double their regular monthly income in the long run.

For instance, if you make Rs 100,000 a month...you could potentially take it to Rs 200,000 in the long run.

Or if you make Rs 200,000 now...you could potentially take it to Rs 400,000 in the long run.

Nearly 2,000 of our readers have already subscribed to Double Income...and the number is climbing.

But as one of our valued readers, we wanted you to have the opportunity to get access to Rahul Shah's Double Income – virtually free for 1 whole year.

You'll find the details here.
------------------------------
So it's a chronic problem with economists. With all their studies and analysis, they understand the economy alright. But does that mean they can predict its fluctuations?
The answer is a big NO.
The reality is, despite all the gloom and doom, the economy could start looking up before you know it.
But as I've been writing, because of the dull economy, small-cap stocks have fallen significantly and many are trading at very low levels currently.
And those who are wise enough to bet on quality smallcaps at the time of crashes, when fear rules, and sentiment is down, make a killing in the stock market.
And as we head into the New Year, what we're seeing now is one such phase of phase of fear.
To be sure, some of the economic concerns are real. And the companies with bad managements and balance sheets will only destroy more wealth.
But if you could choose your small-cap stocks wisely, rebound riches could be yours.
Keeping this in mind, I've shortlisted three stocks that I believe are not just safe amid a volatile economic environment, but could set one for handsome gains in 2020 and beyond.
Hidden Treasure subscribers can read all about them in my special report: Rebound Riches: 3 Stocks Set to Become India's Next Mega-Stocks.
If you aren't a member of Hidden Treasure, I recommend watching the video of my Rebound Riches summit. I talked about these stocks at the summit but please note the video won't be available for long.
I wish you a very Happy and Prosperous New Year!
Warm regards,



Richa Agarwal
Editor, Hidden Treasure
Equitymaster Agora Research Private Limited (Research Analyst)
PS: More than 5,000 people have watched my Rebound Riches Mega Summit. They have received my top 3 stock recommendations. In case you missed the summit, you can watch it here. Please note this video will not be available for much longer.
Recent Articles