This is What Small Cap Stocks Will Do in 2019
Jan 2, 2019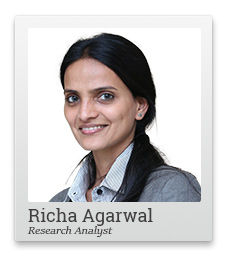 I have a prediction for you. And I'm very sure this is exactly how small caps are going to perform in 2019:
They will either go up or fall down. If they don't do any of these things, they may move sideways i.e. end the year more or less at the level they started it at.
Before you think this is a trick answer, let me double down and tell you this is exactly the prediction you should work with as you strategize for the coming year.
And while the business media is flooded with predictions of what the stock markets are going to do in 2019, if your strategy to buy stocks is based on any other prediction more specific than the one I made, you're likely in for a big disappointment.
You see, I have no crystal ball, and neither does anyone else. And investing your hard earned money on the basis of such pretentious 'crystal ball predictions' is the surest way to lose your way in the stock market.
I have seen small caps skyrocket in a matter of weeks. And I have seen them tumble in a matter of days. Each time such ups-and-downs have happened, they've always been unexpected and taken everyone by surprise.
--- Advertisement ---


How to Buy Tomorrow's Blue Chips… TODAY

Richa Agarwal – Editor of our small cap stock recommendation service – Hidden Treasure – has identified 4 small cap stocks which have SOLID business models… immense growth potential… and are available at deep discounts from their real worth.

She calls these stocks – The Junior Blue Chips.

In other words, small caps which have the potential to become the "Blue Chips of Tomorrow."

For a very limited time, a small number of readers could get these 4 Junior Blue Chips virtually FREE.

Click here to know how…
------------------------------
When I just started out in the market, I'd often be tempted to dish out a prediction. But with long experience from within the stock market, today I have no qualms saying I do not know what's going to happen in the markets in the short term.
The fact is - no one knows. In fact, if you think about it, there wouldn't be any market cycles to begin with if these things could be predicted.
Market predictions just don't work.
But I'll tell you what does work...
Researching the business and the industry space well, meeting the managements, and building a margin of safety in the estimates and valuations while picking a stock. If your small cap stock is backed by a solid business and you've bought it at a good valuation, then you have absolutely no reason to be worried despite all the ups-and-downs.
How do I know this works?
My service, Hidden Treasure's results are the proof of the pudding. Such research based stock picking has meant that since its launch 10 years ago, the service has beat the Sensex almost 3X, uncovering some serious winners along the way.
Coming back to the important question, as we head into the new year, what should you be doing today?
As I have been writing to you, small cap stocks have borne the brunt of the recent market crash and have fallen well over 30% from their peak made at the start of 2018. Many individuals have offloaded small stocks due to the herd mentality of the market.
--- Advertisement ---


How to Find Wealth Creating Stocks in 2019

The Equitymaster Risk Matrix is one of the primary tools that guides us in finding wealth-creating stocks…

And the matrix has just spotted 4 small cap stocks which have the potential to generate solid returns over the coming few years.

With over a decade of "boots-on-the-ground" experience, Richa – Editor of Hidden Treasure believes these 4 stocks could be one the best investments you could consider making to start this new year.

So, before you buy any stock in 2019, learn more about this exceptional wealth-creating opportunity that is in front of you now.

Click here for the full story…
------------------------------
While most in the market rue about how 2018 has treated small caps, I just love the way the year tuned out!
Because this fall has meant that this space currently offers the best bargains of the market. This, my dear friends, is the place to be today.
Many of my favourite quality small caps are now in the buy zone and offer a great upside potential from here.
To be sure, there could always be further correction in the short term in the small cap space. But that is always going to be the case and no one can predict a market bottom.
That said, if you are here to play for the long term, I believe there are some great buying opportunities in the market right now - and the small cap space is your best bet.
Don't miss out on them!
I wish you good fortune for the year ahead and hope you make many profitable decisions this year.
In case you're wondering what small caps to start 2019 with, I'm going to leave you with 4 Rebound Stocks to Profit from This Market Crash. In my view, these stocks not just offer strong returns, but also protect the downside in the current market and are the best place to start as you make your way into the new year.
Happy 2019!
Regards,



Richa Agarwal (Research Analyst)
Editor, Hidden Treasure
PS: You heard the expert - it is discount season for small caps. NOW is the time to buy. Do not miss this chance or you will regret it. Get the list of small cap stocks here. And be prepared for a wealthy 2019.
Recent Articles