This Sunrise Industry is About to Explode and Create Some Big Winners in the Next Decade
Jan 2, 2020
The Nobel Prize for Chemistry in 2019 couldn't have been timed better in my view.
It comes exactly 200 years after the scientific genius who made it possible, decided to retire and pass on the baton to future generations. And boy, what a fitting tribute to him by three of his progenies.
If not for Alessandro Volta's dogged determination, the electric battery would have never seen the light of the day. Or perhaps, it could have come at a much later date.
Mind you, we are talking about the early 19th century. The science then wasn't as advanced as today. There were no instruments available that could detect weak electric currents. Volta had to test different combinations of metals by placing them on his tongue. His saliva doubled up as an electric conductor, giving him an unpleasant bitter sensation.
His efforts bore fruit and how. He was anointed as the undisputed inventor of battery. The battery wasn't just a roaring commercial success. It also set the stage for more scientific discoveries like decomposition of water, electromagnetism etc.
Improvements over Volta's original design have continued to this day.
In fact, the most powerful and the most revolutionary version has now won the 2019 Nobel Prize for Chemistry. The Nobel Prize was awarded to John Goodenough, M. Stanley Whittingham, and Akira Yoshino for the development of lithium ion batteries.
The Nobel Prize committee further noted that through their work, they have created the right conditions for a wireless and a fossil fuel-free society, and so brought the greatest benefit to mankind.
Even in the business world, these humble batteries have already started making huge waves.
At the start of the decade, the term lithium ion battery was used mainly in the context of phones and computers. Little did we know that nearly a decade later, it would find its mention alongside cars and houses.
As per CNBC, the meteoric rise in production of lithium ion batteries has massively brought down their cost of manufacturing. In fact, prices have come down to the point where for the first time, electric vehicles have become commercially viable. It further argues that the next round of cost reduction could lead these humble power banks to literally invade our homes.
In fact, they are the bridge that stands between our future and a world powered by renewable energy. You see, energy generated from the sun or from the wind is squeaky clean and can last for millions of years. However, this energy can only be generated when the sun is shining and the wind is howling. There will be long stretches of time where both the sun and the wind will be absent. And during such time, there will be little or no energy generated from these sources.
Lithium ion batteries can help us address this big challenge. They can charge themselves up when the sun is shining bright or the wind is howling and then provide this energy to power our homes in absence of sun and wind.
Are Lithium Ion Storage Batteries the Answer to Creating a Fossil Fuel Free World?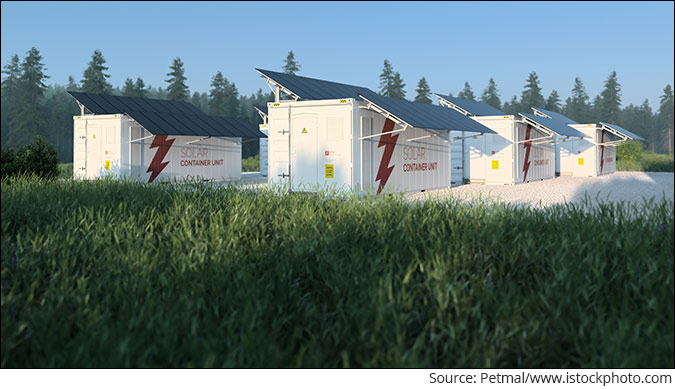 If UBS estimates are to be believed, the next decade could see energy storage costs to fall by as much as 80%. This could push the market size to as high as US$ 426 billion worldwide. That's huge in my opinion. Not to forget, the entire ecosystem that could come up around this half a trillion-dollar opportunity.
Therefore, if you haven't already, I suggest you keep an eye out for companies that have anything to do with this space. They could be your next potential 5, 10 or even 100-baggers.
There is a caveat though. The emergence of a huge new industry doesn't always give rise to massive wealth creating companies. It is a great place to look for potential multibaggers. However, there is no guarantee you will find your next 100-bagger there.
--- Advertisement ---
Here's an urgent profit opportunity from us that no mainstream media is revealing...

The #1 Stock for 2021.

...An innovative stock with the industry giants chasing it for its technology to touch millions and millions of people every day.

It serves several clients across the globe, but what got me is this...

The stock is leaving all its competitors behind despite the COVID crash, and now the price has already started to move.

There's actually one more reason why this stock could take off and make its early investors rich.

It's revealed here in this note with transparency.
------------------------------
If there is immense competition in the space, the profit pool that such an industry could create will keep shrinking as the industry players fight for market share. Eventually, it could so happen that most of the profits would be passed on to customers in the form of lower prices. And there could be barely any profit left for all the players.
Which is why looking for a moat in all the companies one invests in, is such a great idea. These moats create barriers so that competitors don't come in and eat into the profits.
A company with a strong moat can ensure it has the profit pool to itself. This pool can keep growing as the sales grow, creating more shareholder wealth in the process.
One way of finding out whether the company has a strong moat is to see whether it can generate free cash. If it has enough cash even after spending on capacity expansion and meeting working capital needs, you may hit upon a high moat company.
A strong moat plus presence in a sunrise industry are the stuff stock market dreams are made of.
Which is why in my Double Income service, my goal is often two-fold. I not only look at industries that are growing fast. I also look for companies with strong free cash flow generating ability within those industries.
And I am going to follow the same playbook for this industry as well.
I recommend you do the same.
Warm regards,



Rahul Shah
Editor, Profit Hunter
Equitymaster Agora Research Private Limited (Research Analyst)
PS: Dear reader, today's the last day to claim Richa Agarwal's special report on the top 3 small-cap stocks to profit from the market rebound. Get the report here.
Recent Articles