15 Mistakes That Are Losing You Money in the Markets - Part II
Jan 4, 2019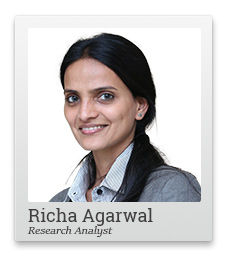 Yesterday, I undertook a mission to help you, dear reader, to avoid common mistakes that tend to hold back investors from making good returns in the stock market. In case you missed it, here's part I.
As I noted yesterday, these mistakes arise from psychological biases that we carry. Once we make the effort to understand the common biases that most investors carry - and recognize that we also may make those same mistakes - we can also learn to avoid them.
So, here's part II of the common investing biases that hamper your returns in the markets...
Survivorship Bias - This is the tendency to only look at data that has 'survived' or excelled, while ignoring anything that didn't make it. Survivorship bias can lead to overly optimistic beliefs because the failures are ignored. For example, if taking a particular course of action worked for a business, we tend to believe that it was the right thing to do, without considering the fact that many other businesses did the exact same thing - but failed.

To avoid this bias, best not to just dwell on past results and performance and look at businesses more objectively.

Information Bias - This is when one tends to seek all kinds of information that doesn't really affect action. That is to say, even with enough information, one wastes time trying to collect more information, even if that has no use in the situation. More information is not always better.

The key to successful investing is to separate the wheat from the chaff and filter out unnecessary information, which at best will waste your time, and at worst will distort your judgement.

Outcome Bias - Judging your decision based on the outcome, rather than how the decision was made, reeks of outcome bias. Sure, you made a good return on a stock tip from your broker. But does this mean, tips are a viable method for good returns? What happens when they don't work?

Focus on how you came to a decision to buy/sell a stock, rather than the outcome of it. It will not only help you avoid the same mistake, but also help fine tune your process.

--- Advertisement ---


What's Written in This Regulatory Document Could Change The Way You Invest…

An important regulatory document has been shown to indicate stocks that have the potential to boom in a few years.

Most investors have no idea where to find these documents…or how to decipher them.

But we've discovered a way…

The Smart Money Secrets team at Equitymaster has been tracking these hidden documents – and the stocks behind them – for a few years now.

In fact, they've even released a special report with full details on 3 such 'regulation 31' stocks.

Here are the details…
------------------------------



Clustering Illusions - This is when you start seeing patterns in random events. The belief that the market will go up after four straight days in red, is a classic example.

View your investing philosophy as separate from events in the market. The stock market has a mind of its own, and its movements are more or less random. Trying to predict market movements will only end in pain.
Availability Bias - This happens when you overvalue the information that you possess. It may well be the case that the information you are using to base your judgement of is incorrect, or incomplete. Availability bias makes you think that the examples that come to your mind are more representative than is actually the case.

For example, if you just got a new job you are more likely to believe the economy is flourishing and the job market is great. However, someone who just got laid off might not share your views about the same economy and job market.

A way to avoid availability bias is alter your focus on the long term and be sure to weigh in other perspectives before jumping to a decision.

Incentive Bias - One of the most important consequences of incentives is what Charlie Munger calls 'incentive-caused bias'. The following example will best explain incentive bias.

Early in the history of Xerox, Joseph Wilson, who was then in the government, had to go back to Xerox because he couldn't understand why its new machine was selling so poorly in relation to its older and inferior machine. When he got back to Xerox, he found out that the commission arrangement with the salesmen happened to give a large incentive to push the inferior machine on customers. An incentive-caused bias can tempt people into immoral behaviour, like the salesmen at Xerox who harmed customers in order to maximize their sales commissions.

The story of mutual funds in India is similar to that of Xerox. Mutual funds that offer the maximum commission to distributors are the best sold funds. Also, consider your own stockbrokers. There will seldom be one who will not lure you to trade too often.

Understand the motives and incentives of people and organisations you're dealing and investing with. Everyone ranging from the company you're investing in to your stockbroker, your mutual fund agent and your equity advisor, your source of information (yes, even I) must pass your scrutiny.



Conservatism Bias - This is when one tends to hold on to old investing views or forecasts at the expense of acknowledging newer information. For example, if an investor believes a certain forecast of a company's sales to be true, but soon after he receives newer information that one of the company's plant had to be shut down, he may under-react to the news because of his original impression rather than acting on updated information.

To steer clear of conservatism bias, be open to new information and change or amend your actions accordingly.

Blind Spot Bias - If you made it through the list without identifying with any of the biases, this one is for you. Failing to recognize your own biases is a bias in itself. This puts you in a blind spot, where it becomes difficult to understand reasons for failure without some introspection first. People tend to notice cognitive biases in others, more than they do in themselves.

To take control of your investing process, take a step back and understand the biases that are holding you back.
Understanding you own biases and taking control of them can help you become a better investor in 2019.
And when it actually comes to picking stocks, you always have my recommendations for that - check out my list of 4 small cap stocks that are set to profit from the market crash in the rebound.
Regards,



Richa Agarwal (Research Analyst)
Editor, Hidden Treasure
PS: For the right kind of in-depth bias-free research and recommendations, get Richa's market-beating small cap service by clicking here.
Recent Articles