---

This is third party advertisement

---

Mutual Fund investments are subject to market risks, read all scheme related documents carefully.
Join Mega webinar


Navigating Markets in 2024 -
Fund Managers Year End Perspective
Live on Dec 6th @ 6pm
Check this Before Buying Green Hydrogen Stocks
Jan 5, 2023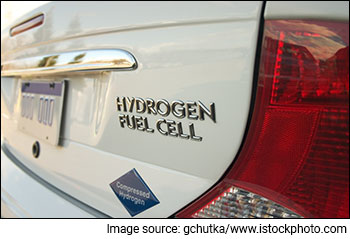 Green hydrogen is not a fuel everyone talks about. But we should.
Hydrogen is not just another fuel. Hydrogen is expected to serve as a primary industrial fuel in the 21st century, just as coal drove the 19th century and oil drove the 20th century.
Decarbonised hydrogen produced by splitting water into hydrogen and oxygen offers renewable electricity.
But how is the resource economically viable?
India is and will remain energy-starved if it has to grow its manufacturing capabilities and adopt greener energy.
India is aiming for carbon neutrality by 2070. The path to energy security goes through a mix of oil, coal, blended fuels, natural gas, renewables, and electricity.
As per Niti Aayog, US$3.1 trillion economy needs 1,650 billion units (BU) of power, made from nearly 400 GW of capacity. Of this, green electricity is only 17%.
As per estimates, if the size of the economy must double in the next decade, India's energy consumption will grow 5-10x. This means, at the current rate, our energy import bill will triple by 2040. The only way out is tapping as many green resources as possible.
Green hydrogen also helps reduce carbon emissions. This could be a gamechanger in strengthening energy security and powering the energy transition.
Last year, the government launched the country's first Green Hydrogen Policy.
--- Advertisement ---
Investment in securities market are subject to market risks. Read all the related documents carefully before investing

Our Big Prediction

India is set to take a giant leap in terms of prosperity.

If things play out as our research suggests, then this leap could potentially generate wealth at a scale we've probably never seen before.

This is one of the biggest opportunities for investors in the recent times.

The stock market rally that we're seeing right now is just a small glimpse of what's about to come.

See Details Here
Details of our SEBI Research Analyst registration are mentioned on our website - www.equitymaster.com
---------------------------------------------------
The objective is to reduce fossil fuel usage and increase penetration of green fuels.
Now, India has the advantage of low cost. The cost of green hydrogen in the country is expected to fall to about one-fourth of global levels. At about US$1 per kg, India could become the lowest-cost producer in the world.
The government's National Hydrogen Mission has proposed building giga factories to produce green hydrogen.
But there are three factors you must keep in mind before you decide to load up on green hydrogen stocks...
Cost of Electrolyser: Green hydrogen is produced by splitting water into hydrogen and oxygen using an electrolyser.
One million tonne of green hydrogen corresponds to around 11-13 GW of electrolyser capacity.
According to NITI Aayog, at present, the cost of hydrogen production through electrolysis ranges from US$ 4-10 per kg based on the technology used.
With a price decline for both electrolysers and renewables, NITI Aayog expects the cost of green hydrogen to fall to approximately US$2 per kg by 2030 and US$0.7 per kg by 2050.The government recently approved incentives of Rs 170 bn to be allotted for electrolyser and green hydrogen manufacturing in the country. Companies using the incentives for mass scale production could certainly compete on cost.
Water availability: For producing 1 kg of hydrogen, 9 kg of water as input is required. Accordingly, a large-scale (1 GW) electrolyser, producing 0.15 million tonne of hydrogen, would consume about 3 million tonne of water. Hence shortage of water can be a key hindrance in green hydrogen manufacturing.
Combustibility: Its flammability and its lightness mean that hydrogen, like other fuels, needs to be properly handled. Many fuels are flammable. Compared to gasoline, natural gas, and propane, hydrogen is more flammable in the air.
A concern is the higher energy content of hydrogen poses risks as auto fuel. Auto fuels are highly flammable. A vehicle laden with hydrogen will be more vulnerable in case of a major accident.
Hydrogen stations will need to adapt to more stringent safety measures. In other words, the technology for hydrogen fuel cell vehicles needs to be far superior in terms of safety.
However, the risk of combustibility of hydrogen fuel cells is almost as much as is lithium cells. Hence companies that use technology to mitigate such risks need to be monitored.
Finally, remember the green hydrogen stocks cannot be instant money spinners.
A shift to green hydrogen as a new renewable source won't happen in a hurry, as energy transitions, in general, take a long time.
--- This is Third Party Advertisement ---
Mutual Fund investments are subject to market risks, read all scheme related documents carefully.

[MEGA] Webinar Invitation -

Navigating markets in 2024 - Fund Managers' Year End Perspective.

Date: Dec 6th Time: 6pm Venue: Your Computer

An Exclusive Asset Class Outlook Webinar With Our Experts from Quantum MF

• The Outlook For Equity, Debt & Gold?

Register Free for this Exclusive Webinar
----------------------------------------
Over the course of 60 years - starting from the time it was introduced between 1840 and 1900 - coal went from 5% of the world's energy supply to nearly 50%.
But in the 60 years from 1930 to 1990, natural gas reached just 20%. So, the transition to hydrogen will also take time.
But green hydrogen is still at a nascent stage. No country has a definitive edge. It offers a much-better chance for India to nudge ahead.
It's a great chance for India to innovate and cash in on the latent demand for new age fuels.
Indian companies have missed many technology-led innovations in the past. Green hydrogen presents India with an opportunity to lead the change.
Warm regards,



Tanushree Banerjee
Editor, StockSelect
Equitymaster Agora Research Private Limited (Research Analyst)
Recent Articles