Coming Sensex Milestones and Your 8 Figure Fortune
Jan 6, 2021
Editor's Note: Today is the last day to get access to my top stock recommendations in The Great Indian Wealth Project. Get full details here.
---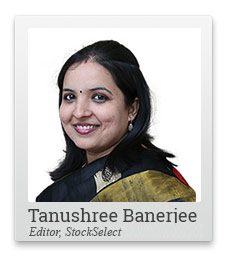 2021 has begun on a celebratory note.
And why not?
Two vaccines have been approved to put the pandemic behind us.
The BSE Sensex is just a few hundred points away from 50,000. Corporate earnings are expected to bounce back with vigor next fiscal.
The question on your mind obviously is, what next?
It was May 2018 when I first brought your attention to Sensex 100,000.
I had warned you that the ride will be far from smooth.
But that buying life changing multibaggers on the road to Sensex 100,000 will get you closer to your desired fortune.
--- Advertisement ---
FREE Event on Equitymaster's New Project

On May 17, we are holding a FREE event to reveal Equitymaster's Great Indian Wealth Project.

At this event, we'll reveal the details of your first stock for a potential Rs 7 crore in long-term wealth.

Seats for this event are filling up fast.

Since there are limited seats, we urge you to register at the earliest.

Click here for free sign-up
------------------------------
I must reiterate there is no stopping the Sensex milestones. Sensex 50,000 is almost here.
Even a reasonable growth in corporate earnings could double Sensex from current levels by the end of the decade.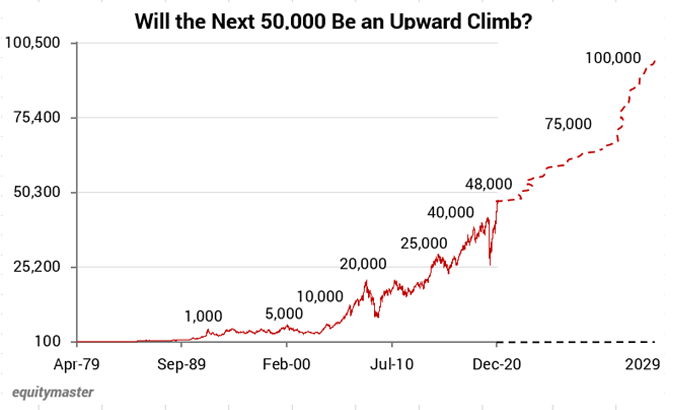 Does this mean you should load up stocks without a worry?
Well, there are two more data points that you must consider.
The ascent from 30,000 to almost 50,000 was in just three years.
Discover Now: One Stock for Potentially Life-changing Gains
But in the past, there have been long periods of lull when the Sensex shied away from the milestones.
Sensex 1,000 to 10,000 took 16 years.
Sensex 20,000 to 30,000 took 9 years.
Therefore, to assume that Sensex milestones would quickly add to your fortune would be a big folly.
You could do no greater disservice to your portfolio than to blindly buy popular stocks that every broker is peddling.
What I would rather look for are businesses with ability to bounce back from the temporary crisis.
--- Advertisement ---
How to Earn a Fortune in Gold, the Smart Way

Gold is on 'the verge of a decadal run' says Vijay Bhambwani, India's #1 Trader and Editor of Fast Profits Daily at Equitymaster.

He says gold has the potential to generate staggering gains in the coming years...And those who are betting on gold right now will hit the jackpot.

But wait.

While gold is an attractive investment destination, there's a very specific way to play this opportunity...

A way that ensures you rake in maximum profit and perhaps hit the jackpot...while minimizing potential pitfalls. Thankfully, Vijay - India's #1 Trader - can guide you step-by-step in the upcoming gold rush and help hit the jackpot just at the right time.

Sure, you don't want to be an average trader. That's not how you make a fortune.

Here's how you can get Vijay's guidance...
------------------------------
And irrespective of the time gap between Sensex 50,000 and its next milestone, such stocks could add to your fortune consistently.
Meanwhile, I have put down the exact blueprint to accumulate several crores in safe long-term wealth, in a guide - Eight Steps to Your Eight Figure Fortune.
In a recent special online event - The Great Indian Wealth Project - I showed how to potentially accumulate Rs 7 crore in wealth, over the long-term.
Today is the last day to get access to the stocks I've recommended under The Great Indian Wealth Project.
Don't miss this opportunity dear reader.
Warm regards,

Tanushree Banerjee
Editor, StockSelect
Equitymaster Agora Research Private Limited (Research Analyst)
PS: Today is the last day to get access to my top stock recommendations in The Great Indian Wealth Project. Get full details here.
Recent Articles