Don't Wait on the Sidelines to Buy Quality Smallcaps. The Time to Buy is Now
Jan 8, 2020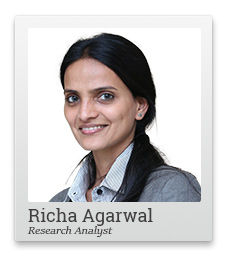 There is gloom and doom everywhere.
Consumer sentiment is at a multi decade low.
The economy isn't doing too well.
And all of that hasn't gone down well with smallcap stocks.
Since 2018, they've been falling...and the fall only got worse in 2019.
Have a look:
The Current Situation of Smallcaps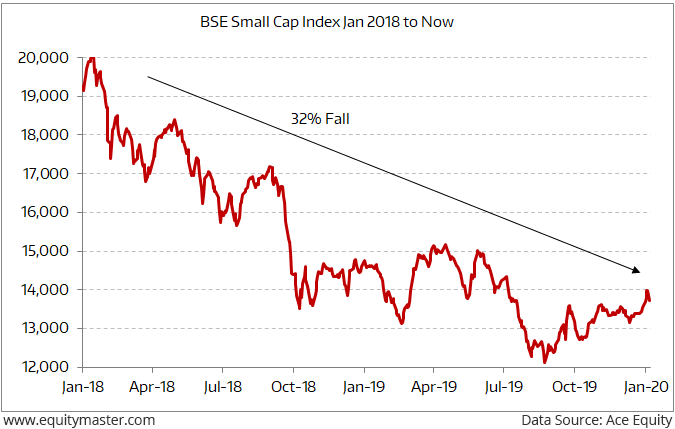 What's next? After such a large fall, are things bottoming out?
What does history say about a fall of this magnitude?
Well, if you're only going to look at price movements of stocks for cues, the news is not good.
Since this whole turmoil started with a large financial institution - IL&FS - going bust, what happened the last time another large financial institution Lehman Brothers went bust in the US in 2008?
Have a look:
What Happened in 2008-2009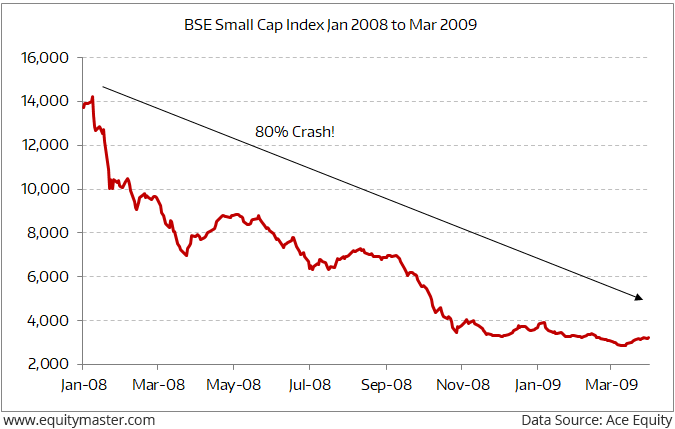 That's right. From January of 2008, the BSE Small Cap index crashed 80%.
This leads us to the question many investors may be toying with right now...
Does this mean you should wait because small caps might fall that much again before they rise?
No, not really.
In fact, the last time they fell as much as they have this time, they saw a rapid rise over the next few months creating massive wealth for investors who bought quality smallcaps.
What Happened in 2013-2014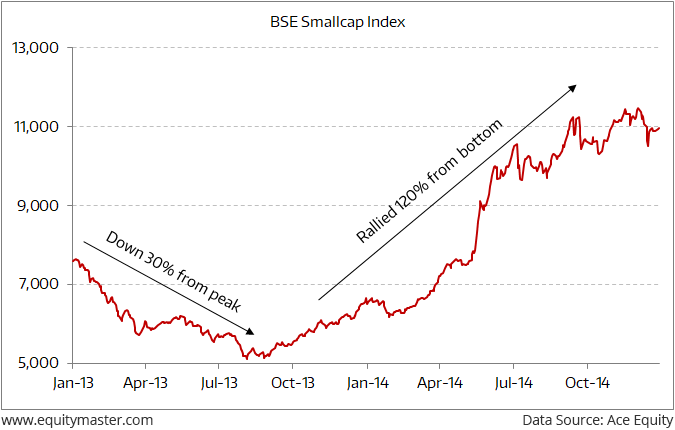 There's absolutely no telling where the markets will go!
So, what is the answer?
Stock prices are a mirage. Stop chasing them before you lose both your mind and your wallet.
Like I wrote to you yesterday, chase business values instead.
--- Advertisement ---
Buying this stock today is like buying HCL Tech in 2003

Do you know what was the price of HCL Tech in 2003?

Just Rs 20...

And today, it's trading at Rs 810.

A mind-blowing return of 3,950%.

Now we can't go back in time to get these massive returns. But markets keep throwing such mega opportunities from time to time.

All you need to do is identify them and act on them at the right time.

And one such rare opportunity exists today...

This company is tapping aggressively into a Rs 4 trillion opportunity. And this is likely to propel its stock price to crazy heights.

If you'd like to make a potential fortune in the years ahead, you need to act now.

Go here for more details on this stock.
------------------------------
That is, get a fix on company's worth.
Do your homework. Research each business and its industry well. Talk to the management. Understand what the future of the business is going to be.
Then, conservatively estimate what it could be worth.
After you've done this, buy it when the stock market offers the stock to you at a discount to that worth.
Why do all this?
Stock prices tend to bounce around so much they almost take on a mirage-like quality - here today, gone tomorrow.
But the value of a fundamentally strong business seldom disappears into thin air.
In fact, it steadily grows over time.
Thus, it makes sense to base your decision on business value rather than on stock price. If you do this... you'll love markets such as these.
It is only when stock prices fall that you get to buy such great businesses at discount prices.
But what if the market falls further?
All the better!
You get to buy more of the most fundamentally strong stocks at even lower prices!
These stocks will come running back to catch up with its true value.
And you will laugh all the way to the bank.
So don't wait on the sidelines and miss this golden opportunity available right now.
You never know what the market will do and you might miss your chance.
Which are the most fundamentally attractive small caps right now?
I've shortlisted one stock I believe is not just safe in a volatile economic environment, but could provide fabulous gains in 2020 and beyond.
Read more about this stock here.
Happy Investing.
Warm regards,



Richa Agarwal
Editor, Hidden Treasure
Equitymaster Agora Research Private Limited (Research Analyst)
PS: India' #1 trader, Vijay Bhambwani, will reveal a highly profitable, time-tested strategy to make instant income from the market. Join Equitymaster's trading guru for the Instant Income Summit. Registration is open and free.
Recent Articles