'Essential' Smallcap Stock Recommendations
Jan 8, 2021
Editor's note: In this editorial published last month, Richa Agarwal wrote about how smallcaps were rebounding strongly and why it's a good time to buy the high quality ones. In this highly volatile market, I believe it's a good time to revisit this piece and explore your options among smallcap stocks. Read on...
---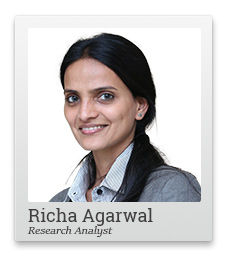 Yesterday, I sent out my monthly report along with the performance review of the smallcap stocks under my research coverage to my Hidden Treasure subscribers.
It was heartening to see 17 stocks in open positions gaining 15% and more in a period of just one month.
To be precise, 5 stocks have gained over 30%, and 7 stocks have gained over 20%.
The comparative gains with the smallcap index and the Sensex are 11% and 6% respectively.
In fact, since the lows in March 2020, the smallcap index has gained 98%.
The sharp rise is reeling enough to make one nervous about the possible correction, like the one that happened in January 2018 when the smallcap index peaked.
--- Advertisement ---
The Smallcap Fortunes Summit

Join us on the evening of 16th March to learn,

• Why despite rallying over 100% since March-2020 lows... small-cap stocks are set for a massive rally over the coming months and years
• Details of our top 3 stocks to capture potentially huge gains from this upcoming small-cap rally
• And how to spot opportunities, even in the current market, with potential to generate 200%, 400%, and even 900% long-term gains

Plus there is a lot more that we are going to cover.

The summit is free to attend for Equitymaster readers.

But since there are limited seats, we would recommend you to register at the earliest.

Click here to register. It's free
------------------------------
While caution is indeed warranted, I think there is still a lot more steam left to this rally.
For one, the gap between Sensex and smallcap index is still huge.
In January 2018, the smallcap to Sensex ratio was 0.57 times, versus a long term average of 0.44 times.
At present, this ratio stands at 0.37 times, well below the long-term average.
The possibility of a convergence between growth and value is a lot higher in the smallcap space, than in the large caps.
And then here are some other interesting facts.
Historically, the smallcap index, after a sharp correction, has risen up to 300%.
So far, the smallcap index is up 98% since March. If you have not joined this rally yet, it might still not be too late.
But there are some caveats...
Post the covid shock, the smaller companies and businesses across industries are in a consolidation phase.
The strong are getting stronger and the weak are getting weaker.
While picking stocks, ask yourself if you would be comfortable holding the stock in case it falls 50% or more due to something external or unprecedented like covid.
Second, if there is a second wave (and my city has indeed gone for evening curfew as I write this), or a delay in the launch of the vaccine, will the business be critical enough for the economy or its clients to survive.
These are the questions that we have been reflecting on post the covid shock in March 2020.
Learn: How to Potentially Accumulate Rs 7 Crore in Wealth Over the Long-term
It indeed has served us and our subscribers well. Our first batch of essential stock recommendations have offered robust returns so far.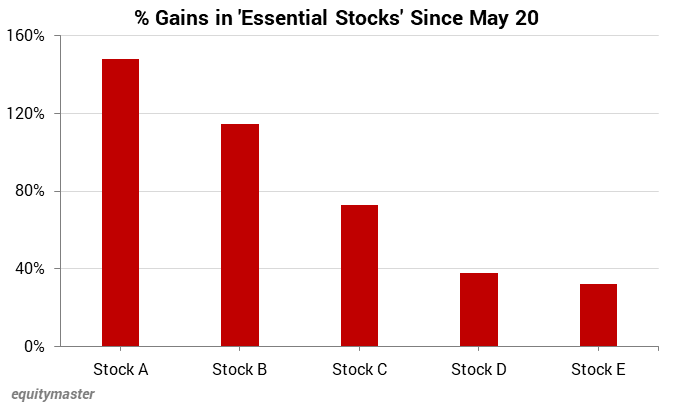 While the margin of safety in valuations has come down in these stocks, I'm glad to say that yesterday we have added another stock to this list.
This company is the world's largest player in a niche segment. Its product falls in the essential category.
This global leader enjoys unique competitive advantages that are hard to replicate by its peers.
With its unique asset light model, tech expertise, and pricing arrangements with its clients, the company has been able to sustain and even grow its margins in a business which is otherwise commoditised.
It's at an inflection point in its journey. The company is moving from mainly being a B2B (business to business) to B2C (business to customer) player.
Going forward, we sales and margins to grow on the back of incremental capacities and addition of value-added products.
Hidden Treasure subscribers received the report last evening and can access the recommendation here.
We are committed to bring more such value and growth opportunities for you in the smallcap space, amid the ongoing rebound. Keep following this space for more such updates.
Warm regards,



Richa Agarwal
Editor, Hidden Treasure
Equitymaster Agora Research Private Limited (Research Analyst)
PS: Get access my top essential smallcap stock recommendations here.
Recent Articles