I Made a Killing in the Markets this Week... Here's How
Jan 10, 2020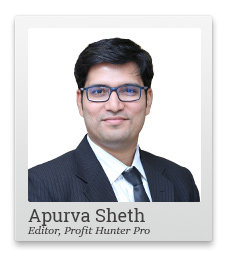 The rally in the Indian stock markets was rudely abrupted on Monday. The benchmark index Nifty fell 2% and even slipped marginally below the 12,000 mark.
While it recovered all the losses in the following sessions, the damage, I'm afraid, is already done.
Retail investors have started worrying more about the news from the gulf rather than the stocks they hold.
The WhatsApp factory was working overtime to feed them what they wanted to hear. Many investors believed the markets dropped because of news from the gulf. However, it's more likely the markets were already on a weak footing and simply needed a catalyst to push it down.
The killing of Iranian commander Qasem Soleimani and subsequent escalation in tensions gave the markets a reason to fall - but I'm convinced they would have dropped even without this news.
What matters more than news is price action which already indicated that we should remain cautious.
You already know I am a firm believer in watching price action. I highlighted this in a video I recorded last month - take a few minutes to check it out below.
Now, let's consider what happens to the Nifty as geo-political tension escalates across the world...
Nifty was trading in a tight band of 12,150 to 12,300 since the third week of December. It breached below this range and bounced back from support of 12,000.
Last time I told you that the put open interest is maximum around the 12,000 strike which indicates professionals won't allow the index to fall beyond this point so easily.
Nifty has since recovered from Monday's losses after yesterday's 200 point rally. But it will find resistance around the previous high of 12,300.
This means markets are likely to remain trapped in a range of 12,000 to 12,300. They will easily be swayed by emotions of greed and fear like they did this week.
So, traders - fasten your seatbelts, volatility is back!
India VIX, which measures fear on the street, is up 20% in January.
In the midst of this volatility, however, my readers made a killing in the markets
Most investors hate volatility because it becomes difficult to ride the markets. But that is only because they fail to understand that volatility gives you opportunities to trade.
The month of December was quiet and we couldn't find many trading opportunities. But we found 4 new stocks to trade in January. One of them almost achieved its target.
--- Advertisement ---
Our Top Stock Pick for 2021

Whatever you do, don't miss out on this.

This little-known stock is behind a technology that could revolutionize the FMCG sector in India.

What's more, it has the potential to generate huge gains for investors, and is our #1 Small-Cap Stock for 2021.

You'll find all the details in this note. Make sure you read this as soon as possible today.

Continue reading...
------------------------------
I recommended Indian Energy Exchange Ltd. last week in two parts to my Breakout Profits readers. The first half went live immediately at the recommended price of 150.65.
The stock shot up in two sessions and almost touched our target price of 174 on the NSE.
I closed this trade on Tuesday at a closing price of 165.55 with gains of 9.89% in just 6 days.
We give importance to good beginnings in our culture. I couldn't have asked for a better start than this to the new year.
My readers are also delighted. Here's what they said in emails...
I made a killing in the stock of IEX and naturally very much delighted. Thanks.
Another reader wrote this...
Dear Apurva,

On 03.01.2020 market opened gap down and as such my broker advised me not to enter the market and I could not buy shares of IEX Ltd. at recommended price.

However, I observed that it was continuously going up. I waited for its reversal and bought 80 shares @ Rs.157.60. I bought less quantity since market was in down trend and wanted to add some quantity at lower price later but script did not give me that opportunity. And sold the same on 06.01.2020 @Rs.171.90.

You may laugh at this episode.
Here's one more reader...
I entered in IEX at 153 and exited at 173. A handsome 13%. On 6th Jan when all the stocks were beaten down badly, IEX moved smartly to 173. This shows how strong you have picked a stock for trading.

When every other stock was in Red, I was able to book profit. I can't be more delightful than this.

Thank you for the Pongal Gift in advance.
Now If you want to join the celebrations like them then here's your chance. You can click here to know how you could join my premium stock recommendation service Breakout Profits.
Warm regards,

Apurva Sheth
Editor, Breakout Profits
Equitymaster Agora Research Private Limited (Research Analyst)
PS: On Tuesday, 21 January, India' #1 trader, Vijay Bhambwani, will reveal a highly profitable, time-tested strategy, to make instant income from the market. Join Vijay at the Instant Income Summit. Register for free here.
Recent Articles