Why I Follow Richa's Cues on the 2021 Smallcap Revival
Jan 13, 2021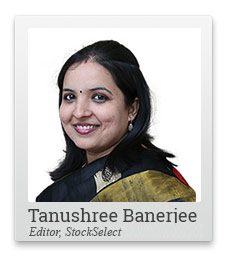 What a weekend to begin the year!
In case you were an attendee at the recent Equitymaster Conference 2021, which we hosted last weekend, you know exactly what I mean.
Some extremely insightful presentations by the guest speakers like Rajeev Thakkar of Parag Parekh Mutual Fund, Kenneth Andrade of Oldbridge Capital, market veteran Ramesh Damani, and our founder Ajit Dayal, made the sessions super engaging.
But I must highlight that my colleague Richa's presentation on smallcaps was an eye opener in many senses.
I say this because, while all the speakers at the Conference, including yours truly, sounded caution, Richa had a contrarian view. She had a bullish view.
--- Advertisement ---
3 Stocks for Potentially Massive Gains

COVID-19 has triggered a fundamental shift in the global economic and geopolitical map.

This reshuffling of the geopolitical map is just ONE of the forces fuelling the great Indian revival.

A revival that will restore the power, wealth, and influence we once enjoyed.

And, those who invest in the companies at the heart of this revival could turn a small stake into generational wealth.

Our co-head of research, Tanushree Banerjee, has narrowed down on 3 specific stocks.

She strongly believes, these 3 "revival stocks" could potentially offer massive gains.

Click here to learn more about this mega opportunity
------------------------------
And she had some solid facts plus good reasoning behind it.
I have known Richa for a decade, as a smallcap analyst, with a penchant for picking stocks of solid small businesses.
She tracks down managements, visits factories, attends AGMs and does regular concalls with the smallcaps she likes.
Flying to the remotest parts of the country to vet the tiniest of smallcaps, in person, is something that we expect of Richa.
So, I wasn't surprised at her bullishness on the smallcap stocks she is tracking.
What intrigued me was the manner in which she explained the upside in smallcaps even from the current levels.
Richa has been speaking of the revival in smallcaps for a while now.
Revealed: 3 "Revival Stocks" for Potentially Massive Gains
Back in October 2019, she was one of the first smallcap analysts in the country, to stick her neck out with this prediction.
She predicted a revival in smallcaps would be the investing success formula for 2020, right at the start of the year.
And even the pandemic failed to thwart it!
In her videos, Richa also explained the metrics of a solid revival and the warning signs for a false one.
But what stood out at the Conference, were ...
Both put in context of current market scenario, it seem like brave calls.
But like I said, we expect that from Richa.
And the proof of the pudding is that some of her recent buy recommendations are already up 30% to 40% in 3 to 4 months.
I for one, would certainly follow Richa's cues about the longevity of the smallcap revival.
What about you?
To know more please click here.
Warm regards,

Tanushree Banerjee
Editor, StockSelect
Equitymaster Agora Research Private Limited (Research Analyst)
PS: Book your seat for Richa's Smallcap Revival Summit, please click here.
Recent Articles