What Makes My Readers Sleep Like a Baby Amid Falling Prices?
Jan 16, 2019
I spent a quiet weekend in Lonavla recently. Away from the hustle and bustle of aamchi Mumbai.
Well, with the way this tiny hill station gets crowded on weekends, you must choose your hotel with utmost care.
Or else, you risk coming closer to the very thing you wanted to escape from.
Fortunately, our cottage happened to be tucked up in a nice, quiet neighborhood and thus gave us the peace and tranquility we were so badly seeking.
Except for this one night when we went out for dinner and happened to visit one of these many entertainment zones that have sprung up in recent times.
Not that I am complaining because I ended up taking home a very important investment lesson that night.
I was observing this burly gentleman try his luck in a simple game of dice.
And in the 15-20 mins that I was there, he had already lost a couple of grand.
It was not as if the gentlemen was losing on every roll of the dice.
He did win every now and then. But the losses really seemed to unnerve him.
Looking to break-even after every loss, he would increase his bet a little and then would lose it all and then increase his bet again.
It was a classic death spiral.
If it weren't for his wife finally dragging him away, he would have lost plenty more.
Later that night as I lay in bed trying to fall asleep, I couldn't help but think about the similarities in the man's approach to what investors often end up doing in the field of investing.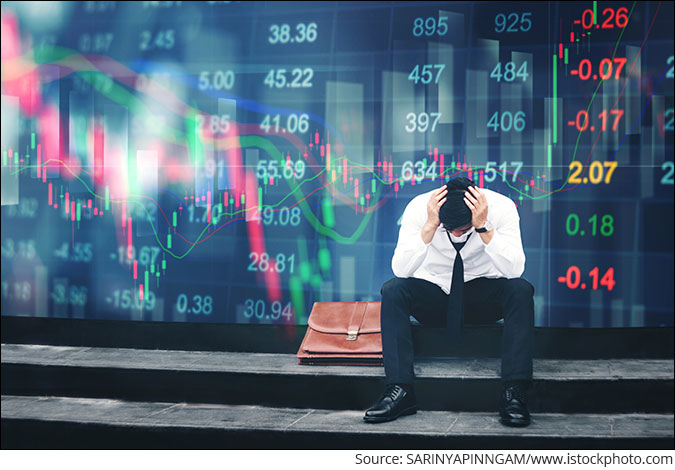 Except in investing, the results could be even more catastrophic.
It is not uncommon to see investors incur a loss in stocks and take up even bigger risks to break even.
And then the heightened risks bring even bigger losses and sets off a vicious cycle.
Ironically, the mathematics itself of how losses work contributes to this loss-making pattern.
For if you lose 25% in a stock, you need to invest in a stock that can go up 33% just to break even. And if you lose 50%, you need a 2-bagger just to break even.
Guess what, subscribers to almost all my recommendation services like Microcap Millionaires and Exponential Profits will perhaps never fall prey to this vicious cycle.
For if there is a loss, the right corrective actions have already been built into the way these services have been designed.
You see, loss or no loss, the stock stays in the service under which it has been recommended for a stipulated period, say two years.
And if it continues to remain well below our recommended price at the end of the two-year period, it is sold at a loss, no question asked.
We are in no rush to recoup this loss though. The money realised after selling is invested in bonds if no suitable stock replacement is found.
And in case it is found, we invest the money in a pre-determined proportion.
We don't let emotions get the better of us. We commit no hara-kiri.
We realise that it is all a process where losses are as much a part of the game as gains are.
What matters is whether over the long term, the number of winners outnumber the losers.
And if this is certainly the case, then a small losing streak is no reason to get all vindictive and start taking greater risks.
We've closed the last two positions in Microcap Millionaires at a loss and currently more than half of our open positions are showing a loss.
Is this making us jittery?
Absolutely not.
For we know when an opportune time for stock comes, we will not only recoup these losses but potentially earn market beating returns over the long term like we have done in the past.
(The service is up more than 170% since inception in February 2014 as against 76% earned by the benchmark index.)
This realization helped me sleep like a baby that night and will perhaps do the same for my subscribers every single night.
Good Investing,



Rahul Shah (Research Analyst)
Editor, Profit Hunter
PS: For market-breaking returns from solid small caps with long term potential - look no further. You only need this one thing.
Recent Articles