You CAN Become a Successful Trader
Jan 16, 2020
Editor's Note: I don't know about you but I have been reading the writings of Vijay Bhambwani, popularly known as India's #1 trader, and I am convinced. If anyone can teach me to be successful trader, it has got to be him. I never thought about trading before, and now I'm so looking forward to learning... how to make regular extra income... In today's edition of the Profit Hunter, you will see what I mean. Read on...
---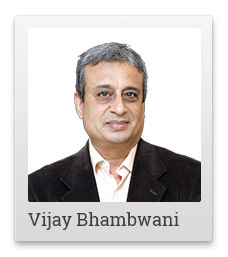 The quest for trading success is growing. More and more traders are entering the markets with dreams of riches beyond the point of avarice.
But do many actually succeed? Whether yes or no, what are the odds? Why do some people make it and some do not?
I present my two pence on the subject. Please feel free to agree to disagree. The moot question here is - are good readers born or can people be trained to become good traders?
Opinions are divided here. Some (myself included) believe good are traders born. The talent, the aggression of a hunter-killer, the patience of a stalker or an assassin cannot be imbibed by magic pills. You either have them or you don't. Ask and answer this question yourself - how many really, really timid people have you seen suddenly turning into brave hearts?
On the other hand, you have people who believe anybody can be trained to become a champion trader in a classroom.
Stories of USA's Richard Dennis founding The Turtle Trading School, where traders were mass-produced in classes are attracting newbies in droves.
I am sure that suits the trainers, trading motivators or the seminar conductors just fine. These newbies put food on the table for the non market participating experts and trainers. The ad spends and the course fees are not even funny.
It is like asking gutka manufacturers if chewing gutka has side effects. As a vested interest party the manufacturers obviously say no! Now ask yourself - can a trainer train an average guy on the street to become a brain surgeon or an astronaut? How about a nuclear submarine commander or a rock singer? I'm sure you get the drift, dear reader.
--- Advertisement ---
[Breaking] India's Top Stock for 2021?

Here's an urgent profit opportunity from us that no mainstream media is revealing...

The #1 Stock for 2021.

...An innovative stock with the industry giants chasing it for its technology to touch millions and millions of people every day.

It serves several clients across the globe, but what got me is this...

The stock is leaving all its competitors behind despite the COVID crash, and now the price has already started to move.

There's actually one more reason why this stock could take off and make its early investors rich.

It's revealed here in this note with transparency.
------------------------------
Classroom training is like a chisel that chips away at the sharp edges of the rock. The statue is actually the rock itself. The classroom trainer is the sculptor who chips away all the extra pieces of rock to make the final piece of art.
Similarly unless the aspiring trader has the inbuilt talent and capability to trade successfully, no amount of training for mentoring will help really. Without the skills and the fire in the belly, you might as well forget about it. Unless the foundation is strong, no construction above it can sustain.
This little inconvenient fact is something the training industry won't tell the participants. On the contrary, these guys seem hell bent on impressing upon people that with the right training a Lata Mangeshkar can become a Mary Kom!
Please understand that between 5% - 8% of all traders will see their 5th year of trading and that too not necessarily profitable trading. That is if they last this long.
So we have seen how the killer instinct, the aggression, and the staying power are things that you are born with. This means you either have it, or you don't. Ditto for your skill sets.
Some folks are right brained (emotional) whereas some are left brained (logical). Traders need to be specifically left brained - cold, tough, resilient, and emotionally shockproof. Three decades ago, it was believed that these attributes were genetically bestowed upon us. Just like the hard wiring of your computers BIOS system in its onboard chips.
But new behavioral finance and neuro linguistic programming (NLP) can help change behavioural attributes of a person to a limited extent. This means you cannot be both Jekyll and Hyde, in one lifetime.
There is this one last aspect of trading - emotional discipline.
It comes from formation of habits. That is an issue of self regulation or self control. The discipline to trade only when justified, to stick to your stop losses, and to exit when required. These qualities in a trader are non-negotiable.
So realistically speaking, if you are a trader, but a mediocre one, training and self improvement sessions will definitely get you better results. Maybe even far better results, but will probably not make you a championship level trader.
Can you reach a level of proficiency where you can run your house on trading? Over a period of time, yes! It is possible. That milestone can be reached.
But like training for any competitive sport, you will need a few years trading experience, practice and perseverance to reach there.
Just remember one thing - realistically speaking; only 5% to 8% traders survive beyond the first 5 years. So if you make it there, enjoy the rarified atmosphere of exclusivity and privacy. There will be few, if any, known competitors there with you. I call it the 'Nirvana Zone'.
I hope to see you at my summit next week!
Have a profitable day.
Warm regards,

Vijay L Bhambwani
Editor, Weekly Cash Alerts
Equitymaster Agora Research Private Limited (Research Analyst)
PS: On Tuesday, 21 January, India' #1 trader, Vijay Bhambwani, will reveal a highly profitable, time-tested strategy, to make instant income from the market. Join Vijay at the Instant Income Summit. Register for free here.
Recent Articles