Sensex 100,000 Will Happen and I Want You to Profit from It
Jan 18, 2019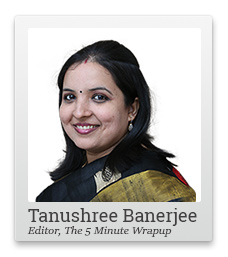 Have you ever wondered how mutual funds became so popular?
Well, I can show you how with an example from the US.
A pioneer of the mutual fund industry passed away a couple of days ago: John Bogle.
Bogle was the founder of the Vanguard Group. Vanguard is the world's biggest mutual fund company.
He was the man who popularised the low-cost, index fund. An index fund is a simple mutual fund that closely tracks an index - the Sensex or Nifty in India - and provides returns that are very similar to that index.
Bogle literally created the world's first index fund, the Vanguard 500 Index Fund, in 1975.
It was an idea that was highly criticized at the time.
But Bogle was undeterred. He believed in the US growth story and wanted to enable many more Americans to grow their wealth by participating in the stock market.
His strategy paid off big time. Today, the Vanguard 500 Index Fund has more than US$ 441 billion in assets.
Many Americans can thank him for helping them earn far better returns on their savings than they otherwise would.
He created awareness of the enormous wealth that can be earned from stock markets. He showed how many investors can profit from the rather than a select few.
--- Advertisement ---
India is Set to Regain Its Lost Riches
India was the world's richest country nearly 2,000 years ago. In fact, we were referred to as the "Sone Ki Chidiya."

If you are like us who believe that India has the potential to be once again the "Sone Ki Chidiya" to the world again…and regain its status as one among the greatest countries on earth…

Then, I encourage you to join other true Indians in the first-ever mega summit "REBIRTH OF INDIA" for FREE.

This is our LARGEST EVER FREE PUBLIC SUMMIT available for EVERY INDIAN CITIZEN.

Don't Miss it!

Click Here to Claim Your FREE Pass for this MEGA Summit…
------------------------------
A similar story is playing out in India.
But in our case, the hero is the aam investor,
Indians are seriously thinking of the stock market as an investment vehicle to build wealth and secure their future.
Consider this...
Over the last few years, people like you and me have consistently increased our investments in mutual funds.
As per AMFI, in 2017 alone, mutual funds in India received Rs 1,700 billion.
The rise of the Indian middle class and a surge in their incomes has meant a growing need for superior investment avenues.
This has translated into strong participation in mutual funds by retail investors.
The mutual fund industry has also done a lot in terms of creating an awareness.
Not just mutual funds, direct participation in the stock market has also picked up big time.
Why wouldn't it? The India growth story is huge. Consequently, you can make phenomenal gains in the stock markets.
In 2012, there were 19.96 million demat accounts in India. By February 2018, this number rose to 31.61 million.
--- Advertisement ---


For All Indian Citizens Who Want to Make Generations-Lasting Wealth

If you believe India can regain its status as one among the greatest countries on earth…you're probably right.

At our upcoming mega "REBIRTH OF INDIA" summit, Equitymaster's Senior Analyst and Co-Head of Research, Tanushree Banerjee, will reveal all about the irreversible trends that could push India to the very pinnacle it last occupied nearly 2,000 years ago.

And importantly, how you could take advantage of this special opportunity and position yourself to potentially make generation-lasting wealth.

Click here to block your FREE seat now!
------------------------------
And this is just the beginning. The numbers will only grow.
You might remember my long-term prediction: Sensex 100,000 by 2027.
I haven't changed my view. I see no reason to.
I believe there are huge gains to be made in the near future. A big boost in wealth creation, in other words.
As I have said before, three are some irreversible trends in the Indian economy that will ensure a Sensex level of 100,000.
I have been working hard for the last few months to identify these trends. I'm happy to report that I've found them.
I will not only share my findings with you but also show you how you can take full advantage of what I'm calling: The Rebirth of India.
I would like to invite you to the free online web summit where I will share all the details of this huge money-making opportunity - The Rebirth of India.
Warm regards,



Tanushree Banerjee (Research Analyst)
Editor, The 5 Minute WrapUp
PS: Can you make multibagger gains from the Indian stock markets? Equitymaster's co-head of research, Tanushree Banerjee, is sure of it. In fact, she believes we, the people of India, are on the cusp of a massive wealth creation opportunity. She is calling it - Rebirth of India. In a free online summit on Thursday, 31 January, Tanushree will show you how to amass life-changing wealth from India's rise as an economic superpower. As a patriotic Indian, you should not miss this dear reader. Register now for the free online summit here.
Recent Articles