Only For Our Loyal Equitymaster Members


A Special Gift on Hidden
Treasure's 15th Anniversary
A Stock Market Secret for 2023
Jan 20, 2023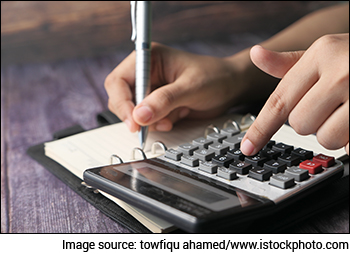 The rating for the air quality index in Delhi has deteriorated from 'very poor' to 'severe'.
You don't have to be an environmentalist to understand how dangerous that is to the lives of Delhiites.
Mumbai and other Indian metros are not significantly better.
Wish there was such a rating system for the pollution levels in financial markets too.
One that could tell you how poisonous the financial market assets are. Without having to decipher the financial mumbo jumbo that TV talking heads throw at you.
The plain fact is that the pollution in financial markets today is higher than it was a decade back.
Yes, the debt levels are lower. And banks are better capitalized to lend.
But that does not reduce the risk of losing money in fancy businesses with little or no visibility of profits.
Falling prey to false narratives, you are more likely to inhale poisonous stocks in your portfolio than you would otherwise.
And the worst problem is that the smog has left you helpless.
There is no visibility!
Seeing others make big money from speculative bets is one of the most dangerous aspects of this killer smog. And every time, investors, both novice and seasoned, keep falling prey to it!
This is not to say that I paint all stocks with the same brush. There are certainly pockets of oxygen in the smog. And a diligent research process could certainly get you great buys even amongst the riskier variety of stocks.
But the problem with the smog is that most investors get carried away with the prospects of huge gains in newly listed, high growth, mid and smallcaps. They see no reason to hedge their risk by being extremely selective in buying stocks showing exponential growth.
The memories of the past have already faded. And most have forgotten, that the last time markets crashed, stocks with fancy narratives (like Reliance Power, Vakrangee, Manpasand Beverages) destroyed massive shareholder wealth.
Even now, the stock of Paytm, featuring amongst the worst performing IPOs globally, has not dimmed speculative interest.
I asked the members of my Telegram channel in a recent poll about the asset class they would choose to have maximum allocation in 2023. Like you can see in the chart below, high growth midcap and smallcap stocks were outright winners.
So, I believe the secret to maneuvering stock markets safely and profitably in 2023 will be being selective and disciplined.
Not giving in to the greed of buying the IPO favourites or the hottest smallcaps could do a lot of good. Resisting temptation to get on to speculative trends could save you from Paytm like disasters.
No denying that few pockets of high quality mid and smallcaps stocks could be wealth creating juggernauts over the next decade.
But the hunt for such stocks can be time consuming and tedious.
A good screener for such high potential smallcap stocks could come to your rescue.
But what you really need to focus on is the cyclicality of smallcap valuations.
As is evident from the Smallcap to Sensex chart, loading up on smallcaps works best when the ratio is well below the long term average.
Buying smallcap stocks indiscriminately when the ratio is in excess of 0.45x, as is the case now, can prove to be extremely harmful.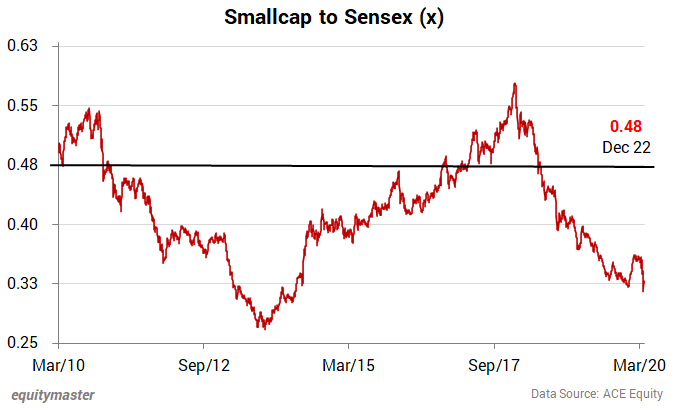 This is not to say that smallcap multiples could crash soon. As was the case in the previous smallcap upcycle between 2015 and 2018, several high risk smallcaps could continue to fetch lofty valuations.
It is not just the Smallcap to Sensex ratio that can stay overheated for long.
One of the most popular valuation metrics in the United States, the CAPE ratio, (Cyclical Adjusted PE ratio) has been above its historic average for 95% of the time over the last 30 years. Just because something is above average, does not mean it is going to revert to average anytime soon.
But the cornerstone of a good investing strategy is ensuring that you take care of the downside. The upside then takes care of itself.
Joel Greenblatt articulated the secret of his investing success as...
My largest positions are not the ones I think I'm going to make the most money from.

My largest positions are the ones I don't think I'm going to lose money in.
It's far easier for a business with solid cash flows, healthy balance sheet, big franchise, best brands and loyal customer base to survive a crisis. The core business remains stable despite months of slowdown, pricing pressure and intense competition.
And despite limited future visibility one is reasonably assured of fetching risk adjusted returns.
Warm regards,



Tanushree Banerjee
Editor, StockSelect
Equitymaster Agora Research Private Limited (Research Analyst)