The Smallcap Rebound Has Begun (13 Stocks Up Over 20% in the last Month)
Jan 21, 2020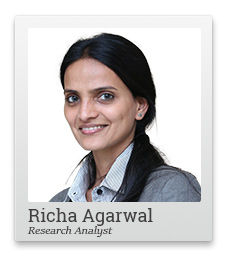 A few days ago, I heard Rahul Chandra, a well-known venture Capitalist (VC) narrating his gripping journey of building one of India's oldest VC firms.
The co-founder of Helion Ventures, Chandra was an early investor in moneyspinners like Makemytrip, BigBasket, RedBus, TaxiforSure (bought by Ola for US$200 million) and so on.
He recently authored a book - The Moonshot Game: Adventures of an Indian Venture Capitalist. - a fantastic read and an insider's view of the startup world. It's full of candid stories - some of big successes, and even bigger failures... All of which make a compelling read.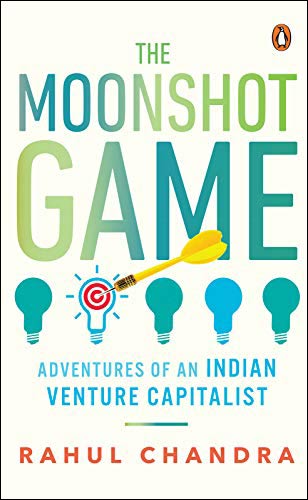 When asked if VCs also struggle with biases like lesser investors do, he highlighted how the Fear of Missing Out (FOMO) could dictate the funding to disruptive startups, irrespective of their hazy profit potential in the future.
Hearing him speak made me realise how lucky I am.
As an investor in the listed small cap space where the future and profit potential is relatively clearer, it's so much easier to keep FOMO at bay.
But sometimes, especially right now, I believe this bias could work in your favour.
As you are aware, I have been writing to you about a smallcap rebound for months now.
In the past, whenever someone asked me when exactly a smallcap rebound is coming, I would avoid giving a clear timeline. In all fairness, no one has the crystal ball to gaze into and come with an answer.
Today, I have a different answer...
You see, the smallcap rebound has begun.
The year 2020 has started on a great promise...and it's delivering already.
The chart below shows the different gain buckets since December 2019 for recommendations in 'Hidden Treasure' - my smallcap service.
For instance...
...3 stocks in Hidden Treasure have gained more than 30% in just one and a half months...
...10 stocks have gained in the range of 20%-30% over this period...
...6 have gained 15%-20%...and so on.
The Smallcap Rebound is Here... See it to Believe It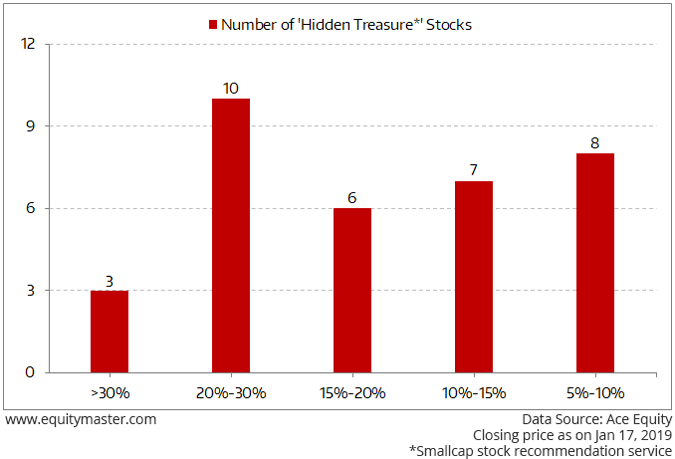 For example, here's the performance of our best 13 stocks under coverage since December 2019 looks like:
| Stocks Under Coverage | The Beginning of a Rebound |
| --- | --- |
| Stock #1 | 32.2% |
| Stock #2 | 30.5% |
| Stock #3 | 30.2% |
| Stock #4 | 26.2% |
| Stock #5 | 25.2% |
| Stock #6 | 24.5% |
| Stock #7 | 24.5% |
| Stock #8 | 23.2% |
| Stock #9 | 22.2% |
| Stock #10 | 21.1% |
| Stock #11 | 21.1% |
| Stock #12 | 20.4% |
| Stock #13 | 20.4% |
Source: Equitymaster
Closing price as on Jan 17, 2019
29 stocks under coverage in Hidden Treasure have gained in the double digits since December 2019.
Overall, the median and average gains in the open positions (recommendations) stand at 12.7% and 13.1% respectively.
And many of these are still 'Buys'
Now I have hidden the actual names of these stocks here for compliance reasons. You see, I can only share the names of these stocks and my views with my subscribers.
The reason I still wanted to share this with you is to show you the big money-making opportunity that is unfolding in the smallcap space as I write.
--- Advertisement ---
One stock to add to your portfolio asap

Our co-head of research, Tanushree Banerjee, has uncovered this one stock, which she believes is a must have in your portfolio.

Tanushree is very bullish on this stock.

It could potentially multiply invested money 12 to 13 times over the long term.

Tanushree will reveal details of this stock at her upcoming special event.

You can click here to sign-up. It's free.
------------------------------
Last week, I wrote to tell you exactly why I believe this is once in a decade opportunity to get rich in the smallcap space.
I wrote to tell you of the three signs that showed small caps were ready for a rebound... especially in the ones I recommend...
Smallcaps earnings have improved in the last one and a half year.
The insiders in select smallcaps are buying their own stocks from the market.
And the sign that makes me most optimistic that the recovery may not take long: I see liquidity coming back to the smallcaps.
If you are still waiting on the sidelines, I believe this could be the biggest miss.
This is one of those rare times when I believe that a fear of missing out (FOMO) will work in your favour.
And might even give you the chance to make gains like a successful startup without exposing you to the risks typical in this space.
So don't miss out. Wondering where to start? I recommend you begin with Rebound Riches: 3 Stocks Set to Become India's Next Mega-Stocks.
Warm regards,



Richa Agarwal
Editor, Hidden Treasure
Equitymaster Agora Research Private Limited (Research Analyst)
PS: If you would like to know about one of the best income investments, then join India's #1 trader, Vijay Bhambwani, online at 5 pm today at the Instant Income Summit. Vijay will tell you all about his favorite strategy to make safe, regular, fast income from the market. Register for free here.
Recent Articles