Coming Soon: 10x Gains in the Stock Markets
Jan 22, 2019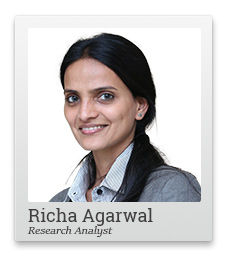 As a small cap analyst who believes in long term investing, I give little importance to headlines and news.
Unlike news, the fundamentals of companies do not change everyday. So one is better off taking such news (most of which is noise anyways) with a pinch of salt, and sticking to bottom up investing while picking stocks.
That said, I must admit, every now and then, I come across something that might have nothing to do with stocks I have recommended. But could mean a great deal for the economy, and eventually, investing.
It gets even more interesting when you start connecting the dots.
Let me explain.
The latest that has caught my interest is LIC losing market share to private players.
Once covering all of India, its market share is now limited to 48%. Private sector insurers, meanwhile, have raised their share to 52%.
It's not just insurance...
Indian e commerce is set for an upheaval with Reliance stepping in - It could become to ecommerce what Jio is to telecom.
As per the UN report that takes a holistic view of poverty, factoring in education, health and standard of living, the poverty rate in the last decade has fallen from 55% to 28%.
As I'd shared in my last article, Apple is considering shifting its manufacturing base from China to India.
In the startup ecosystem, India has taken a giant leap and now stands third, next to the US and China.
And as I write this, India's second defense corridor is getting inaugurated in Tamil Nadu (the first was launched last year in Uttar Pradesh). India's defence production is at a pivotal point and from here is likely to get more and more privatized and indigenized....
These seemingly separate pieces of news have one obvious underlying theme...
With formalization, financial inclusion, digitization of the economy, and tremendous reforms that are finally happening after dragging heels for decades, India is coming of age. And this is just the beginning.
The last time something this monumental happened was 1991 when India was economically liberalized.
Then, we did it because we had no choice, to bail the economy out of crisis.
This time, the reforms are proactive. The priority is development. And we are better prepared.
If a compulsive privatization and liberalization led to a 24x rise in Sensex, the kind of gains one could make in stocks that are set to benefit from the above changes is anybody's guess.
But my colleague Tanushree is not in the guessing game. She believes in action.
You see, she has been working hard for the last few months to identify these trends. ...And is now ready to share her findings.
What more, soon she is going to reveal how you could take full advantage of what she is calling: The Rebirth of India.
And when she reveals this money-making opportunity, on the 31st of January, I will certainly be there. And I strongly recommend you join me.
Regards,



Richa Agarwal (Research Analyst)
Editor, Hidden Treasure
PS: Do you think India can regain its status as one of the greatest countries on earth? Equitymaster's co-head of research, Tanushree Banerjee, certainly thinks so. In a free online summit on Thursday, 31 January, Tanushree will show you how to amass life-changing wealth from India's rise to the pinnacle it last occupied nearly 2,000 years ago! You don't want to miss this, dear reader. Register now for the free online summit here.
Recent Articles