Only For Our Loyal Equitymaster Members


A Special Gift on Hidden
Treasure's 15th Anniversary
Of ChatGPT, Artificial Intelligence Stocks, and the Future of Investing
Jan 24, 2023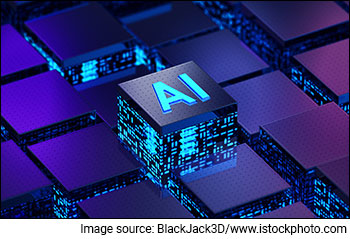 It was barely a month and a half ago when a friend asked me if I had ever used ChatGPT. I had vaguely heard of it.
I had no clue it will become viral. You would perhaps be considered a neanderthal if you haven't heard of it yet.
From writing a leave of absence in flamboyant Shashi Tharoor style (which the man himself could not resist commenting on), to passing an MBA exam assessed by a Wharton School professor, ChatGPT is all over the news and social media.
I could not contain my curiosity and decided to try ChatGPT .
I asked it to write a fiction piece around four keywords.
And I must say I'm quite impressed. It did write better in a few seconds than I could have.
Guess who is pressing the panic button on ChatGPT's increasing popularity?
Well, it is none other than Mr Pichai at Google. You know it's not just a fad, but a revolution in the making when the tech lord declares code red.
It may not be long before conscientious authors start crediting ChatGPT in their acknowledgment section of the novel, critics use it to publish reviews and breaking news is served straight out of this software.
Why does this development concern you as an investor, and me as an analyst?
I'm interested in development and disruptions in the tech space, and the investment opportunities - winners and losers from the same.
This could be a game changing investment in the search market.
ChatGPT is developed and owned by OpenAI. Its notable investors include Elon Musk, Sam Altman, a bunch of researchers and computer scientists. The listed companies that have invested in it include Microsoft , which is now planning to raise stake further.
Nvidia could be a potential beneficiary as ChatGPT uses the former's GPUs (graphic processing units) to train and run its algorithm. Nvidia has announced a partnership with OpenAI to develop artificial intelligence technologies and deep learning models.
Post ChatGPT, OpenAI is in talks for a tender offer that could value it at US$29 bn, making it one of the most valued startups.
Wondering if India listed companies are involved too? You would be glad to know that Infosys was an early backer. But from what I have gathered , it was through a donation, that does not translate into a stake.
Nonetheless, the scope of this discussion goes beyond valuations, stocks that could benefit or be hurt.
The bigger discussion is the rise of machine learning (ML) and Artificial Intelligence (AI):
Self-driving cars...And car making companies now branding themselves as software companies.
Surgery performing robots...
Chatbots replacing human interface...
Drones making food deliveries...
Robots/machines replacing the need for human relationships... (Netflix has come up with some really interesting content on this, intended to increase viewership, engagement and ultimately stock price).
Last but not the least...
Robo advisory - Machine learning taking over the jobs of research analysts and fund managers.
Algorithmic trades are already a reality. As per a JP Morgan report, over 60% trades exceeding US$ 10m in 2020 were executed by algos.
The rationale could be that they are data and code driven, free of emotional biases - greed, fear, loss aversion, confirmation, anchoring and so on that plague the mere mortals. It is a low-cost model. It can be customized faster. Not to mention in some cases the performance has been better while actively managed funds are finding it hard to beat the benchmark indices.
The way I see it, this could be a tool to communicate a well-researched idea better. Or to assist decision - making.
But can a machine replace for instance what a fundamental analyst does?
I believe the answer is NO.
I could be biased, being a research analyst myself.
But hear me out.
First, data, unless guided by a specific qualitative insight, in my view could just be noise.
A case in point is Vakrangee Ltd. I'm not sure a program or a robo would have questioned the sustainable moat and analysed the business model the way my colleague Tanushree did, and avoided it at a time when perhaps it would have qualified all data based filters.
I believe a certain element of subjectivity is required to assess management quality - the biggest driver for multibagger stocks and long term compounding.. It can not just be captured or embedded in the news-based analysis, past stock price movements or financial results.
A poor interim performance and correction in stock could be a 'buy more' opportunity in one stock. For another, it could be an exit signal. I wonder if a machine working with data alone can differentiate between the two.
I don't think a robo based advisory could help you identify a potential crorepati stock.
Could a robo led advisory hand hold you to remain invested in specific stocks (and exit others) shall another calamity like Covid with its different impact on different stocks resurfaces?
Could it offer you a perspective when you feel lost amid short term volatility?
I doubt any of this can be answered with a 'Yes', anytime soon.
Now, I have a great respect for tools, AI, and technology. I do use them for stock research. But one cannot solely rely on their outcomes.
For instance, stock screeners is a great tool to short list stocks, or when used as an aid.
However, if you start betting money purely on a screener outcome, with no qualitative analysis, you may end up losing money.
Similarly, making financial projections on excel is integral to my recommendations. It helps me decide the levels to enter at, and the potential upside in the stock.
At the same time, it has become notorious in the investment industry to justify a view that serves personal interests. As a wise man has said : A great deal more fiction is written in Microsoft Excel than in Microsoft Word.
You see, a tool/machine is only as good or harmful as the person using it.
It is true for screener, excels, calculators and possibly any AI tool or technology you can think of.
To conclude , I'm not worried about a machine substituting me.
But I'm keen on making use of this tech disruption to generate investment returns - to explore the potential winners and losers from this investing theme of the decade.
Stay tuned for these updates.
Warm regards,



Richa Agarwal
Editor and Research Analyst, Hidden Treasure