Stocks to Buy in this Market Sell-Off
Jan 25, 2022
Editor's note: In this market crash, you need a calming hand of a real market guru to guide you. We recommend Equitymaster's co-head of research, Rahul Shah's video on how to turn this market crash into an investing opportunity. Watch the video here.
---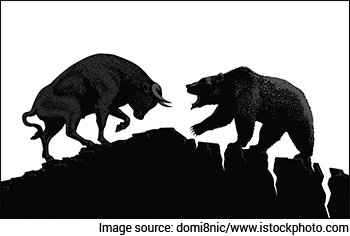 It's all in the red.
Almost everything has taken a beating in the market. But it's the new age companies that are leading the laggards.
The chickens are coming home to roost.
First, it was just Paytm.
Then, amid successive market corrections, Zomato is down 20%.
If you were just counting on narratives, momentum and liquidity without any exit strategy, this phase is a stern reminder of its fragility, and your window to learn.
Just ahead of Fed meeting where markets expect rate hikes to counter inflation, and amid geopolitical issues, amid the Russia-Ukraine standoff, the Buy at Any Price (BAAP) narrative is coming undone.
The much awaited valuation adjustment is here. And it will separate the skilled ones from the lucky folks. Or the men from the boys, as the famous saying goes.
So how should you approach this correction?
--- Advertisement ---
Revealing Today at 5 PM Details of Top 3 'Crorepati' Stocks for 2022


Use this link to join the Top 3 Stocks for 2022 MEGA summit on Tuesday at 5 PM.

Richa will be revealing the details of 3 companies with the makings of a 'Crorepati Stock' that are potentially set to soar high in the coming years.

If you haven't registered for the summit, please use the link below to save your spot right away.

Top 3 Stocks for 2022 MEGA Summit - FREE Sign Up Here
------------------------------
First, protect the downside.
The Sensex, despite the correction, is still not really cheap. It's still at the levels it was at in December 2021, just a month ago. It wouldn't be a bad idea to clean up your portfolio. Get rid of the junk stocks, if there are any.
And it's not just the junk stocks.
The post Covid rally has led to froth even in some quality stocks. Quite a few of these have run up beyond their fundamentals. So do not hesitate to take some profits off the table in quality stocks too.
And then there are some gems, a trifecta of good corporate governance, underlying growth, and fair valuations.
In companies with sustainable business models and strong balance sheets, it could be a great window for long term investors to start buying their stocks.
But do not mistake quality with narratives, and opportunity with the price correction.
You see, in some WhatsApp groups that I'm a part of people are wondering if it's a good time to enter Zomato.
Now, it's indeed a good time to get into many stocks. But I'm not sure Zomato is one of them, even after a near 20% fall.
That's because a correction is a bad time to lap up businesses where the value itself is unknown.
Do not buy more of your junk stocks. Do not invest more in hope stories.
--- Advertisement ---
Replay Available: The EV Gold Rush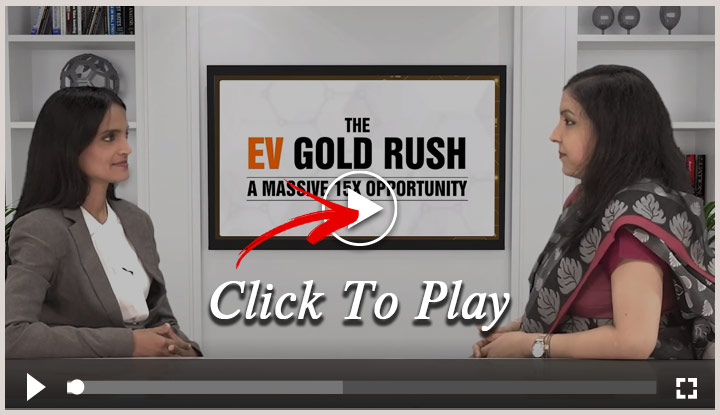 Get the details of 3 EV stocks to potentially make life-changing gains in the long term
------------------------------
Here's how I think you should approach this correction. It's a great time to initiate staggered buying in sustainable growth companies , especially if you are a long term investor.
See the chart below...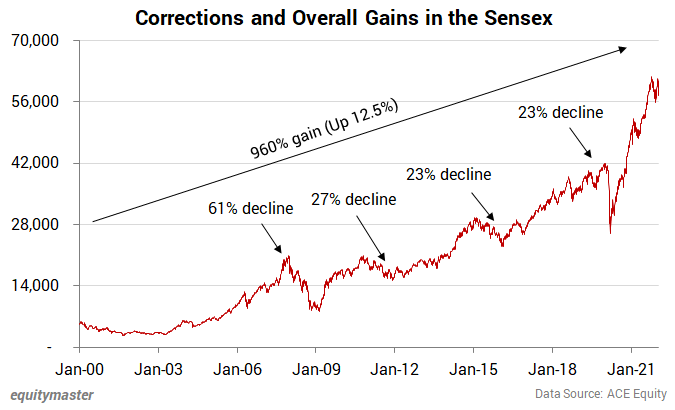 It tracks Sensex movements for two decades. And is a testimony to the beauty of long term investing.
During this period, the global economy has seen the dot-com crash, attack on the twin towers, anxiety about Fed decisions on interest rates, the subprime crisis, multiple geopolitical crises, and the pandemic.
Everytime, the trigger for correction was different. And it indeed weighed down on the sentiments in the near term.
But over the long term, the Sensex direction has been up. And going forward, I strongly believe it will remain so.
The underlying fundamentals for Indian economy are strong. And our country is set to grow.
So if you approach markets not as some gambling den but from a long term perspective, it's a great buying opportunity to set the foundation for lasting wealth.
Legendary investors like Warren Buffett have used these corrections very well to their advantage...
'Whether we're talking about socks or stocks, I like buying quality merchandise when it is marked down'.
I believe this correction in Indian markets should be no exception...as long as you manage the risk well.
That comes from investing in quality and growth companies, being mindful of the margin of safety in valuations. And last but not least, an optimum asset allocation.
PLEASE RESPOND: Interested in Learning Cryptos?
Wondering how and what to pick?
Well, here's what I would look for...
Companies that have been market leaders in their respective segments. I must say that not all market leaders would be winners. You need to pick segments where the addressable market is huge and growing.
Growth conviction - What this means is you cannot just rely on historic performance. There has to be a solid trigger that would help the business expand its earnings. It could be an expansion into new markets, addition of new product categories, capacity expansions, business integration across the value chain, to mention a few.
Managements that have a reputation of treating minority shareholders fairly. And the ones who have shown competence in running and growing the business well. I would also choose businesses with high promoter holding. A significant skin in the game will ensure that promoters' interests are well aligned with that of minority shareholders.
Businesses with clean balance sheets and high return ratios. Why is this important? Well, it's entirely possible for a business to grow on borrowed capital. And as an investor, I'm interested in companies that rely more on internal accruals to grow sustainably.

Healthy return ratios are important to ensure that every rupee invested in the business offers returns well above the cost of capital. Otherwise, even high growth business could be the biggest laggards in the portfolio.

Margin of safety ensures you do not end up paying more than what a business is worth. To understand more about nuances of growth investing while protecting downside, I recommend you watch the video below I recorded a few weeks ago.

So, are there any such businesses that you could consider right away?
Well, I believe my latest Hidden Treasure recommendation qualifies on all these points.
It's a market leader in a highly promising industry. The company has a diversified revenue model that makes it one of the best plays on the growing consumption trend in India.
Its end user industries are diverse - food industry, packaging, water supply infrastructure, housing, agriculture, and infrastructure. It caters to both B2B (business to business) and B2C (business to consumer) segments.
With promoter stake close to 50%, and zero pledging, the interests of the minority shareholders are closely aligned with that of the management.
What's more, it's well on its way for growth. You see, the company is undertaking its highest ever capex, to enhance capacity and meet the growing demand of its products across segments. And it is doing so mostly from internal accruals.
The stock is available at a significant discount to its peers. Further, the recent market correction has made the entry point even better in my view. With the right asset allocation, this could be a great stock to lap up amid the ongoing market sell off.
Hidden Treasure subscribers could access the recommendation here.
For more such stock opportunities, stay tuned...
Warm regards,



Richa Agarwal
Editor and Research Analyst, Hidden Treasure
PS: If you missed Rahul Shah's Lazy Millionaire Summit, you could access it here.
Recent Articles