Golden Decade of Defence


Potential 33x Opportunity by 2030
Here's a Big Idea for 2023 - Space Stocks
Jan 25, 2023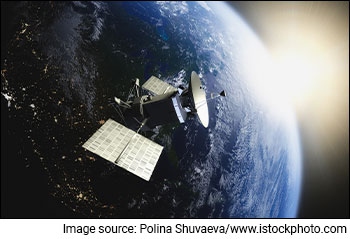 The Space Age began in October 1957 when the USSR launched the Sputnik satellite.
As per European Space Agency estimates, since then, nearly 15,000 satellites have been put into orbit.
But here is the kicker. Anywhere between 70,000 to 100,000 satellites will be launched in the next 15 years. And over 80% will be small satellites weighing less than 500 kg.
In 2022, the Indian Space Research Organisation (ISRO) turned 50.
The institution's R&D activities over last 5 decades were reasonably secretive, if not obscure. They were certainly not in the realm of commoners like us to track.
So, space related commercial activities were almost unthinkable. But in the last few years, things changed. And dramatically so.
Most of the changes germinated in the space startups.
But how many private Spacetech companies have you heard of apart from SpaceX?
Well, if you haven't heard of many, be prepared for it now.
For instance, in 2018, two undergraduate students at BITS Pilani were working on artificial intelligence project. They faced a problem. Their analysis was handicapped by the lack of high-resolution satellite imagery data.
They soon realised there is a market for a satellite company to offer high-resolution imagery data. This was the start of Pixxel Space, a space tech startup which offers high resolution satellite imagery.
Dhruva Space founder Sanjay Nekkanti's obsession with satellites began when he was still in college. The country was basking in the success of Chandrayaan-1, India's first moon mission. The space programme had generated a lot of interest among students.
--- Advertisement ---
A Potential 33x Opportunity in Defence

Russia's invasion of Ukraine has changed the geopolitical landscape permanently.

It has marked a beginning of a new era.

An era where fear of future of wars is creating a mega opportunity for a few defence companies.

Not ordinary defence companies.

But the companies that are into making the next-generation military technologies.

We've specifically uncovered 3 such defence companies for you.

And our research says, stocks of these defence companies could potentially provide you some of the biggest gains of your lifetime.
*1 out of these 3 stocks have already run up. Act fast or you might completely miss out on this big opportunity.

Here Get All Details
------------------------------
ISRO decided to tap into this frenzy and asked universities to encourage students to build satellites. It offered to deploy the student satellites in orbit for free.
Chennai's SRM University was among the earliest to take up this offer. Nekkanti, who was pursuing a bachelor's degree in electronics and telecommunication joined the team of students. The student-made satellite, SRMSat, was designed to address pollution in the atmosphere. It was launched into orbit by ISRO in October 2011.
Eventually Nekkanti realised his spacetech ambitions by setting up Dhruva Space in 2012.
The company now offers end-to-end services-building satellites, launching, tracking and maintaining them. By 2022 it had raised US$ 8 million in funding. Also, it has orders to put three satellites in space. Many foreign entities are in talks with Dhruva Space to build and launch their satellites.
Apart from Dhruva, a clutch of space startups, including Agnikul Cosmos, Skyroot Aerospace, Digantara and Pixxel, are building and launching rockets, engines, as well as satellites. There are meant to accomplish everything from generating high-resolution pictures of earth to tackling space debris.
--- Advertisement ---
3 Stocks to Consider Buying THIS Month

The market has made a comeback of sorts from the lows of May.

Right now, investing in the most dominant players in a highly promising industry is the key to experiencing potentially monumental returns in the long term.

Here are the details of 3 such stocks from our smallcap guru, Richa Agarwal...

Act Now
------------------------------
As expected, they have investors making a beeline for Indian spacetech.
Whether or not Spacex comes to India, the Indian space tech ecosystem is large enough to attract billions in funding and innovate to make India a commercial space tech hub.
Mind you, the spacetech ecosystem is brand new and much bigger than that of electric vehicles.
The key catalyst for the Spacetech sector was the launch of Indian Space Association (ISpA) in 2021. Its founding members included L&T, Tata Group, MapmyIndia, Walchandnagar Industries, and Bharti Airtel's OneWeb.
As per Indian Space Association (ISpA), the investment in India space startups has grown at a compounded rate of over 94% since 2016.
Thus, since 2021 India's space sector is witnessing its post liberalisation phase.
And if you invest well, there could be significant wealth generating opportunities.
They could, eventually, be massive wealth creators just like Defence stocks have been since 2019.
Now, unlike the defence sector which already had multiple listed stocks, with credible financials, most space tech startups are yet to mature. Hence, as an investor you need to be patient to ride the boom.
In the meanwhile, you could consider some key technology associates of the blooming spacetech startups.
Warm regards,



Tanushree Banerjee
Editor, StockSelect
Equitymaster Agora Research Private Limited (Research Analyst)
Recent Articles