Build Life-Changing Wealth as Sensex Rises to 100,000
Jan 28, 2019
Editor's Note: Tanushree Banerjee's latest article was an enormous hit and in fact is trending on Google - there is no way I am letting you miss it, dear reader, so I've published it below...
---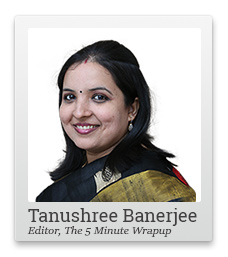 Are you one of those interested in self-help books?
If you are, I suggest you go through Atomic Habits by James Clear. It provides a very practical and effective way of making small improvements in your daily life through habits.
It talks about getting 1% better every day.
Over time, these small 1% improvements grow into big results.
I believe this is true in the investing world as well.
Why do I say that?
You see, India too is improving 1% every day. That's why it's difficult to notice the improvement.
But the improvement is real and will likely change the face of our country for the better in the decade ahead.
Just look at India's current population demographic. More than 65% of the population is below the age of 35.
Some people may talk about the problem of creating jobs for so many people entering the workforce.
On the other hand, it is a great opportunity if utilised in the right manner.
We saw this in the early 90s with outsourcing in the IT industry.
India had a huge English-speaking population. As a result, we became the preferred destination for IT-BPM (Business Process Management) services.
This industry now employs close to 3.9 million of the working population. And adds close to 0.1 million people annually.
But there's another sector in which I see a similar trend - Pharma.
Let me tell you about it...
The traditional model for pharma companies in developed countries was to focus on drug discovery via their in-house Research and Development (R&D).
This was fine with patents running for over 15-20 years. This was long enough to cover their R&D costs.
But the past few years has seen a faster pace for drug approvals for generic drugs.
As per the US Food and Drug Administration (USFDA), 763 drug approvals were received in FY17 as compared to 440 in FY13.
With more generic drugs hitting the market, at a faster pace, the days of milking patents for decades is over.
To counter this, big pharma companies are looking for cost effective measures to reduce their R&D spend.
Enter India.
Did you know that India ranks 4th in the world among countries with the most doctoral graduates?
For a big pharma company, the cost per scientist, for R&D in India, is 3.5 times lower than the in-house cost.
Contract Research Organisations (CROs) are the companies in India providing research services to big pharma companies.
This is a classic example of India's huge working population presenting a great opportunity for investors like yourself.
And this is just one irreversible trend... I've identified 50 such irreversible trends in the economy today.
I'm not talking about the distant future. These trends are happening right now in India!
Like 1% improvements, not everyone will spot them... But the investor who catches these trends early, will create life-changing wealth for himself.
These irreversible trends have the potential to snowball into a huge transformation.
This transformation is what I call - Rebirth of India.
The Rebirth of India is at the heart of my big prediction: Sensex 100,000.
I'm not talking about stocks that could go up 2 or 3 times. I'm talking about huge multibagger returns that could change your life forever.
As I've written to you over the last few days, the Rebirth of India is a once in a lifetime opportunity.
You need to make sure that you don't miss out on this, dear reader.
I recommend you download and read this free report - Rebirth of India. I prepared this special report to show you how you can benefit from this historic opportunity.
Also, don't forget to join me for the Rebirth of India summit on Thursday, 31 January. I'll explain the opportunity in detail at the summit.
Registration is open and it's free.
I hope to see you there!
Warm regards,



Tanushree Banerjee (Research Analyst)
Editor, The 5 Minute WrapUp
PS: We have just published - Rebirth of India: The First Step to the Biggest Investment Opportunity of Your Lifetime. I strongly urge you to download it and read it right away. It has the potential to dramatically change your life for the better. When you download it, you will automatically get a seat at the Rebirth of India MEGA SUMMIT where Tanushree will reveal full details about the Rebirth of India.
Recent Articles