Forget the Budget! Buy this Smallcap Stock that's about to Make it Big
Jan 28, 2020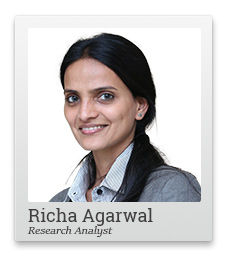 Budget budget everywhere...but not a stock to buy!
This seems to be the state of things right now - The Union Budget 2020-21 is barely a week away and while every financial paper and expert are going on about the Budget and giving out views willy nilly on what to expect from the stock markets - not one is telling you the actual truth...
The budget hardly matters to the markets - and matters even less to your portfolio.
History shows that the market's response to Budget isn't predictable.
Your chances of making money based on the misguided musings and random ramblings of so-called experts are almost as good as the probability of a monkey hitting the mark while throwing darts blindfolded.
Focusing too much on the Budget rhetoric before the actual event makes little sense.
Just take a look at this...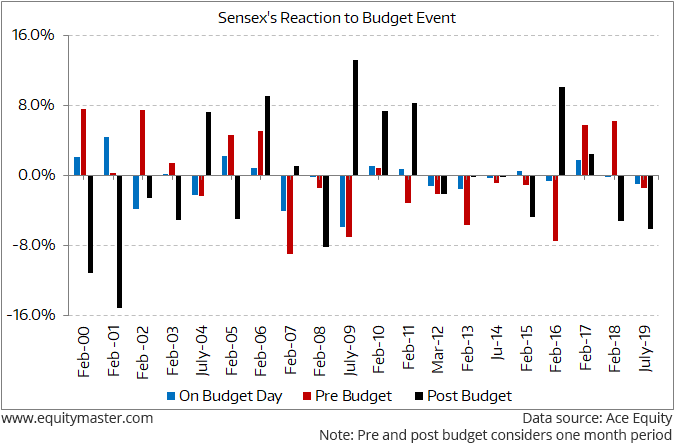 So, for the sake of your wealth and sanity, I'll avoid adding to the speculative noise, and write to you about the Budget's implications once we get there.
For today, I have something much more interesting and concrete to share - my recommendation on an FMCG company with smallcap kind of valuations...
A big company with a small price tag
It's a stock I recommended to my Hidden Treasure subscribers a few days ago - that I believe had the kind of money-making potential everyone needs in their portfolio.
--- Advertisement ---
New FREE Guide on Big Opportunity in Defence


Tanushree Banerjee, the co-head of research, recently released er latest guide:

The Explosive Rs.4 Lakh Crore Opportunity: How to Tap into India's Surging Defence Sector for Potentially Huge Profits

And she has agreed to make it available for free for a limited time.

If you've not claimed your free copy, then do so now. It might not remain free for long. One more thing...

Tanushree has also discovered one stock from defence sector... which she believes has the potential to multiply invested money 10-times in the long run.

She will reveal more details about this stock at her upcoming online special event.

Click Here to Download the Guide & Block Your Seat Now. It's Free.
------------------------------
If you are a Hidden Treasure subscriber of course you can access the report here. For others - learn more about my belief in...
Now, normally, typical smallcaps with the best potential tend to be obscure companies whose names you probably have never heard.
But this one is different - it's a household name and its products can be found in homes across the country. In fact, I myself have been an avid user and fan for years.
But this is no customer review. And Peter Lynch's 'invest in what you know' is not the reason either why I recommended this stock. Far from it.
In fact, it was only after 8 months of meeting the management and ensuring they were on the right track that I was completely convinced to actually recommend this company.
That patience has been rewarding. The stock price of this smallcap FMCG stock has fallen by over 28% since, extending the margin of safety.
The correction has made this stock a great bargain. But the price alone is not why I am recommending this - this company has so much going in its favour that I am now ready to bet on it. Here are some of the reasons why it is one of my favourites:
For one, the company's product is a niche market leader with high brand recall value. Like I said, it's a household name.
Second, it operates on a negative working cycle, i.e., the company collects cash well before making the sales. That means debt free balance sheet - a fantastic thing for any stock.
Third, the return ratios in the business are excellent, with five-year returns averaging at over 50%. The more returns they make, the more returns we as investors are likely to make.
Fourth, despite a slowdown in the economy, the company's performance has been resilient - with growth in both sales and earnings. So basically, an economic slowdown does not even slow down this great company!
And by the way, did I mention the cherry on the cake - a dividend payout of over 85% and attractive dividend yield at current price.
The company is currently at an inflection point- with the management all set to implement a plan to double its market share.
Amid these disruptive times, I believe this is one company with a sticky business model, where one could afford to follow Buffett's 'Buy and hold forever' strategy.
So forget what the Union Budget offers - that is just a little blip. I believe this smallcap is all set for a sharp rebound - and is ready for a great future.
Warm regards,



Richa Agarwal
Editor, Hidden Treasure
Equitymaster Agora Research Private Limited (Research Analyst)
PS: The single most important stock market trend of 2020 is the Small Cap Rebound - are you on trend? If not, here's what you need: Click here to profit from the small cap rebound.
Recent Articles