Why I Prefer this Niche FMCG Smallcap Stock Over Nestle
Jan 28, 2021
Editor's note: Join Richa at 5 PM today at the Smallcap Revival Summit. She will tell you about her top 3 smallcaps to consider investing in today. Register for free here.
---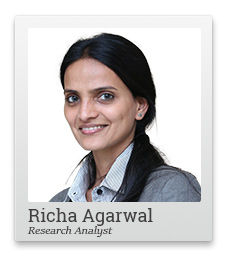 Yesterday, the markets had a big reality check.
Just two days after touching 50k, the Sensex fell nearly 1000 points.
Those who had been ringing warning bells about the market being overvalued might be feeling validated.
And some of you might be wondering if you should book profits now and wait for the volatility to settle down before buying.
If you're uncertain, I recommend watching my latest video to know my views.
I don't believe in timing the markets. In my view, no one has that skill.
It's just that some people get lucky sometimes. Counting on luck can't be a strategy to make sustainable wealth in the stock markets.
Especially now when huge wealth building opportunities are emerging in the smallcap space.
You see, the Sensex PE ratio, despite yesterday's correction, stands at a prohibitive 32 times.
On the other hand, the smallcap to Sensex ratio stands at 0.38 as compared to the long-term average of 0.43. The previous peaks for this ratios range from 0.58 to 0.75.
This means if you have a strong stock selection process, you have a very good chance of finding great stocks in the smallcap space.
--- Advertisement ---
Replay Available: Super Smallcaps Summit

Today, we went LIVE with Richa Agarwal's Super Smallcaps Summit.

Richa revealed details about the 3 'dark horse' stocks that could potentially hand you hundreds or even thousands of percent in gains over the long term.

However, you missed the Exclusive event for some reason.

And because we don't want you to miss out on this rare opportunity, we have a replay of the event arranged for you.

Click the link below to watch the replay now.

Watch the Replay

or click here to read the transcript
------------------------------
And it's not just about relative valuations.
The fundamentals of quality businesses in smallcap space have shown a dramatic improvement over last few years.
As you can see from these charts for 650 smallcaps that passed my basic fundamental screeners, the balance sheets and earnings quality have improved.

But what is even more exciting is the revival in the capex in these companies.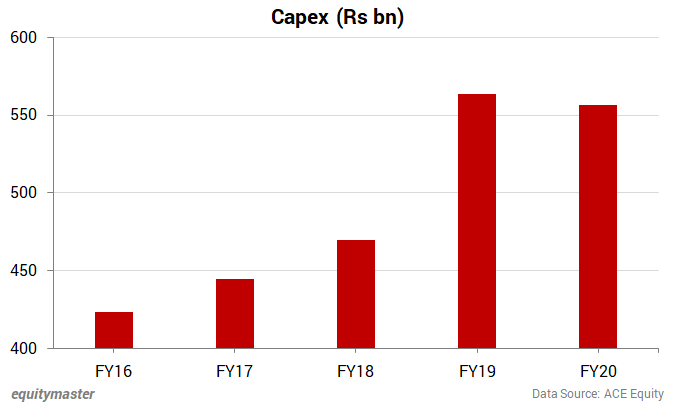 As these capacities come online, the growth in earnings won't be far behind.
And that's a pretty good reason to be active in this space and watch out for businesses likely to witness growth.
Equitymaster's Stock Screener: Identifying High-Potential Stocks Has Never Been this Easy
While there are many such opportunities in smallcaps, there is one that I'm particularly excited about.
It's a high potential FMCG stock - one of the most defensive plays you could count on amid tough times for the economy.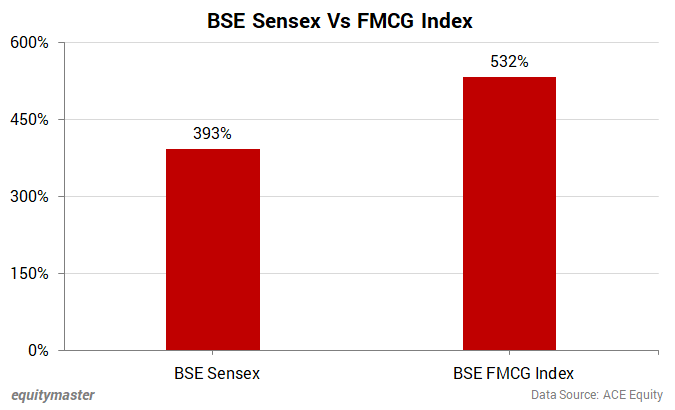 While the Sensex has offered 393% returns since 2009, the BSE FMCG index has gone up a staggering 532% returns over the same period.
I believe this outperformance could continue for many years.
With a rising population and standards of living, Indian's consumption demand for FMCG products will skyrocket over the coming years.
Now you already know about the well-known FMCG stocks like HUL, Nestle, ITC, and Marico.
But do you know there is a lesser-known FMCG company? It has been in existence for over 100 years!
I am sure all of you are familiar with the brand and have seen it at supermarkets and consumed its products.
Yet, I can bet most of you would not know that it's a listed company.
--- Advertisement ---
REVEALED: Multibagger Stock Ideas for The Next 10 Years...

Electric vehicles...

Renewable energy...

E-commerce...

From where will the biggest winners of the next decade come from?

The Answer Will Surprise You
------------------------------
Or that it's a market leader in a niche food segment.
Food habits are very sticky...very hard to change. If people prefer a certain brand, they are likely to stay with it for life.
And this company has solid grip over one segment of food product in India.
Not only that. It's also the world's largest exporter in its niche.
Covid 19 was a litmus test for most businesses and it has passed the test with flying colours.
You see, in the height of the pandemic, this company saw its online sales jumping 10 to 15 times.
Further, it pivoted fast to the changing macro developments and tied up with Zomato and Swiggy for doorstep delivery of its products.
With 100% automation and fully integrated business model from production to branding, this market leader is in an enviable position.
It has strong pricing power in the market and premium brands in its fold.
And all this is reflected in its financials too, be it its balance sheet, return ratios or dividend yields.
And eventually, it will reflect in its stock price.
Hidden Treasure subscribers could access the report here.
Now let me tell you one more reason why I'm so confident about this stock.
The big FMCG companies are favourites of analysts and stockbrokers. This constant interest and coverage has made these stocks super expensive.
Many of them are trading at a PE ratio of over 50. In some cases, even above 80!
When the valuations are so expensive, it is difficult to get huge multibagger returns from such stocks.
But the little-known FMCG stock is still available at a single digit P/E ratio. Yes, it's that cheap.
And that's why I call it a dark horse stock.
To know more about such little known stocks in the smallcap space, join me at the Smallcap Revival Summit today at 5PM.
More than 32,000 readers of the Profit Hunter have already signed up for this free summit.
I hope you're one of them.
I'm excited to bring this summit to you. I hope to see you today at 5 PM sharp.
Warm regards,



Richa Agarwal
Editor, Hidden Treasure
Equitymaster Agora Research Private Limited (Research Analyst)
PS: Join me at 5 PM today at the Smallcap Revival Summit. I tell you about my top 3 smallcaps to consider investing in today. Register for free here.
Recent Articles