Find Out
How to Find One Stock with Crorepati Potential? >> READ MORE
Should Conservative Investors Stay Away from Small Caps?
Jan 30, 2019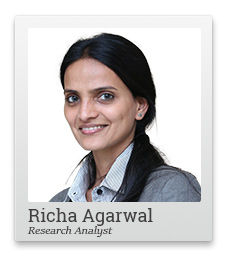 Perhaps the number one reasoning most conservative investors have to stay away from small caps goes something like this:
'Even if it is a good, well-researched small cap company that has big potential, it is still a big risk. A number of unexpected things can still go wrong. The promoter can turn out to be a thug. The business might suddenly go bad. Regulations can change. New competition make come up. There is no guarantee that it will do well. How can risk losing money on it if bad news were to come up unexpectedly?'
The reasoning is correct. Even in good small caps, of course no one can guarantee against such risks. Such things, even though unlikely if one has done her homework well before picking the stock, are always possible. Who is to say what the business world will throw up?
But here's my big problem.
While it keeps investors away from possible losses due to unlikely events such as these, it also keeps them away from the very likely big profits that high potential small caps throw up.
Now if I were to tell you that there is a way to still enjoy the big profits while taking care of the risk of the unexpected, of course you wouldn't believe me.
And that's why I want to tell you about my insurance company.
For a measly Rs 15,000, it insures me for medical costs of Rs 10,00,000. That is, it is willing to pay Rs 10,00,000 of my medical bills if anything were to go wrong with me and I land up in the hospital.
Ha! Seems like I got myself a very sweet deal indeed!
Which obviously means the insurance company is getting a very bad deal for itself. While I'm healthy and all, it stands to lose so much money if the unexpected happens and I land up, for whatever reason, in the hospital. And if I don't, it gets to pocket my Rs 15,000.
Intrigued, I looked up my insurance company's financials (it's listed) expecting it to be bleeding red ink all over.
And surprise surprise, it is making a killing when it comes to profits.
How on earth is it making this work? How is it managing to deal with the unexpected so well that it can make a bad deal like this work out so well for itself?
Its secret - I'm not the only one it is insuring. And its statistics obviously say that if it pools together thousands of policy holders like me for about Rs 15,000 each, even if a few do get sick and land up in the hospital with big bills to pay, it will sill end up with a big profit after paying all those bills.
And that is precisely what is happening, otherwise it would be taking this deal and earning all those profits.
If there's a way to enjoy the big profits while taking care of the risk of the unexpected, we got to hand it to these guys...
They stand to gain so little (Rs 15,000) and lose so much (Rs 10,00,000) if the unexpected strikes. Yet since the odds are in their favour at that price, they make it work by taking a portfolio approach to policy holders.
We small cap investors - even the more conservative among us - have much to learn from insurance companies. Considering that we don't stand to lose more than Rs 100 for every such Rs 100 that we invest in a given company, we're right away better off than then the insurance guys. Not to mention that the payoffs are much bigger in small caps.
Add to that solid research-based selection of good small cap stocks, and spreading our investment among multiple small caps is all we need to enjoy their massive money-making potential while taking care of the risk of the unexpected in a few cases.
That is exactly what I do with my small cap recommendation service Hidden Treasure. Since its start over a decade back in 2008, sure we've had a few losers when the unexpected has come knocking.
But the many profitable stocks have created so much wealth for subscribers, they've more than made up for the losers, and then some.
You ought to check out the results!
Regards,



Richa Agarwal (Research Analyst)
Editor, Hidden Treasure
PS: Richa has named 4 companies that will rebound from the crash to reach great heights - you can get them here.
Recent Articles