The Virus...the Budget...and a Big Opportunity in This Stock
Jan 31, 2020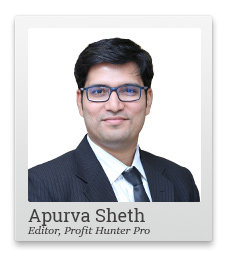 The deadly Coronavirus believed to have started in the Wuhan province has taken a toll of nearly 130 lives in China. The disease has now spread to over a dozen countries including USA, Japan and South Korea. And now sadly it seems to have made its way to India.
The global stock markets have ignored every piece of financial news and economic data released in the last few days. They have focused solely on the virus and moved choppily.
Indian stock markets have also moved in tandem with its global peers. It became difficult to trade the markets as they gapped up or down depending on the news with limited follow through action.
The pre-budget rally seems to have been replaced with nervousness. News from China has also added to the uncertainty.
The virus outbreak is unfortunate but I believe humanity will triumph over it. We will soon find a cure for this virus just like we did for Ebola, SARS and many other scary viruses.
This Too Shall Pass.
The virus may be making headlines but for our markets the budget is much more important. It seems like markets could stay on tenterhooks until the budget. We may see a clear trend once the finance minister speaks on Saturday.
--- Advertisement ---
25th Anniversary Giveaway - Worth Rs 13,950 - Starts Tomorrow 6am

Rare, once-in-a-quarter-century chance to grab highly lucrative premiums that have generated life-changing returns for thousands of subscribers.

Grab them for FREE at 6am tomorrow.

Watch out for an email with the subject - [Gifts Inside] 25th Anniversary Special Pass

Note: Mark your calendar for our 25th Anniversary Celebration
------------------------------
Like always, expectations started building up as soon as the finance minister (FM) started consulting with corporates, bankers and economists.
There are expectations of removal of long term capital gains tax (LTCG), securities transaction tax (STT) and commodities transaction tax (CTT).
People are expecting a cut in personal income tax in the budget since the FM reduced taxes for corporates in September 2019.
There are several expectations from the budget but the fiscal situation is tight which means the FM's hands are tied. She could keep only a few people happy and someone will have to pay a price for it.
The most probable candidates who pay the price are the sin stocks - companies which deal in tobacco, gambling and liquor.
These companies endanger public health and life at large. So, they are always on the hit list of the government. But they are also a major source of revenue for the government. So, the government doesn't miss a chance to squeeze every penny out of them by way of taxes.
It's one of the main reasons why ITC Ltd. has failed to participate in the rally so far. It's a 100-year-old giant with products ranging from cigarettes to paperboards to packaging to FMCG to branded apparel and foods.
It's a diversified entity but major sources of its revenues and profits comes from cigarettes which is probably the reason why its trading at 3 year lows. But this could change soon.
Trading Near 2008 Valuations
ITC has dropped nearly 33% from its all-time high of 356 in 2017. The stock traded at a price to earnings (PE) ratio of 40. The PE ratio has dropped to a 10-year low of 21 today.
The lowest PE in 2008 was 18.03. The stock is currently trading near historical lows in terms of valuations. This is at a time when its peers like Nestle and HUL are trading at lofty valuations.
Market participants are already factoring in the worst possible scenario in terms of valuation for ITC.
Markets hate uncertainty and the stock is down because of it. If the FM raises taxes on cigarette manufacturers in the budget then market participants will quickly discount it and move on. The stock could bottom out on the day after taking a hit.
On the other hand, if taxes aren't raised then this could be a big positive for the stock. So, in either case the stock has little to lose and a lot to gain.
Now this is just one aspect of what I look at in Breakout Profits which is my premium stock recommendation service.
Here I pick techno funda trades for my readers. I pick stocks which are fundamentally strong and technically sound so that our probability of success is high.
This strategy has worked for us over the last 2 years. I see no reason why it won't work for the next many years to come.
I keep a track on several stocks like ITC which are filtered and recommended by the Equitymaster research team to their readers. So, what my readers get is simply the best of the best.
Now if you want to know more about stocks I recommend then click here to know more.
Warm regards,

Apurva Sheth
Editor, Breakout Profits
Equitymaster Agora Research Private Limited (Research Analyst)
PS: If there's one small cap stock you should get now - before the budget, before the rebound, before any distractions - it is this!
Recent Articles