Your Strategy Post the Union Budget: Book Profits or Buy More?
Feb 2, 2021
Do you think that whenever good things happen to the economy, equity investors make money?
Well, you would be wrong, no matter how good the event.
Take the greatest event in India's economic history: The 1991 liberalisation of the Indian economy.
It was the budget that kicked off the reforms.
If India's modern economic history has to be pinned down to the single most important event, this was it.
These reforms changed the way India lives. In effect, it took us from living like ascetics to being spoilt for choice in every area of life.
When the reforms were announced, investors were quick to realise what was in store for the Indian economy. Naturally, they were excited.
In fact if the stock market were any indicator, 'excited' would be an understatement.
--- Advertisement ---
The Smallcap Revival Summit

Join us on the evening of 20th May to learn,

• Why despite rallying over 100% since March-2020 lows... small-cap stocks are set for a massive rally over the coming months and years
• Details of our top 3 stocks to capture potentially huge gains from this upcoming small-cap rally
• And how to spot opportunities, even in the current market, with the potential to generate 200%, 400%, and even 900% long-term gains

Plus, there is a lot more that we are going to cover.

The summit is free to attend for Equitymaster readers.

But since there are limited seats, we would recommend you to register at the earliest.

Grab your spot for the Summit here. It's free.
------------------------------
Elated about the prospects that lie ahead for the economy, and further spurred on by 'big bull' Harshad Mehta, the BSE Sensex went on to see a price to earnings ratio (PE) of more than 55 times.
Well, the reforms delivered. They brought on all the anticipated benefits to the economy over the next 30 years, and more.
But the Indian stock market would never see such a valuation again. Not even close.
And investors who bought into these overheated markets in the name of liberalisation were in for a rude shock.
The stock markets would trade at or below that level for a large part of the next twelve long years. At times more than 50% lower.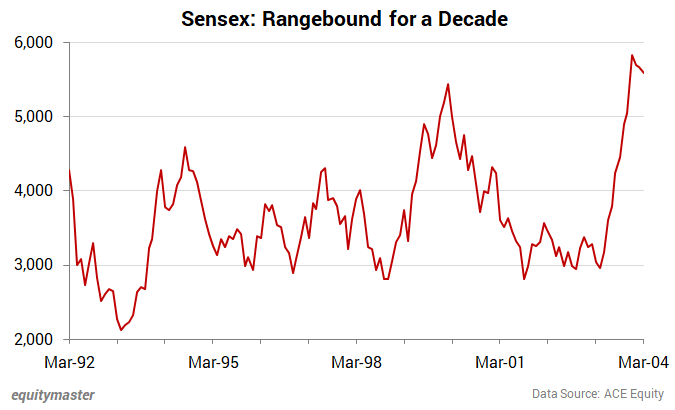 In their excitement, all calculations had gone out the window. Investors were willing to pay just about anything to get their hands on stocks.
And when that happens, almost always, disaster is just around the corner.
Benjamin Graham summed it up...way back in 1972:
The habit of relating what is paid to what is being offered is an invaluable trait in investment. In an article in a women's magazine many years ago we advised the readers to buy their stocks as they bought their groceries, not as they bought their perfume. The really dreadful losses of the past few years (and on many similar occasions before) were realized in those common-stock issues where the buyer forgot to ask 'How much?'
Why am I telling you all this? Well, we had another Union Budget that was tabled in the Parliament yesterday.
Get Details: We are Bullish on These 3 Little-known Stocks
And it may not be as path-breaking as the one in 1991, but it certainly received a big thumbs up from the market.
To be honest, it did seem to tick most of the boxes. Infra spending, efforts to revive the capex cycle, increasing FDI limit in insurance, scrappage policy for auto, and tax exemption for housing. Besides, since no bad news is also good news, the Sensex cheered it with a 2,000 point rally.
However, investors go overboard with their optimism at their own peril.
As investors found out the hard way back in 1991, one should always have the habit of relating what is paid to what is being offered.
And it is this equation that doesn't seem to favour a value investor right now.
The broader markets are not cheap by any stretch of imagination and therefore, any temptation of taking a big exposure to stocks should be held back in my view.
--- Advertisement ---
[EXCLUSIVE] Webinar Invitation -
"Pandemic Impact. Economic Recovery. Investment Strategy - Insights Revealed!"

Date: May 21st | Time: 6pm | Venue: Your Computer

The Covid-19 crisis in India is said to be one of the biggest crises the country has ever seen.

Amidst this turmoil, investors are also questioning the future of their financial wellbeing.

In this exclusive webinar, Chirag & Sorbh will answer big questions like:

• How will the second wave of Covid-19 impact economic recovery?
• What asset allocation could you consider for uncertain times like this?
• Is the Indian stock market immune to the Covid-19 surge?

And many more...

Click Here to Register FREE for this Exclusive Webinar
[No Payments | No Credit Card | Absolutely FREE] | [Yes! I want to attend this Webinar]
------------------------------
In fact, it may not be a bad idea to book profits in stocks where valuations are running way ahead of fundamentals and keep money on the side lines for investing at a later date when there is a significant correction.
I have taken exactly such an approach in a strategy reserved exclusively for penny stocks.
Here, I have been on a profit booking spree over the last few weeks, closing 15 consecutive trades at a significant profit.
And if the markets continue to go up like they did yesterday, there could be more in the offing. This doesn't mean I am totally out of penny stocks. Absolutely not.
My penny stock investing strategy is based on changing the allocation to stocks depending on the broader market valuation. It still has a significant portion dedicated to penny stocks.
I'll will write to you more about these stocks in future editorials.
Good Investing,



Rahul Shah
Editor, Profit Hunter
Equitymaster Agora Research Private Limited (Research Analyst)
PS: Click here to get access to the top smallcap stocks recommended by editor Richa Agarwal. Buy them before they run up.
Recent Articles