Do You Have the Stomach to Survive a Small Cap Crash?
Feb 5, 2019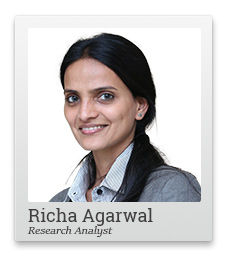 In the long term, stock market returns are expected at 15%. That's a widely quoted fact.
To be precise, Sensex has returned 13% compounded average growth rate. The time interval under consideration is from Feb 2001 to Feb 2019.
Just take a look at the chart below...
A Smooth Ride?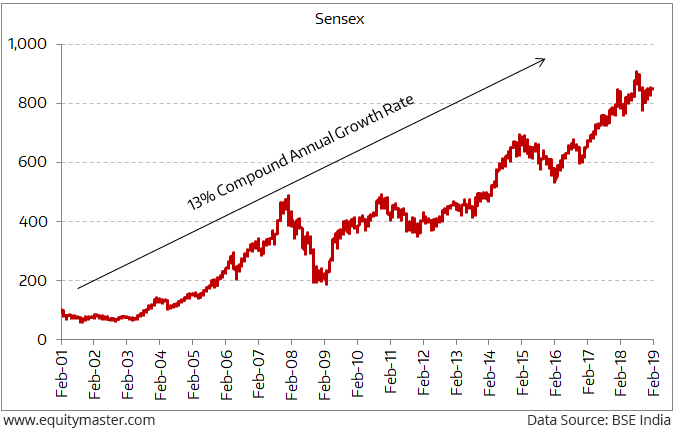 However, what is known, but often forgotten is that the market has never offered 15% every year, year after year. Far from it. Its highs and lows have varied from 52% loss in a year to positive 81% return in another year. In fact, the only year it gave a 13% return year on year (YoY) was FY04.
Take a look.
You Think It's a Roller Coaster Ride?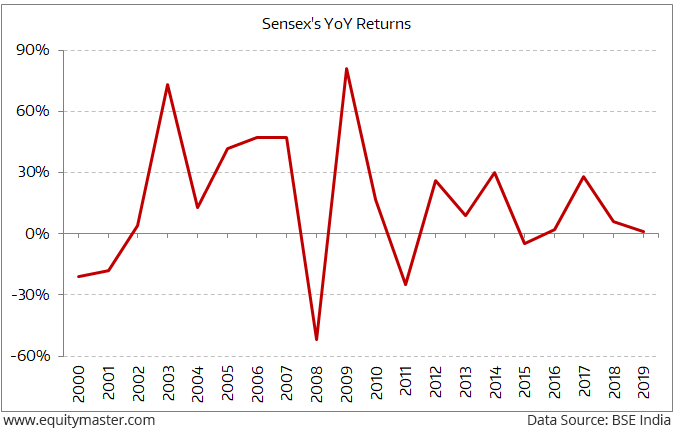 If that's the case with Sensex, imagine what it would be like for smallcaps, which are notorious for volatility.
This is what the ride looks like...
Smallcaps - Only For Bravehearts?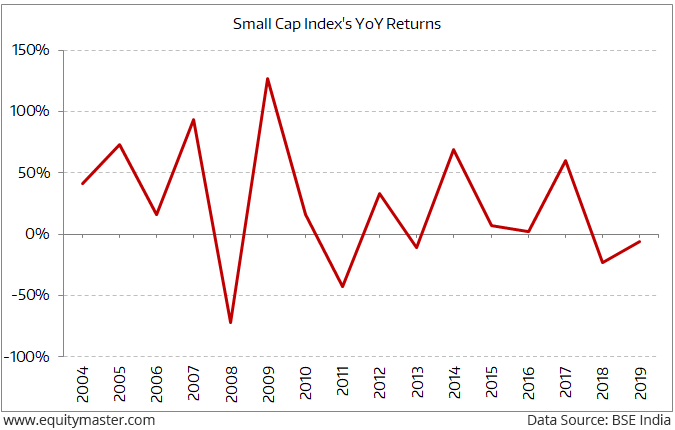 The swings are wild enough to scare anyone off. However, the above volatility hides the fact that the small cap index's CAGR has been 19.4% over the last 15.8 years.
Fortune Favours the Brave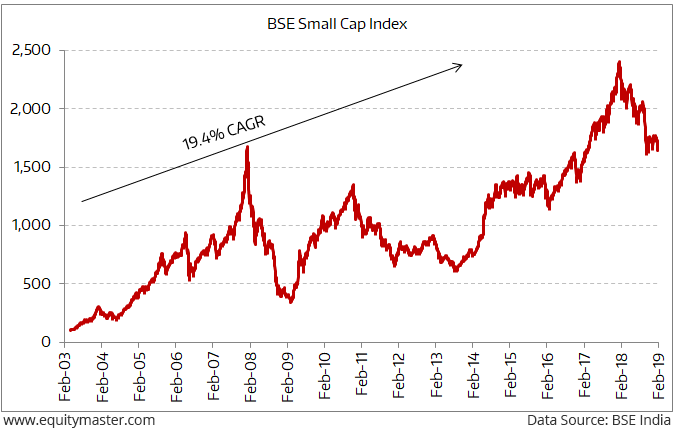 Do note that index constituents keep changing with time.
Small cap businesses that perform well become big enough to shift to the midcap space. And those that fail become obsolete, or penny stocks.
It is also important to note that the individual phases of these cycles are not selective to stocks or quality of businesses. In a bull market, good, bad, ugly, all swim. In a bad market, even the babies are thrown away with the bath water.
A business in the small cap space, unless fundamentally strong, is highly unlikely to recover after facing a downcycle. On the other hand, for fundamentally strong small caps, the recovery is much sharper.
In fact, bear phases are a boon for value investors. They let you pick quality small caps at the price of pennies.
So why don't retail investors buy more during corrections?
Well, the reason is widespread fear and the inability to see beyond the price charts.
They forget that fundamentals of businesses don't change year on year the way prices do. A few even say: 'It's too bad to be true'.
To be honest, it's not easy. It is impossible to predict when the next upcycle will start or how long a downcycle will continue. Some still try - after all, no one gets paid to 'not know'. Most fail. A few get lucky.
But one thing is sure. Every market downcycle is followed by an upturn. While selecting good businesses is relatively easy task in a bearish phase, where most people fail is in having enough patience to hold the quality stocks until recovery.
While some investors are keen to own companies with the capacity to suffer business downcycles, their own capacity to suffer a market downcycle is extremely low. And they often end up losing to less smarter, less active, but more patient investors.
As small caps remain in a bear grip , I hope that you will not only make the most of this phase to pick quality small caps, but stay focused on fundamentals rather than short term price movements.
Regards,



Richa Agarwal (Research Analyst)
Editor, Hidden Treasure
PS: Get started on building wealth with these 4 small cap stocks that Richa believes are set to rebound from big time as the market recovers from the crash...
Recent Articles