India's Third Giant Leap
This Leap Could Potentially Generate Gains
Far Bigger than Anything We Have Seen in Our Lifetimes
War or Not, Defence Stocks are Set to Boom
Feb 9, 2022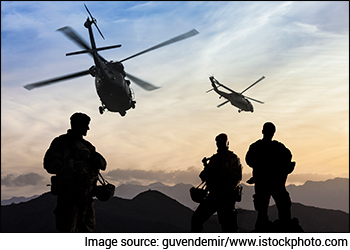 The Marine One helicopters, for the US President's exclusive use, are built by American aerospace firm Sikorsky Aircraft.
But could you guess who supplies the cabins for the exclusive high security airframes?
It's none other than Tata Advanced Systems, the sole global supplier of the airframes for these S-92 choppers.
Meanwhile, a little-known Faridabad-based company Sanauto Engineers is taking big strides in India's aerospace manufacturing.
The company makes landing gears, its parts, and assemblies. It has been working with aerospace heavyweights Boeing, Airbus, and Hindustan Aeronautics for over a decade.
The point I want to drive home is that India's defence capabilities go beyond what is visible on the stock market indices.
Today there are large unlisted companies and niche hi-tech startups paving the way to become global defence suppliers.
For instance, India recently inked Rs 27.7 bn contract to export BrahMos supersonic cruise missiles to the Philippines. This is in addition to the Rs 360 bn order placed by the Indian armed forces for the missiles.
--- Advertisement ---
India's Third Giant Leap

India is precisely at the same point in its growth journey that propelled nations like USA, Japan, China and South Korea to the pinnacle of economic success.

Our research suggests that India's third giant leap could potentially generate gains far bigger than anything we have seen in our lifetimes.

Our co-head of research, Rahul Shah, has already identified the first 3 stocks to ride this giant leap for you.

He is going to share his entire research... including details of these 3 stocks at his upcoming event.

See Full Details
------------------------------
BrahMos Aerospace, a joint venture company between Defence Development and Research Organisation (DRDO) and Russia, developed the missile. Its mass manufacturing was handed over to a PSU defence behemoth.
The deal is expected to pave the way for more such deals with countries like Indonesia and Vietnam. The UAE, Saudi Arabia, and South Africa are among the other countries looking to source defence equipment from India in the future.
Meanwhile, the opportunity in drone manufacturing has been on the horizon for a while. Like I've wrote earlier, even by conservative estimates, it could be a 4x growth opportunity in a decade.
Chinese drones have been reported to be surveying Indian positions in eastern Ladakh. This even as the stand-off around the Line of Actual Control (LAC) continues.
It's imperative India catches up in the use of drones for the armed forces. Not just during periods of conflict but also for ensuring competent border surveillance in peace time.
Until 2016, India's R&D efforts for drones had suffered due to restrictions imposed by Missile Technology Control Regime (MTCR). This regime considers drones as weapons. With India now a member of this cartel, it has better access to technologies and foreign partnerships.
With help from DRDO, several Indian companies are now venturing into drone manufacturing through joint ventures with foreign firms.
What gave the drone sector wings is the new set of liberal regulations in August 2021. The regulations made it simpler for the private sector to make and operate drones. That was followed by a three-year production-linked incentive (PLI) scheme worth Rs 1.2 bn.
The biggest catalyst of the Make in India initiative for the defence sector was the government scrapping some major defence procurements from abroad. These scrapped orders include some big ticket items - helicopters, all-terrain vehicles (ATVs), and short-range missiles, among others.
You may be wondering...is it unrealistic for India to compete with US and China on defence technology?
Well, Turkey has already shown the way.
Yes, you read that right!
Recently, Turkey has developed an impressive local drone industry from the ground up. Armed Turkish-built drones have proven themselves in combat operations in Syria, Iraq, and as far afield as Libya. Turkish companies are developing a variety of lethal armed drones. They range from large, high-flying, bomb-laden ones to very small, low-flying ones that can form deadly swarms.
To put it simply, Turkey has now gained the attention of global defence experts. They believe Turkey could become the Middle East's drone superpower. The US was the first country to use drones as missiles after 9/11. But Turkey now rivals the US, UK, and China as the world's most advanced drone market.
And all of this happened in the last six years.
Like India, Turkey too relied on defence imports for decades. But in 2016, Turkey stopped relying on allies who thought it was in an arms race with the US and other NATO countries. Developing its own military drones became a top priority.
And the results are there for all to see. Companies like Boeing and Lockheed Martin acknowledge that the technology in Turkish drones is at par with theirs.
So, the boom in Indian defence manufacturing sector is not far away. I'm keeping a close watch on the order books of the listed players.
War or not, this sector is poised to create wealth like never before.
Stay tuned!
Warm regards,



Tanushree Banerjee
Editor, StockSelect
Equitymaster Agora Research Private Limited (Research Analyst)
Recent Articles