Are We About to Lose Money or Make Money in the Stock Markets?
Feb 10, 2020
What do you think is common between investing greats like Warren Buffett, Ben Graham and Seth Klarman?
Yes, yes, I know. They are all value investors.
However, there is another similarity that runs much deeper.
It lies at the very heart of their respective investment philosophies.
All three of them have tasted the sweet nectar of success from the tree of cyclicality.
They unanimously agree that cycles govern market behaviour.
And their own stupendous track record is proof that its understanding can lead to great riches.
In fact, no one summarizes this more beautifully than another champion of the market cycles, Howard Marks.
Here's what he once wrote.
Rule number one: most things will prove to be cyclical. Rule number two: some of the greatest opportunities for gain and loss come when other people forget rule number one.
Impressive, isn't it?
--- Advertisement ---
Here's an urgent profit opportunity from us that no mainstream media is revealing...

The #1 Stock for 2021.

...An innovative stock with the industry giants chasing it for its technology to touch millions and millions of people every day.

It serves several clients across the globe, but what got me is this...

The stock is leaving all its competitors behind despite the COVID crash, and now the price has already started to move.

There's actually one more reason why this stock could take off and make its early investors rich.

It's revealed here in this note with transparency.
------------------------------
I am heavily inspired by this quote as well as by the importance of cyclicality to one's long term investment success. So much so that I have created my own market cycle guide that's based purely on valuations.
I call it...
The Sensible Investor's Guide to Valuation Cycle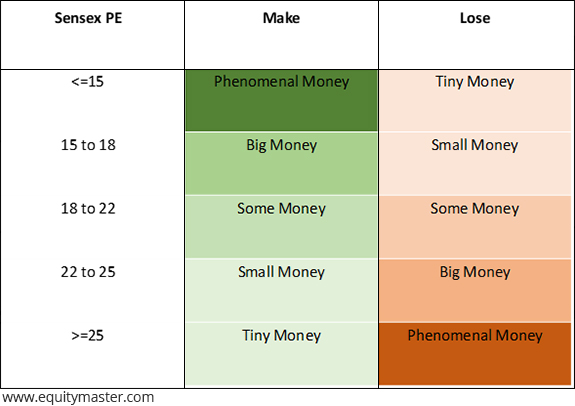 As we are aware, the stock market keeps swinging between extreme undervaluation to extreme over valuation.
I have identified five such phases based on the historical performance of the Sensex.
And in each phase, the possibility of making or losing big money depends entirely on the market valuations that you are buying at.
So, for example, if one invests in stocks at a Sensex PE of 15 or below, there's a strong chance that one will make phenomenal money over the next 2-3 years and only a small possibility of losing money.
Likewise, if one invests at a PE of 25x or more, there's a strong chance an investor will incur phenomenal losses and only a small chance that he will earn profits.
Based on the current valuation of the Sensex, we are in the fourth phase starting from the top.
At close to 24x, the Sensex is trading at valuations that are not cheap by any stretch of imagination...
Therefore, there's a strong chance one can lose big money in this phase and only a small possibility of making decent returns.
Do note this is not a perfect science. For had it been one, everyone would have used it and there would have been no market beating possibilities.
However, cycles are the closest things to science when it comes to investing and therefore, can serve as very useful guideposts.
For e.g. in my Double Income service, I change the allocation between stocks and bonds based on which phase of the market we are in.
And since we are in expensive phase as of now, I have recommended subscribers to stay a good 30%-40% in cash and invest only the remaining 60%-70% in equities.
Thus, when the cycle moves and the current phase makes way for a lower valuation phase, I can move more out of cash and take a greater exposure of equities.
And if the current phase makes way for even more expensive markets, I can further reduce stock exposure and increase my cash exposure.
It is a wonderful way to tune your corpus to the right allocation and thus be able to earn market beating returns over the long term.
For now though, it doesn't look like an investor can make big money over the next 12 months or so.
That said, there are some individual stocks that beat this pattern by making their own path in an unforgiving market - a small cap stock is especially capable of doing this.
A small cap at the right time could go on to make us really BIG money. And my colleague Richa seems to have found just such a stock - she will reveal all at her Mega Summit tomorrow - so sign up for a free spot now.
Warm regards,



Rahul Shah
Editor, Profit Hunter
Equitymaster Agora Research Private Limited (Research Analyst)
PS: Richa Agarwal is revealing the exact formula one needs to find a 'crorepati stock' - a stock that can make one a crorepati. In fact, she has found such a stock already... to find out more, be there for her Mega Summit tomorrow - click here to confirm your seat.
Recent Articles