Is it Time to Go Back to Value Investing?
Feb 10, 2022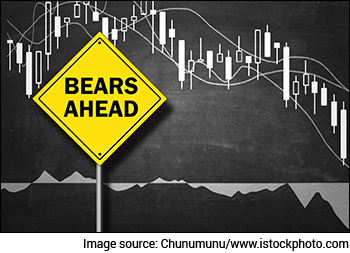 Over the past one month, every night from Monday to Friday, my family and I have been hooked on to Shark Tank India.
The innovative ideas coming from every part of India with such limited means is fascinating to say the least.
Seeing the pace and zeal of innovation, it won't be long when India will be called the land of dreams and opportunities.
After all, we have the best demographics in the world thanks to our young population. And we Indians are known for their 'Jugaad' mind-set.
However there is one thing that makes me uneasy every time I watch the show. If you've have been reading my articles, you might guess which aspect of the show I'm referring to.
It's the valuations at which these start-up companies on Shark Tank are initially valued by the entrepreneurs making the pitch. It's baffling to see how the valuations are cut by almost half in many cases by the Sharks.
On a lighter note, the valuation of companies which some of the sharks own, too deserve to be cut by more than half.
I find it uncomfortable when entrepreneurs like Ashneer Grover talks about profits when Bharat Pe's losses are just growing manifold.
--- Advertisement ---
Last Day to Access 'One Stock Crorepati' Opportunity

As you know, recently we went LIVE with our One Stock Crorepati MEGA Summit...

Around 10,000 readers like you had registered to attend this summit.

At the summit, they learned Richa Agarwal's secret blueprint of identifying potential 'crorepati' stocks.

Plus, they also discovered the details of one stock with crorepati potential...

If you missed this summit for some reason, then you can still get all the details by watching this special replay of the summit.

Watch Now (Available till 11:59pm Tonight)
------------------------------
Never mind. Let irrationality prevail for some more time.
After all, if Ashneer Grover's Bharat Pe can spend Rs 2.3 bn to generate a revenue of Rs 60 m, then all these young SME and MSME entrepreneurs have a right to ask for such lofty valuations.
In this circus of massive liquidity and low interest rates, the start-up bubble is getting bigger.
And the repercussions are going to be massive when the bubble pops.
In fact, the bubble has already started to show signs of popping looking at the stock prices of Paytm, CarTrade, Zomato, and Policy Bazaar.
In my previous articles, I have written enough about why I don't like loss making tech IPOs. I cautioned readers after these listings and even after the 30-50% fall in most of these stocks.
The valuations of the listed as well as the unlisted companies will get butchered when interest rates go up and free money from Santa Claus, the US Federal Reserve, comes to an end.
The dilemma that investors face these days is...
a) Jump on the bandwagon of price and momentum
b) Focus on value
The tug of war between growth and value has been going for many years.
--- Advertisement ---
"$2.5 Trillion Crypto Market Boom..."

A booming $2.5 trillion market...

Set to multiply by 100 times over the next decade...

With legendary investors like Warren Buffet, Elon Musk, and Peter Thiel pouring in billions of dollars all over...

Really Want to Miss It?
------------------------------
A part of the last decade belonged to growth while the other to value. The last couple of years belonged to growth, while value stocks lagged.
However, things are changing...
Let's look at the US market.
Cathy Woods (Growth) V/s Warren Buffett (Value)
Cathie Woods' ARK innovation fund takes aggressive bets on high growth disruptive companies. It beat a majority of its competition in 2020. This led to its asset under management growing to US$61 bn at its peak.
However, the past 6 months have been characterised by outflows from ARK Invest. In fact, the fund has tanked 45% since the start of 2022.
Definitely not a pleasant new year for Cathie Wood.
On the other hand, legendary investor Warren Buffett's Berkshire Hathaway, a flagbearer of value, has bridged the gap. In fact, he is up 2% since the start of 2022.
ARK Innovation Fund Back to Square One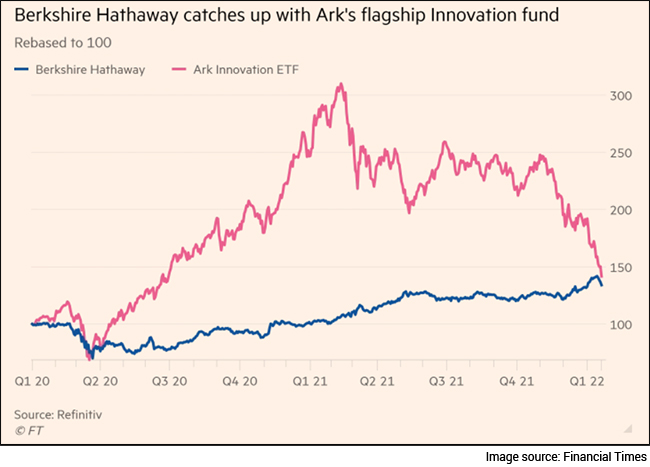 While Cathie Wood was hailed as the modern day Warren Buffett, we all know who will have the last laugh.
I'm ready to put my neck out and bet on value over the next couple of years.
My conviction is based on the fact that a growing company's stock tends to have its PE ratio re-rated higher.
The whole assumption of higher growth is based in an environment when the macro environment supports it i.e. is low interest rates and high liquidity.
Join Our YouTube Channel: Get Close to Our Editors and Stay Ahead of the Curve
Investors generally pay a higher premium for growth. This is because we tend to extrapolate the present into the future much more than it's feasible.
You must have heard this saying, 'As long as there is growth, any multiple is justified'.
In today's slang, it's called BAAP - Buy at any Price.
Now let me show you how a stock can de-rate like a falling knife when growth disappoints even marginally.
The Jubilant Foodworks Stock Crash
When same store sales growth (SSSG) was strong and beating the consensus estimates, the market gave Jubilant Foodworks, a forward PE ratio of 80 times.
Every increase in the PE ratio gave the stock price a strong upside. There always comes a point when growth starts to moderate. After all, no company can outsmart its own environment.
So when growth slows down mildly, the stocks with astronomical PE ratios crash as if there is no tomorrow.
The same happened here in January. Growth slowed down marginally with respect to the market's expectations. The stock fell 25% in less than a month.
The thumb rule is to be wary of high PE stocks without super normal growth.
So why I think value investing will be back in flavour?
To understand why value will be back in flavour, let us look at why growth will be out of flavour.
Rising Interest Rates: Biggest Party Spoiler
Low interest rates leads to high liquidity, which leads to easier access to credit, which leads to higher demand, which leads to higher inflation, which leads to higher interest rates.
Here's some food for thought. A barrel of crude oil in 2008 at its peak was trading at US$148 with an exchange rate of Rs 43/$. That comes out to a crude oil price of Rs 6,364 per barrel.
Today, crude oil is at US$90. It hasn't reached the peak but the exchange rate has climbed to Rs 74/$. This translates in to a per barrel cost of Rs 6,808.
Imagine the inflation it has already added and is likely to add if the price touches US$100 or more.
During such times, money shifts to stocks which have a margin of safety in valuations.
In a rising interest rates scenario, the pecking order should be as follows.
# Choice 1: Cheap valuation + Growth prospects
# Choice 2: Fairly valued + Growth prospects
# Choice 3: Richly Valued + Very strong growth prospects
Completely avoid the following stocks:
Very high valuations: PE in excess of 50-60 or P/B in excess of 6-8.
Growth: Historical Growth at 10-15%.
With the rising interest rates there is no way you can justify holding these stocks.
In conclusion...
In an inflationary environment pick the producers and not the consumers.
Warm regards,



Aditya Vora
Research Analyst, Hidden Treasure
PS: If you're a retail investor and interested in making VC-like returns, click here for exciting opportunities.
Recent Articles