POTENTIAL MULTIBAGGER
Do You Own this Little-known Smallcap Stock? >> READ MORE
This Smallcap Stock Could be the Next Titan (Up 1,400% in 10 Years)
Feb 11, 2020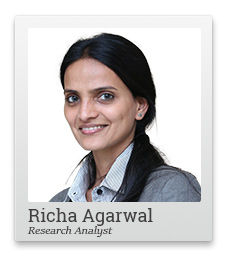 While the global economy and stock markets are still coming to terms with the Coronavirus, there is an asset class quite immune to the deadly disease.
The precious yellow metal is, in fact, gleaming more brightly with the rise in the severity of Coronavirus.
Gold is undoubtedly a great hedge against uncertainty...
And one should certainly allocate a part of one's portfolio to it.
In the last 10 years, gold has returned an average annual return of 8.5% every year (CAGR) - from Rs 18,500 per 10 grams to Rs 35,220 per 10 grams.
And that's not bad at all if beating inflation and wealth preservation is your aim.
But for someone looking for wealth creation in the long term, there's a better bet.
So, what does real wealth creation look like?
Just today I got a forward on this. Have a look...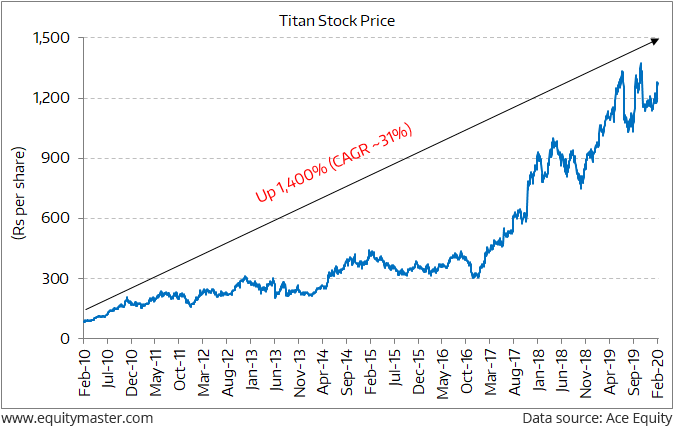 The journey has been volatile, as is typical in the case of stock markets.
But at over 31% of compounding over the last 10 years for Titan, gold with 8.5% CAGR, does not even come close to Titan (which is after all nothing but an indirect play on gold jewelry).
Such is the magic of crorepati stocks.
Now we all know how the story of Titan has panned out. It is now a part of the Sensex.
But this was not always the case.
In 2005, the stock of Titan was a smallcap - with a market cap of below Rs 10 billion.
At less than Rs 10 per share, its stock could be categorized a penny stock.
If you were among the ones sticking to safety and avoiding volatility, chances are you missed the opportunity in this stock.
Why is this chart relevant today?
While the market is clinging to Sensex stocks in search of safety, I think all they can hope is to preserve wealth or reduce volatility. Especially as the Sensex is already trading close to lifetime highs.
But if one wants to make real wealth in the long term, it will come from smallcap space.
Now I do not mean just any smallcap.
This landscape is treacherous. full of landmines even.
Without a blueprint, there is a good chance that you will be lost.
After months of analysis I have defined three qualities that are critical to a smallcap that has the potential of turning out to be a 'Crorepati' stock.
Titan had all three elements...and look how it has turned out.
But it does not do me or you any good to just look in the rearview mirror and wonder what life would be like if we could invest early in Titan.
So here's the real deal.
My service has recommended more than 100 smallcaps and beat Sensex nearly 2.5 times in 11 years since inception in February 2008...
Now, my team and I have shortlisted one stock in the smallcap space that could be the future 'Titan'.
It has all the three elements that go in the making of a 'Crorepati' stock.
And it has the potential to multiply your wealth many times over.
This is the stock people will regret missing out a few years from now.
A stock that other analysts will be writing about tomorrow...
But you have the chance to get in today - ahead of the curve... ahead of the masses.
I'll be revealing further details about this stock in my 'One Stock Crorepati' MEGA summit at 5pm today. Wish to claim a free seat?
When you click here, you will get instant access to my premium guide - Smallcaps that Will Race Ahead of Sensex for free.
I hope you will make the most of this opportunity - I see this as important enough that I am giving this a significant chunk of my time.
And I hope to see you at my Summit at 5 pm this evening.
Warm regards,



Richa Agarwal
Editor, Hidden Treasure
Equitymaster Agora Research Private Limited (Research Analyst)
PS: If you have not yet claimed your seat - you can still do so now. The summit will go live at 5 - do not miss it. Click here now and we will save you a seat - and send you a reminder when we are about to start.
Recent Articles