Modi or Gandhi - Who Will Take Sensex to 100,000?
Feb 13, 2019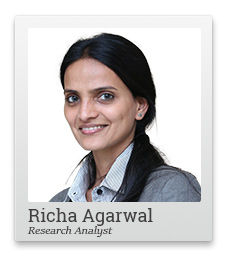 I'm not big on statistics.
And even more so the statistics that peg India against other countries. India usually has an abysmal showing on most relative consumption stats.
But times they are a changing.
A recent news report threw up some exciting numbers indeed. India saw - by far - the fastest growth in app downloads among big countries between 2016 and 2018. It also topped the growth in hours spent on video-streaming across the globe.
The Times of India reports that app downloads in India grew 165% during that time. China comes a very distant second at 70% growth. In food delivery, India saw a dramatic 900% spike in downloads, above and far beyond any other country.
Drill down into the details and you quickly realise that India's mobile internet economy is rising at a scorching pace.
And even more so in the food delivery and finance spaces.
For India's future growth, these are very important developments indeed.
Transformative, to say the least.
Why am I so excited about this?
Well, think about what the growth of the economy really means...
A growing economy essentially means increasing sales and thus consumption of goods and services. And while some goods, like, say soaps and washing machines are just consumed and that is the end of it, the consumption of a few important ones have somewhat of a butterfly effect on the consumption of other goods and services...
They prove to be a big catalyst in the growth of consumption in general, and thus provide a massive boost to the economic growth.
Smartphones - and of course the apps in them - are one such product.
They take phones well beyond the consumption of basic telecommunications of talking and voice. Once connected to the internet, they put people on the super highway of consumption - irrespective of their location.
This is a big deal for a country like India, which has a vast hinterland and many people without easy access to retail outlets that encourage consumption.
From insurance policies and financial products, to groceries and electronics, and everything in between, today it is possible to buy it all with just a few clicks. And e-commerce websites like Amazon and Flipkart are further helping matters by ensuring access to a wide range of products online.
It is good news then that the end of 2018 has also been marked by India overtaking the US to become the second largest smartphone market in the world after China.
The brisk increase in smartphone users and app downloads has massive implications for propelling India into a higher plane of growth rate.
It can potentially mean that India can leapfrog ahead skipping the normal incremental growth models where retail infrastructure needs to be built by businesses every step of the way in order to increase consumption.
Thus, the fast paced increase in smartphone usage is likely to snowball over the next few years and bodes very well indeed for ushering in a completely new growth phase for Indian economy.
And of course, something like this is going to have its effect on the stock market too. It won't be long before this transformation creates many multibaggers in the stock market.
My colleague Tanushree is close on this trail.
She's spent the last few months drilling deep down into such trends, and what it means for stock market investors. Her strong conviction is that an investor buying the right stocks today will create life-changing wealth for himself.
So make sure you don't miss this ride of a lifetime.
Regards,



Richa Agarwal (Research Analyst)
Editor, Hidden Treasure
PS: Get started on building wealth with these 4 small cap stocks that Richa believes are set to rebound from big time as the market recovers from the crash...
Recent Articles